Ed O'Neill and the Post-"Married with Children" Paradox
Written by Katie Marzullo. Published: August 31 2011
Full disclosure: I was never a fan of "Married withChildren." I always found it crude and juvenile, even as a kid (which was par for the course for the then-fledgling Fox network's prime time lineup). Worst of all, as I began to occasionally see the stars of the show appearing in other projects, it occurred to me that the show was beneath their talents.
Jump ahead to August 30, 2011, when actor Ed O'Neill, who once graced our screens with his hand down his pants as Al Bundy, received a star on the Hollywood Walk of Fame. And I couldn't be happier for him. In fact, he and his whole "Married with Children" brood seem to have emerged from the ashes of silly sitcom drudgery to become the beautiful TV phoenixes that they are now. I wipe my brow and thank the Hollywood gods that "Married with Children" didn't ruin them. Case in point...
Even before he was selling shoes and hating women on the Fox show, Ed O'Neill was in the public consciousness after a rather well-received performance as Popeye Doyle – the hero from the 1971 film
The French Connection
, made famous by
Gene

Hackman
– in a 1986 made-for-TV movie. The following year, though, "Married with Children" put him on the map and made him a household name... well, as Al Bundy anyway. But even during that show's 10-year run (!), O'Neill continued to make appearances in other projects, such as the creepy donut shop owner, Glen, in
Wayne's World
, and a truly inspired performance in the 1991 film,
Dutch
, opposite a then-adolescent
Ethan Embry
. Some scattered television work followed the demise of the Bundy clan, but O'Neill hit pay dirt (and the role of a lifetime) when he was cast as yet another family patriarch in the amazing/wonderful/hilarious/not-enough-superlatives single-camera sitcom, "Modern
Family."
As the aging Jay
Pritchett
, O'Neill is not only able to show off the comedic chops that first made him famous, but he is also free to exercise his deeper talents. And it certainly hasn't gone unnoticed or un-rewarded, as he has drawn Emmy and SAG Award nominations for his efforts. Suffice it to say, yesterday's Walk of Fame ceremony was more than deserved... even if his star is in front of a shoe store. (sigh)
Al Bundy's wife, Peg, was a big-haired, loud-mouthed succubus, and it was next to impossible to discern the powerhouse actress underneath the shrill voice. But
Katey
Sagal
has long since left her leopard-print leggings behind in exchange for a resume chock full of amazing dramatic performances. As of this writing,
Katey
is currently basking in the afterglow of a Golden Globe win for Best Performance by an Actress in a Television Series – Drama for her work in the FX series "Sons of
Anarchy."
Perhaps playing the grizzled wife of an outlaw biker isn't the biggest leap from Peg Bundy, but the quality of both the show and her performance can't be denied.
The
Bundys
' eldest child, Kelly, was little more than cheesecake fodder for "Married with Children"'s younger demographic. Played by
Christina Applegate
, her role was relegated to bouncing onto the scene in the tiniest outfits possible (much to the delight of the
"woooo"-ing
live studio audience), say something stupid, and bounce away again. With music video vixen looks, Applegate was the
Farrah

Fawcett
of her generation... meaning, her appeal and relevance were probably finite. Lucky for us, Christina proved to have actual talent under that
peroxided
hair, and she continued to trudge on Post-Bundy, co-starring in breezy comedies for a time. It wasn't until she appeared in 2004's
Anchorman: The Legend of Ron Burgundy
that we really saw what Applegate could do. She could be funny AND smart! Eureka! Oh, and you know what else? She can sing and dance, which she demonstrated in 2005 when she starred in
Sweet Charity
on Broadway. Girlfriend was officially legit! Tons more work on TV and in film followed, including a handful of Emmy and Golden Globe nominations, and this fall you can start seeing her on a weekly basis again when she stars in the sitcom "Up All Night", also featuring
Will Arnett
and
Maya Rudolph
(no slouches themselves, thank you very much). If Kelly could see her now...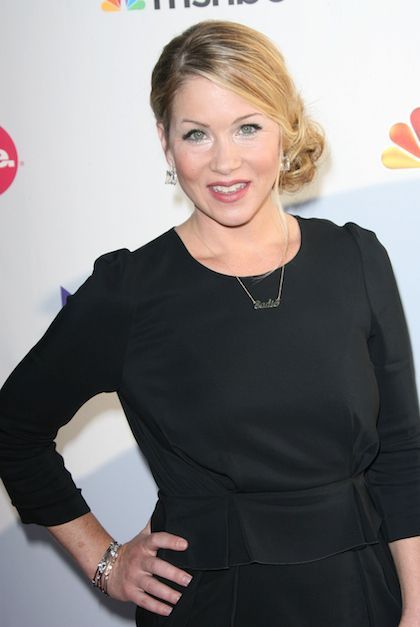 No, I didn't forget about
David

Faustino
, who played the other Bundy kid, Bud. While he may not exactly be as front and center as the rest of his former TV family, don't cry for him – he's been working steadily in television and keeping himself busy on other projects such as
webseries'
and occasional film roles. He makes a nice living, can't complain!
So, the next time you find yourself up dreadfully early in the morning and see old "Married with Children" reruns playing back-to-back on TBS, take a moment to marvel at how, in just a few short years, those campy, unsophisticated characters would set their portrayers free on to much greener pastures, allowing their talents to shine the way they were intended! But, hey, I can't completely hate – everyone has to start somewhere, right? At the end of the day "Married with Children" spawned a handful of great actors. We just didn't know it at the time.
(Photos via WENN)
-
Katie

Marzullo

,

YH

Staff Editor