Duplass Brothers Teaming with Netflix for a String of Original Films
Written by Kevin Donaldson. Published: January 28 2015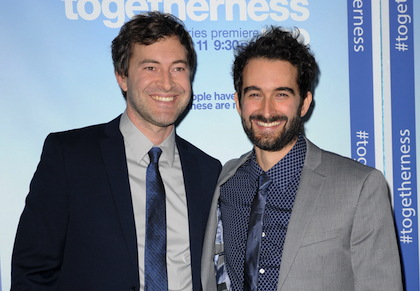 TheDuplass Brothers, consisting of older brother/sometimes actor Jay and younger brother/mostly actor Mark, have made a deal with Netflix to write and direct four original films for the streaming service. Netflix has said that the movies will receive a "short theatrical window" (meaning, they'll be in theaters for a short time) before hitting Netflix for fans to stream from, which is slightly different than how Netflix said they will release their first feature film, Crouching Tiger, Hidden Dragon 2: The Green Legend.
If you don't know what these guys are all about, the odds are heavy that you've seen at least one of their movies and have seen Mark act in shows like FXX's "The League" and in 2012's feature film Zero Dark Thirty, among other projects. Jay plays recurring characters of Duncan in "The Mindy Project" and Josh Pfefferman in Amazon's "Transparent". But these two mainly got into the industry by making their own movies real cheap and working a lot. Check out Mark talk to YH about that time he had three movies reeling at Sundance:
The film that Mark speaks about costing him and Jay three dollars to make isn't exactly the one that made their break into showbiz. That was actually their 2005 effort that they both wrote (although it was largely improvised) and directed entitled The Puffy Chair, which actually cost them about three-and-a-half dollars to make. The film follows a few friends on a road trip to collect a lounge chair from an eBay seller that looked exactly like one that Mark's character's father owned in the past. He goes on a road trip with a couple of friends to collect the chair to give to his father as a birthday present. The trip takes some unexpected twists. Fun fact:Larry Duplass, the brothers' father, plays Mark's father in the movie.
The Puffy Chair is part of a film movement called "mumblecore", where the films are characterized by their use of digital cameras, low production quality, the frequent employment of non-actors, and improvisation. Together the Duplass Brothers have made many mumblecore films and brought the movement into mainstream with their films Cyrus and Jeff Who Lives at Home. The Duplass Brothers have also helped work some other mumblecore movies that aren't even their own. In 2012, Mark starred alongsideAubrey Plaza in Safety Not Guaranteed, which was kind of like a science fiction mumblecore movie. Speaking of sci-fi, SNG's director Colin Trevorrow(who just directed the upcoming Jurassic World) supposedly said that Plaza's character is like Princess Leia and Mark's is like Chewbacca… or was it Han Solo? Watch Plaza and Mark discuss it here in an interview with us at YH:
I think Netflix is onto something here with the Duplass Brothers. Their movies make a lot of money since they're made for nothing. Even something like Safety Not Guaranteed looks pretty great visually, it has a stellar cast that you would think would demand as much money as its $750,000 budget, and it made back nearly five times its budget. Considering quite a few of their personal films (like The Puffy Chair and Jeff Who Lives at Home) and other projects starring Mark are streaming on Netflix, the numbers must not lie -- they bring in the Netflix subscritions (of course, just an assumption; that has no basis on fact). No word on what any of the projects the Duplass Brothers have cooking up are going to be, but one can assume it'll be like a lot of their other stuff in the past, because that's what they make. It's like when a musician is signed to a record company, fans can expect them to make the music they usually make…
With the Duplass Brothers' work ethic and willingness to make things on a shoe string budget, how about you check out this clip from YH where Mark talks about being paid less than a dog for a movie he acted in:
(Photo via Apega/WENN)
- Kevin Donaldson, YH Staff