Duplass Bros. Get Animated with HBO Series "Animals"!
Written by Sarah Osman. Published: June 03 2015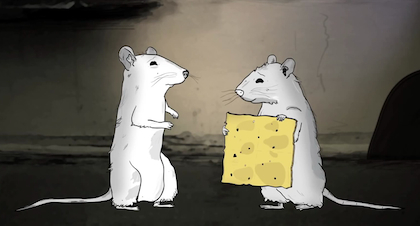 TheDuplass Brothers (Mark andJay) have become a dynamic Hollywood duo known for their impressive acting, writing, and directing skills. The pair has now decided to take their talents a step further by creating their first cartoon. "Animals" will focus on a variety of non-human critters in their everyday lives, living in the slums of New York City. The kicker is that all of the animals are voiced by various comedians. Aziz Ansari,Nick Kroll, Ellie Kemper,Jason Mantzoukas, Adam Scott, Rob Corddry, Chelsea Perretti, andNathan Fielder (of "Nathan for You" fame) are just a few of the funnypeople who will lend their talents to the series.

"Animals" first premiered at Sundance, and it was such a hit that HBO ordered not just one but two seasons of the show. This isn't the brothers' first venture with HBO -- they're also the masterminds behind "Togetherness", a live-action sitcom that focuses on the struggles of growing up. In addition to "Animals", the brothers also recently inked a deal with Netflix in which they will produce four different feature-length films for the streaming service. Whew, these Duplasses are busy!

The trailer for "Animals" has been released, and it looks delightfully strange. I like the fact that it seems to take a rather satirical look at life in New York City (I never would have thought that the rats of Brooklyn would be such intellectuals):

Are you excited for the premiere of "Animals"?
(Screenshot via YouTube)
- Sarah Osman, YH Staff