Donald Glover's Long-Awaited FX Pilot Finally Gets Picked Up!
Written by Kevin Donaldson. Published: December 19 2014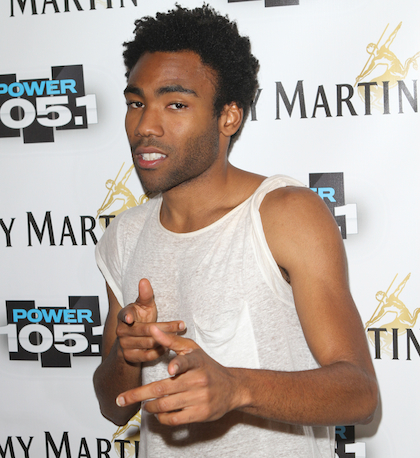 Donald Glover is certainly making waves these days. His latest studio album, because the internet, has been nominated for a Grammy, and now his long-rumored FX TV show, "Atlanta", has gotten a pilot order. Who knows what's next for the comedian, musician, writer, actor, and all-around creative force to be reckoned with?
It's been over a year since talk of Glover's pilot became public knowledge. Ever since then, the talk almost produced more talk and speculation. What we used to know is that the show would be a musical-based comedy and would be set in the city of Atlanta, Georgia, where Glover hails from. The show's plot is finally revealed and will feature Glover in the starring role as Earnest "Earn" Marks, a college dropout living in Atlanta who, after his estranged cousin finds sudden success as a rap star, decides to rekindle a passion he once had in order to conquer his hip-hop dreams. No word yet on who will play his famous cousin.
On top of starring in the show, Glover will also executive produce and write. Alongside him as an executive producer is writer Paul Simms, who is best known as the creator of the '90s sitcom "NewsRadio". Glover and Simms have a long relationship of working indirectly with each other. Simms's television writing career starting with applying his skills on an HBO comedy in the early-'90s entitled "The Larry Sanders Show", which was known to house many writers that would eventually go on to work with Glover on his first sitcom-writing gig for a little show called "30 Rock". Simms has also been credited for writing two episodes of the last season of "Girls", on which Glover guest-starred in two episodes during the second season.
Helping to sweeten the pot of Glover and Simms's new working relationship is that Simms is credited with writing one episode in both seasons of HBO's critically-praised and fan favorite musical comedy "Flight of the Conchords". Music and comedy together! Who knew somebody else did it before? The success of "Flight of the Conchords" also helped one of its stars, Bret McKenzie, get the musical writing job for 2011's The Muppets and an Oscar win for Best Original Song. These days, Glover doesn't seem too far away from getting his EGOT, so long as he wins that Grammy which he's nominated for this year. Speaking of The Muppets, didn't somebody in this article have a cameo in that?
Man, this dude is everywhere!
Speaking of FX picking up pilots with big stars attached to them, FX is reportedly picking up a pilot starring Louis CKand Zach Galifianakis together, whileTracy Morgan has his own pilot in the works. No details on either pilot have been divulged as of yet. With Morgan, there is no word on if the deal for his pilot started before or after his accident, but let's hope, no matter what, the Top Five star is on his way to a speedy recovery!
(Photo via Derrick Salters/WENN)
- Kevin Donaldson, YH Staff