Don't Scare Me Please: Four Fall Films For The Fear-Averse!
10-01-2020 by Paige Pfeifer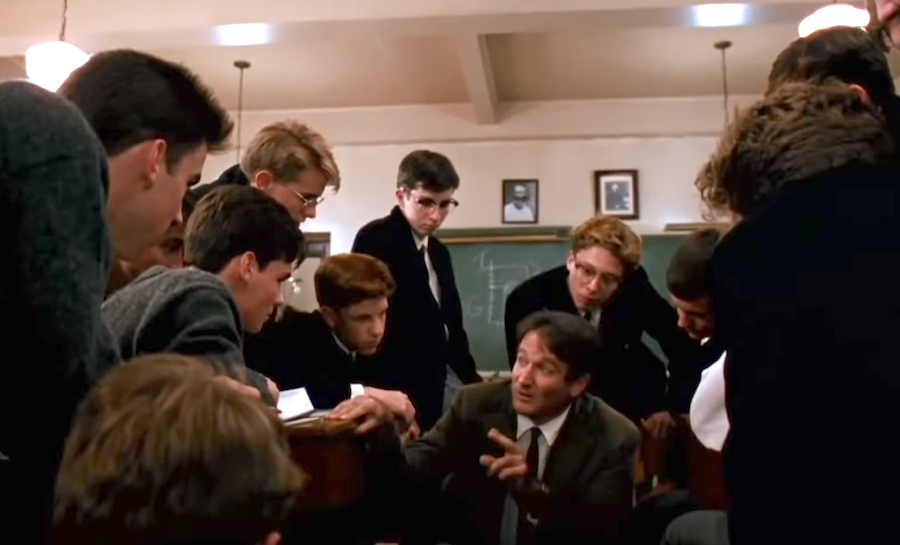 ( © Touchstone Pictures)  
Halloween tends to eclipse all that is great about Autumn. This isn't an All-Hallows Eve smear campaign -- I just think we need to let Fall breathe for a moment. We appreciate it, in theory, in the middling summer months, reposting photos of red leaves and hand models holding mugs of coffee. Once August departs, however, all bets are off: it's a candy corn-flavored world, and we're just living in it. 

But I come bearing good news. Not all Fall is lost! There are movies that can evoke the feelings of a haunting fall day without featuring an actual haunting -- without any monsters, or Jack-o-lanterns, or grandparents whose heads spin 360 degrees. 
The following four movies will leave you craving crisp temperatures and long walks in a slowly decomposing park. Capital-R Romantic, if you will.
1. Dead Poets Society
Off in a cave in Vermont, at a prestigious all-boys academy, a secret society is quietly formed. They call themselves, of course, The Dead Poets Society, chanting sonnets and villanelles until the sun forces them back to their beds. They are both feral and refined, acting the role of good New England boys by day, mad geniuses by night. The scenery is as enchanting as the premise, making this film both visually and emotionally beloved. 
2. Lemony Snicket's A Series of Unfortunate Events
Lightning flashes. A man with wild hair and an eyeball tattoo stands at the top of a winding staircase. Another flash, and he's gone. A Series of Unfortunate Events is peculiar in all the best ways: its gray, mysterious color scheme; the ambiguity of the time period (is it Victorian? Might be the '20s. Or maybe closer to mid-century…?); the woolen costumes that accent the strange, coastal atmosphere; and, of course, the chain of misfortunes that plague the Baudelaire children almost as heavily as Count Olaf himself...
3. When Harry Met Sally...
This one was a shoo-in; it's the quintessential Autumnal movie. Set over the course of a number of years, in a red-and-orange tinted New York City, When Harry Met Sally… chronicles the relationship of two people who can't tell if they want to be in each other's lives at all. It's nostalgic, sentimental, and warm-toned... what more could you ask for? It practically begs you to curl up on the couch under a loudy-patterned afgan before you hit "play".
 

 

Aug 22, 2020 at 3:00pm PDT
4. Jack and Jill
I'm sorry for adding a cheap Adam Sandler flick to the list. Or, I would be, if that's what this was. Jack and Jill follows an incompatible set of twins (both played by Adam Sandler, charmingly enough), with Jack being rich and successful and Jill attempting to cling to that success in hopes some of it will rub off on her. When Jill announces (or, rather, threatens) that she's coming to visit Jack for Thanksgiving, things get messy. It may have been slammed as one of the worst films ever made, but it's funny and heartwarming and actually about Thanksgiving, as so few holiday films are. 
So go. Wallow in the leaves, free from the idea that a dead body could be hiding underneath. October can bring about the jump-scares, but you can Just Say No!