Did the 2018 Golden Globes Mark The Beginning of a New Era in Hollywood?
Written by Katie Marzullo. Published: January 08 2018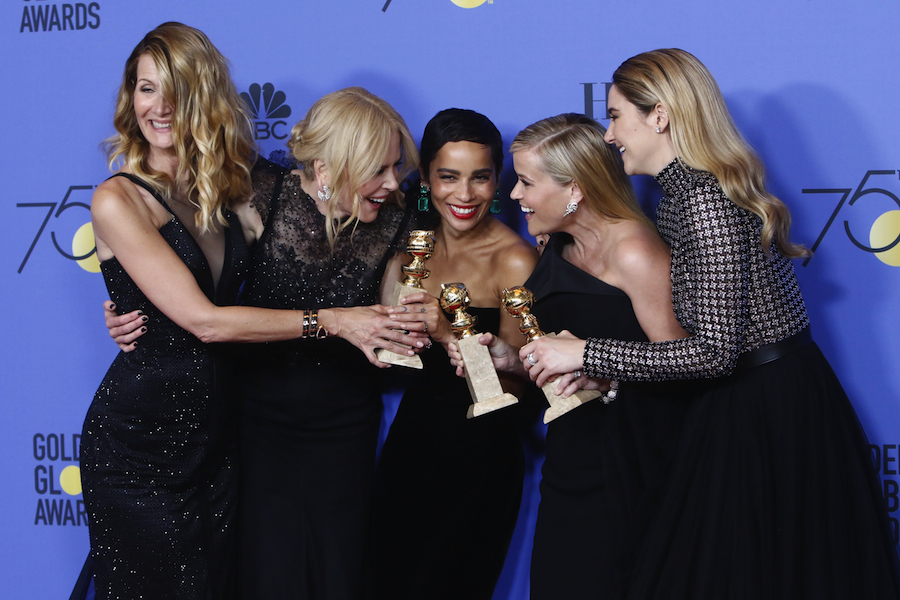 As soon as the stars stepped onto the red carpet for the milestone 75th annual Golden Globes last night, you knew this year was going to be different…
Shortly before the big night, a coordinated protest was announced wherein actresses would wear black on the red carpet as a show of solidarity toward other women (and men) who have faced sexual harassment/assault/discrimination in the entertainment industry… and boy did they get the memo! A sea of black flooded the Beverly Hilton Hotel last night, with nearly every woman in attendance sporting black. Some of the men got into the spirit as well – true, the men tend to show up in black tuxes anyway, but some, likeSteven Spielberg, Sam Rockwell,David Harbour,Joseph Fiennes, Ewan McGregor,Justin Timberlake,Kit Harington, and more, went the extra mile by wearing ALL black. Many were also seen sporting special pins saying "TIME'S UP", the name of a new organization that raises legal funds for those who have experienced sexual abuse of any kind in the workplace.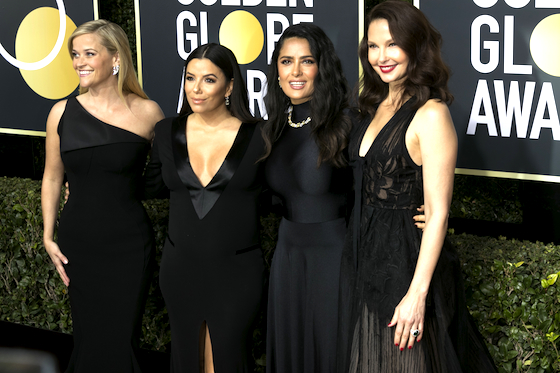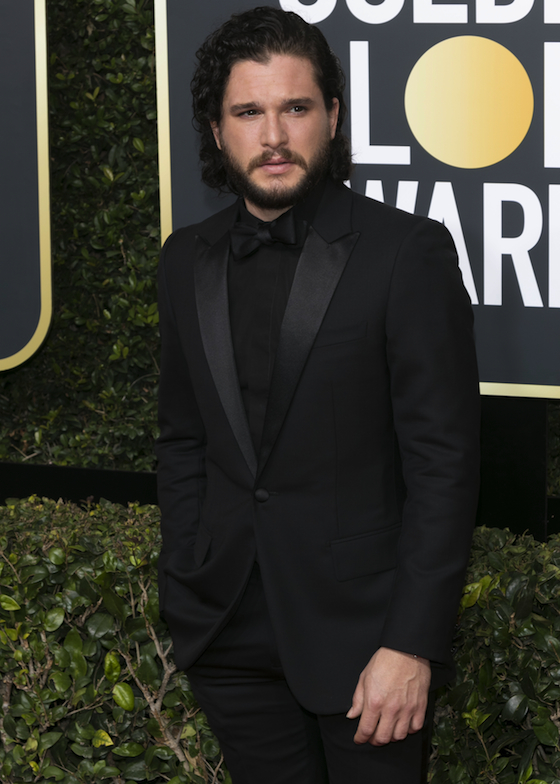 It proves to be a particularly tense and emotionally charged night, fromDebra Messing calling out E! on the red carpet and host Seth Meyers's (often cringeworthy) opening monologue to Natalie Portman's impromptu burn while presenting and Oprah Winfrey's rousing speech as she accepted the Cecil B. DeMille Award (the first Black woman to ever receive it).
Other kind of crazy incidents last night included:
- WinnerFrances McDormand's acceptance speech inexplicably getting censored several times, even though she wasn't even swearing!
- WinnerJames Francoinviting his alter egoTommy Wiseauup on stage and having to mic-block the eccentric star from upstaging him!
- Many have pointed out that, while all the female award winners mentioned something about the #MeToo movement in their speeches, the male winners said not a word about it. I'm gonna go out on a limb and give them the benefit of the doubt on this one – Oprah herself said in her speech that it was time for men to LISTEN, so maybe they took that advice to heart and just let the women have their say without encroaching with their own opinions?
Which brings me to… the winners! Ah yes, this is an awards show, isn't it? The theme of the evening was not lost in the winners' envelopes, for sure, especially in the television categories, where female-centric programs "Big Little Lies" and "The Handmaid's Tale" cleaned up. Meanwhile, Aziz Ansari ("Master of None") andSterling K. Brown ("This Is Us") won acting honors, while Rachel Brosnahan and her brand new Amazon series "The Marvelous Mrs. Maisel" were the breakout winners this year. Sadly, "Stranger Things" was completely shut-out.
On the movie side of things, Three Billboards Outside Ebbing, Missouriand Lady Bird suddenly became Oscars frontrunners, winning for Best Drama Film and Best Comedy/Musical Film respetively and earning acting honors for the aforementioned Frances McDormand as well as Sam Rockwell and Saoirse Ronan. However, neither of those films earned directing accolades (Three Billboards's Martin McDonagh did not win, and Lady Bird's Greta Gerwigwasn't even nominated!) – that honor went to The Shape of Water's Guillermo Del Toro, a film which was all but shut out in every other category save this one and Best Score. Go figure! Meanwhile, James Franco officially made Tommy Wiseau legit, winning Best Actor in a Comedy for The Disaster Artist, while I, Tonya got some love thanks toAllison Janney's win for Best Supporting Actress. And despite Seth Meyers's prediction that The Post would sweep the awards, the Steven Spielberg drama starring Meryl Streep andTom Hanks actually went home empty-handed. Whomp-whomp!
See the full list of winners here. The Oscar race, as well as a new era in Hollywood, is officially ON!
(Images via Ian Wilson/WENN)
- Katie Marzullo, YH Staff Editor