David Fincher Bringing Two Sci-Fi Projects to HBO!
Written by Kevin Donaldson. Published: June 26 2015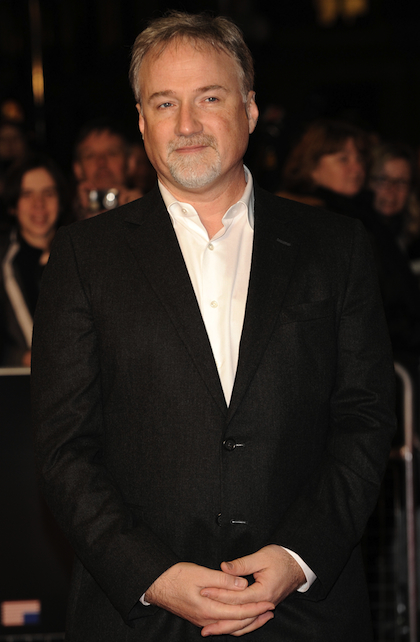 Here are some questions for you:
1. Do you like director of Fight Club, The Social Network,The Girl with the Dragon Tattoo (American version), and, whether he likes it or not, Alien 3, David Fincher?
2. Did you like his The Girl with the Dragon Tattoo star and heiress to the New York Giants (that's the only detail I need to love her forever), Rooney Mara?
3. Do you like HBO? (Who doesn't?)
Then Finchy and HBO are cooking up a treat to cement that your Sunday nights belong to HBO. They're making a television show starring Mara called "Utopia".
The show is actually a remake of a U.K. series by the same name, which follows a group of people who discover a graphic novel that predicts upcoming major disasters that occur. Since I'm thinking aboutBack to the Future constantly, thanks to all the hover board hubbub, I am put in mind of when a crotchety curmudgeon Biff Tannen travels back in time to his younger '50s counterpart a sports almanac from 2015, thus setting forth a series of events where Biff is a rich, abusive, drunk, womanizing, gambling genius. In this case, the group of graphic novel finders are tracked down by a secret shadowy agency who don't want the graphic novel finders to expose secrets and stop disasters. It's a pretty crazy concept, so if you want to check out the 12 U.K. episodes to get a better picture of it, I can't fault you on that.
What's interesting about this Fincher/HBO project is that it's not even the only show Fincher is working on for HBO. Right now, production has been haulted until January on a show that Fincher has been shooting for the better part of this year called "Videosynchrazy". The show will air eventually, and will follow a college dropout named Robbie, who want to pursue his dreams of being a great sci-fi movie director in Hollywood. He quickly learns it's not as easy as somebody like Steven Spielberg made it look by landing that lucky Jaws gig. Instead, Robbie has to work as a production assistant (like many of us do…) on music videos. The catch is that this takes place in the '80s, when rock & roll was full of big hair, gender-bending makeup, and tons and tons of sex and drugs... so, all the fun stuff that's missing from a lot of music today.
Since Fincher himself came up in the industry by working in music videos before directing (much to his dismay) the sci-fi thriller Alien 3, it is safe to say this is drawn from his personal experiences. It's also described as being a dark comedy, so by the end, when Robbie gets to direct his sci-fi movie, maybe it'll be bittersweet when he hates his own movie, wants his name taken off it, and then the credits roll ending the season. But in reality, Fincher, Alien 3 isn't that bad(especially the director's cut) and isn't even the worst one in the series, so be happy and keep smiling like you always do!
No release date yet for "Utopia", but stay tuned with us at YH and we'll let you know. Until then, check out the trailer for the U.K. original "Utopia" series (language NSFW because that's how the U.K. rolls):
Marry me, Rooney Mara.
(Photo via WENN)
- Kevin Donaldson, YH Staff