Creative Arts Emmys a Fitting Preview for the Main Event!
Written by Sarah Osman. Published: August 19 2014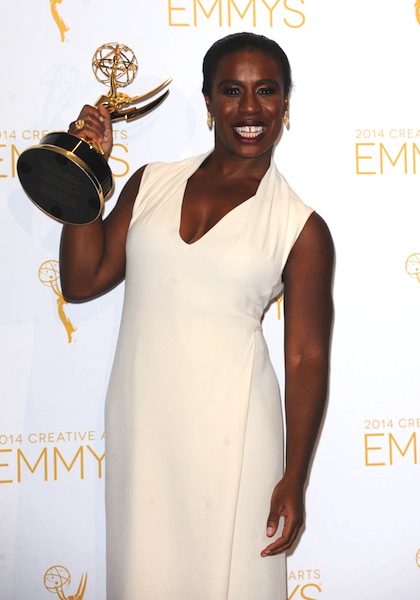 The Creative Arts Emmys, otherwise known as the pre-Emmys or the Everyday Joe Emmys, were held over the weekend in Los Angeles to honor the unsung heroes of television, such as those who work in casting, cinematography, sound, and animation.
HBO led the wins this year with 15, followed by NBC with 10, PBS with 8, and Fox and Netflix tied at 7. "Orange is the New Black" actressUzo Aduba won a much-deserved Outstanding Guest Actress statue for her turn as "Crazy Eyes" on the hit show, marking her first Emmy win and a major kudo for the show. To no one's surprise, Jimmy Fallon won Outstanding Guest Actor in a Comedy Series for his hosting stint on "Saturday Night Live", while Allison Janney picked up her fifth(!) Emmy for her appearance on Showtime's "Masters of Sex". The animated shows got their own hurrah when "Bob's Burgers" won for Outstanding Animated Program (kudos to "Bob's Burgers," that show is fantastic; Tina Belcher is my national hero), whileHarry Shearer, voice to many of Springfield's beloved residents on "The Simpsons", won his very first Emmy.
The night was a precursor to television's version of the Oscars; The Primetime Emmys, set to air August 25th on NBC, will be held at L.A.'s Nokia Theatre. Presenters will include Viola Davis (who will soon grace our small screens in ABC's "How To Get Away With Murder"), Keegan-Michael Key and Jordan Peele (you can't have one without the other), Lucy Liu, Sofia Vergara, Andy Samberg, Woody Harrelson, Halle Berry, and Kerry Washington, among many others. Seth Meyers will take the reins in his first major awards show hosting role (I'm sure he will do just fine), and the Academy has announced that there will most definitely be a special tribute to the recently departedRobin Williams. This will be the year of the battle of the dramas, as "Breaking Bad", "Game of Thrones", and "True Detective" are sure to duke it out for the honor of Best Drama. It will be interesting to see whether Emmy favorite "Modern Family" or beloved newbie "Orange is the New Black" will win for Best Comedy. Personally, I think it would be quite fun if the delightfully sardonic "Veep" won, but I'm a fan of all three shows, so it's difficult for me to root for one.
Will you be tuning in for the Emmys? And keep checking back for our coverage of the hottest Emmy lounges!
(Photo via Apega/WENN)
- Sarah Osman, YH Staff