Epic Comic-Con 2017 Wrap-Up!
Written by Katie Marzullo. Published: July 25 2017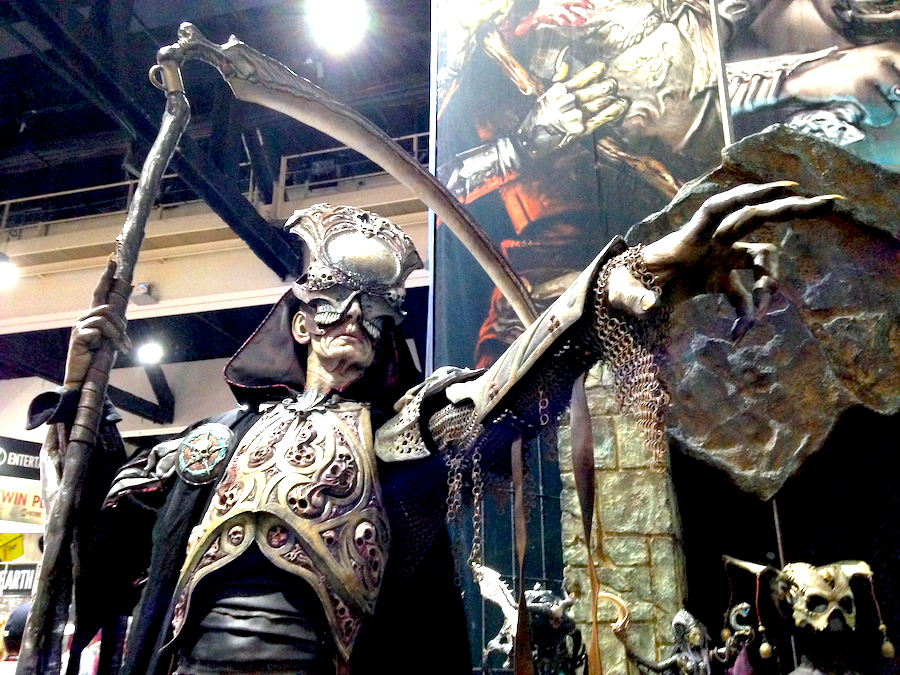 We came, we saw, we geeked the heck out.
Another San Diego Comic-Con has come and gone, four days of utter chaos that seem like a blur once you get home and realize that normalcy is a thing again. But once the dust clears from our brains and the feeling in our legs returns, we take some time to reflect on the beautiful insanity that is Comic-Con.
For me, SDCC is a lot like what I imagine having children is like – it's utterly painful and stressful in the moment to the point where you swear you will never subject yourself to such a thing again… but then after a few months and some hindsight, you think to yourself, "That was great, can't wait to do it again!" This year was no different, of course, so please to enjoy this breakdown of all the craziness the annual nerdfest has to offer!
The Trailers
Honestly, at this point, Comic-Con should just be renamed Trailerpalooza, because that seems to be the main attraction more and more each year. Major studios and networks wait until this one weekend in July to drop the first trailers and teasers for their biggest projects, and this year featured a virtual tsunami of sneak peeks! Some of the most buzzworthy reveals included "Stranger Things" Season 2, Justice League  ,  Steven Spielberg's Ready Player One, "Westword" Season 2, "The Walking Dead" Season 8, and "Krypton". Check them out below!
The Panels
Typically, when you think of panels at Comic-Con, you picture hellishly long lines snaking outside of Hall H for miles for a 45-minute presentation that will be on YouTube in less than 2 hours after it's over.  So I'm going to tell you about two panels I attended that you probably won't hear about on YouTube or any trending topics on Twitter…
The first was a panel I attended last year and had a lot of fun with – it's called Brave New Warriors, which is really just a fancy-pants way of saying "Epic Sausage Fest". The panel includes a gathering of 6 of TV's most studliest actors from the hottest shows answering embarrassing questions and trading amusing stories. It's truly one of the best-kept secrets of Comic-Con, to be honest (well, except for the hundreds of people in attendance, each and every one of whom elbowed me in the face to get to the good seats up front). This year's panel included David Harbour (Sheriff Hopper from "Stranger Things"), Christopher Meloni(best known as Detective Stabler from "Law & Order: SVU"; currently starring in comic book adaptation Happy!), Colin O'Donoghue (Captain Hook from "Once Upon a Time"),Richard Rankin (Roger Wakefield from "Outlander"),Ricky Whittle (Shadow Moon from "American Gods"), and Rodrigo Santoro (Hector from "Westworld"). Quite a line-up, eh?
These six hotties kicked back and traded tales from their careers, such as their worst acting gigs and awkward encounters with fans. They also revealed some hidden talents they possess -- Harbour could touch his nose with his tongue, Meloni showed us his "monkey face", O'Donoghue shuffled a deck of cards one-handed, Whittle did likewise (or tried to), Rankin is double-jointed, and Rodrigo regaled us with some whistling. Then the moderator asked each panelist to show us their reaction if a fan came up to them and showed them a tattoo of their face on their body. I present those reactions to you below (apologies for my crappy camera):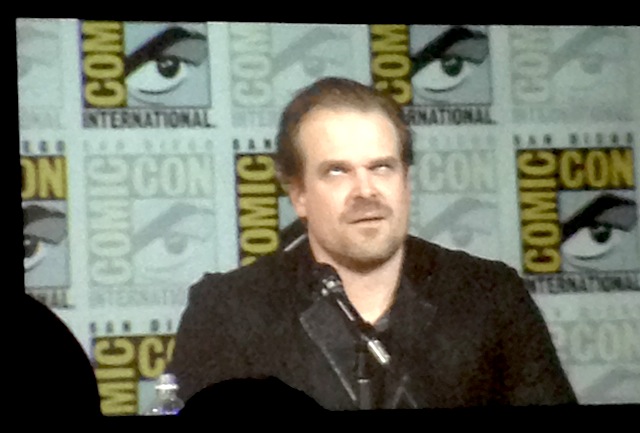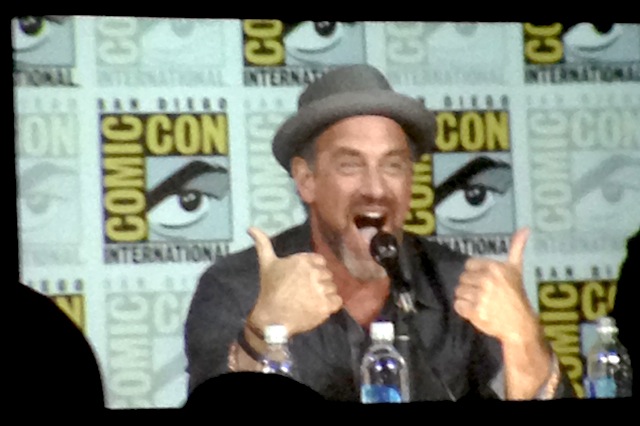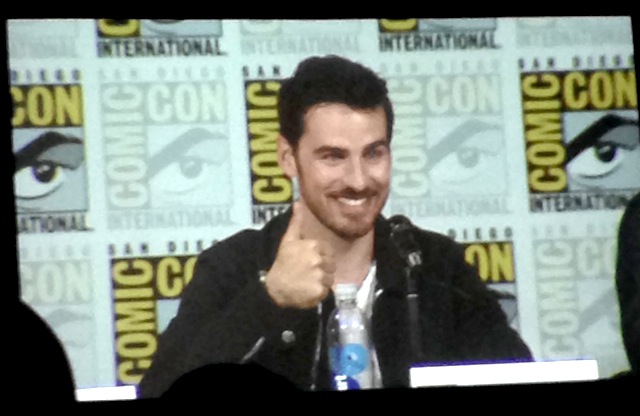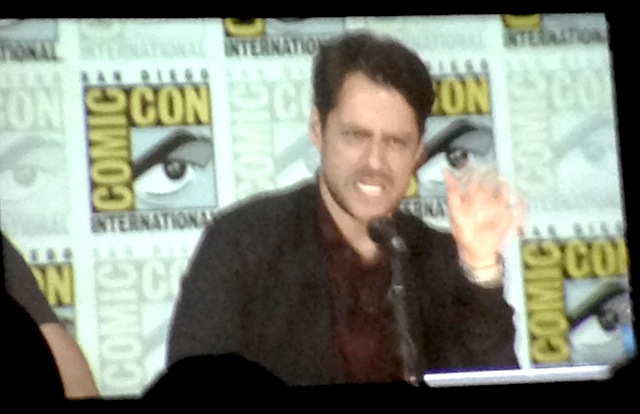 And a swell time was had by all.
The Parties
When the panels are over and the Convention Center floor shuts down for the day, Comic-Con is still in full swing elsewhere around downtown San Diego. Parties are happening on virtually every corner and everywhere in between, most of which require some sort of RSVP or your name on a list to attend. On Thursday night, "Wynonna Earp" had their SDCC bash at F6ix nightclub, where castmembers mingled in an intimate downstairs room along with hot music (like, actual playlists, not house music or any of that typical club nonsense) and even a bar set-up doling out mini-donuts with your choice of toppings. Honestly they tasted more like large Cheerios, but they were yummy nonetheless!
We'd never seen the show, so we didn't know who the actors were (though we could make some guesses based on the people who looked most like a stylist had been at them), but the vibe was happy and hopping and we had a great time!
Elsewheres around downtown and the Gaslamp District, a "Game of Thrones" pub crawl was taking place; different bars around the area were designated as different realms of the Seven Kingdoms of Westeros, and teams were challenged to hit each one and perform a certain task to collect points, such as having their photo taken with a GoT cosplayer. I found myself at the El Dorado Cocktail Lounge, standing in for Casterly Rock (seat of House Lannister in the Westerlands), dressed as A Song of Ice & Fire authorGeorge R.R. Martin and had a run-in with the fearsome Mountain!
Having gotten my fill of Buffy, I then headed north to the harbor and theStar of India, a 19th-century sailing ship (now a maritime museum) and the perfect spot for a pirate-themed party! The Marked Men bash also included a "Game of Thrones" tie-in, but I saw way more attendees dressed in their best pirate attire and spotted at least 3 Jack Sparrows. DJ Joffrey was on-hand with the Iron Throne to spin the 1s and 2s, and in the cargo hold, Songhammer belted out some original tunes about wars, heroes, and zombie invasions!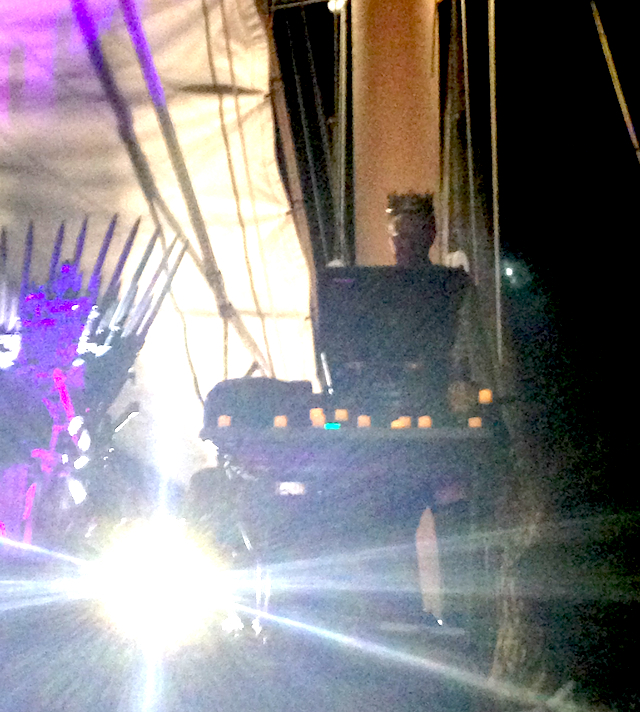 I came home from San Diego with quite a collection of wristbands, indeed...
The Experiences
If you don't have a Comic-Con badge, that certainly does not mean you can't attend Comic-Con. The entire downtown Gaslamp District is bursting with activity and happenings, many of them spontaneous. Some of my fondest SDCC memories are usually the things I didn't plan for. Like... you can end up taking a little "Legion" swing in the FX activation area; you could just be strolling down the promenade behind the convention center and run into "Preacher" starDominic Cooper and the fierce Kathryn Winnick from "Vikings"; or you could just be chilling near the Hard Rock Hotel when a band of kilt-wearing beefcake rolls up for some eye candy and silly stunts to promote Starz's "Outlander".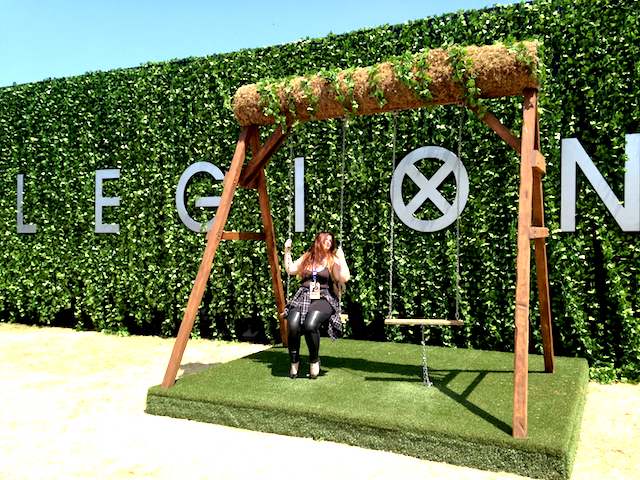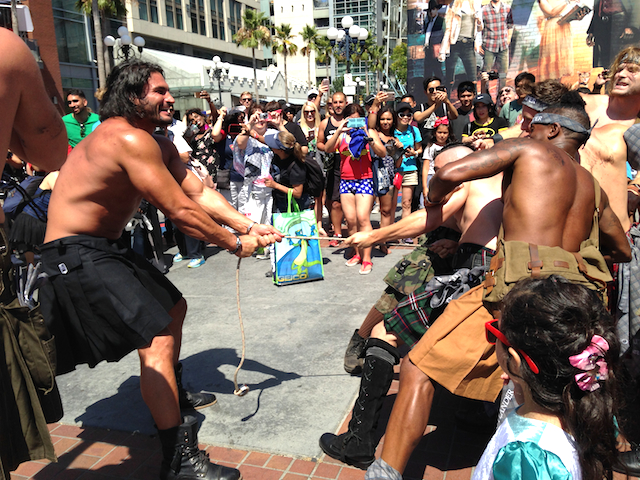 One of the most fun experiences I had outside the convention center was tucked back in the Petco Interactive Zone. Cable company Xfinity partnered with HBO and Netflix for a "pop-up TV diner" experience to design 3 screen-accurate "tableaux" depicting sets from 3 TV shows: "Luke Cage", "Game of Thrones", and "Orange Is The New Black". Stuff a few bucks in the Swear Jar at Pop's Barber Shop, or trade prison gossip in the Litchfield commissary. The GoT set in particular included dragons created directly from the CGI models on the show and actual props used on set! I certainly enjoyed getting to play Mother of Dragons for a hot second!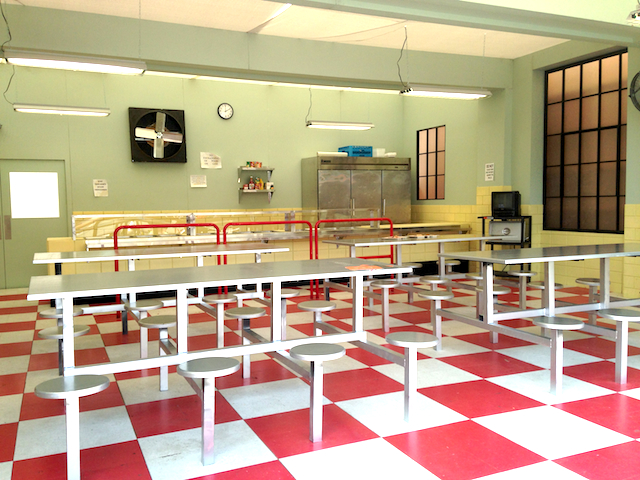 Speaking of hot, to immerse you even further into the world of these fictional series, each setting also came with a specific warm meal themed off of the show prepared by professional chefs. Now you can taste Genghis Connie's famous chow mein, Susanne's cherry pie, and Sansa Stark's favorite lemoncakes! I was able to sample each plate, and let me tell you, it was LEGIT. The chow mein was a highlight, but everything on the GoT plate was A+!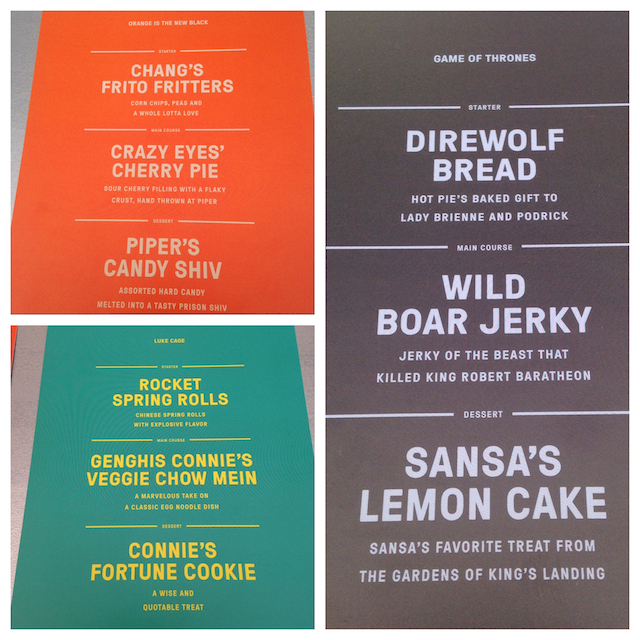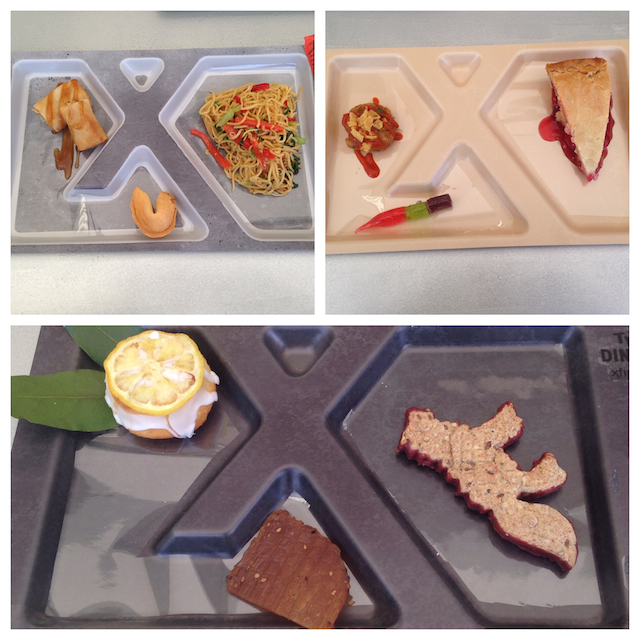 Based on the (well-deserved) success of this attraction, Xfinity is hoping to expand and include other TV and film properties. Here's hoping for a "Westworld" or Harry Potter-themed pop-up diner soon!
The Cosplay
Let's be real: no convention is worth a damn without the cosplayers. These dedicated, creative, hardcore fans who pour their hearts into their favorite characters by bringing them to life are what make Comic-Con truly worth the trip. Here are just a few of my faves that I encountered this year: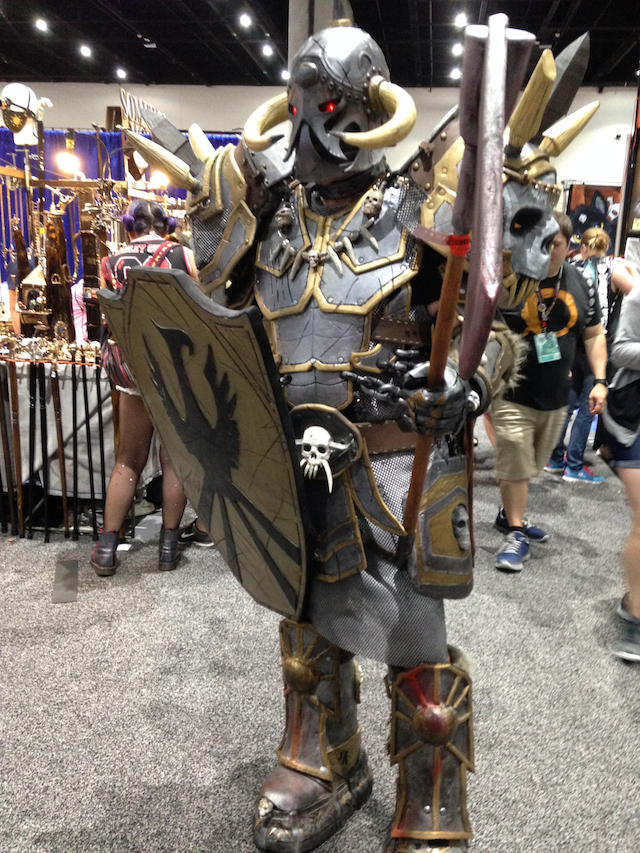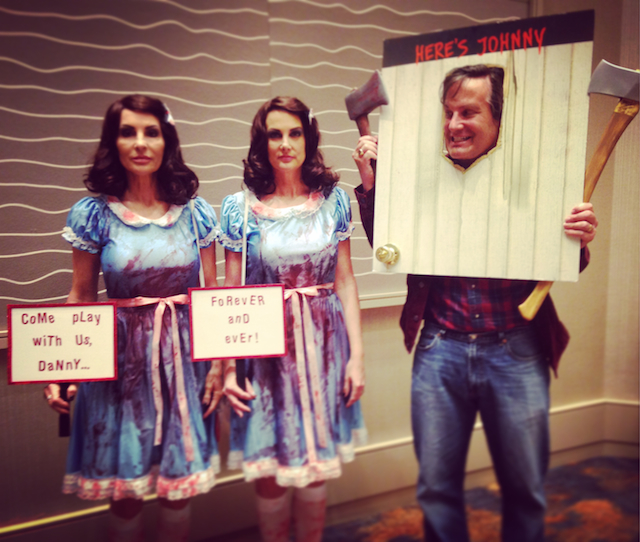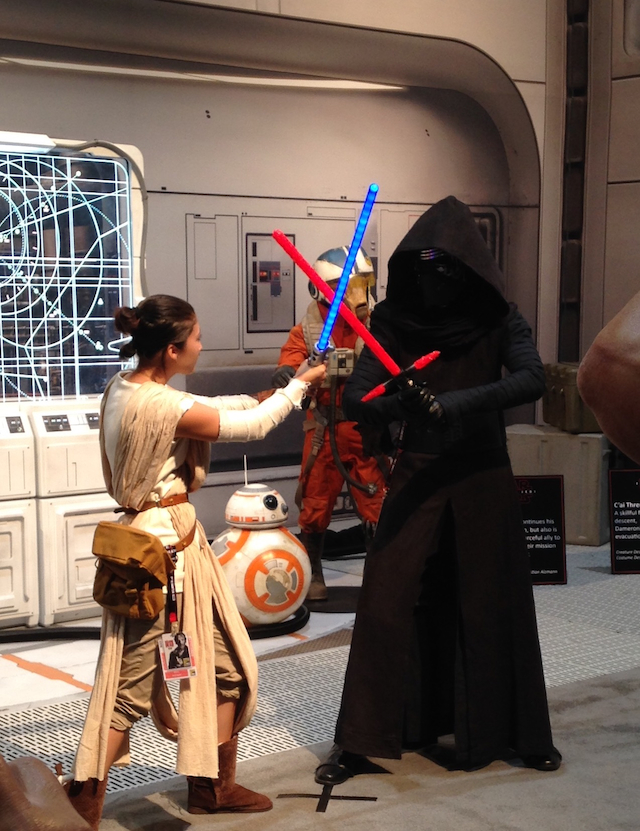 Misc.
I just wanted to give a shout-out to whomever puts together the playlists that play in between panels in the exhibition halls. I Shazam'd my butt off all weekend and discovered some great new music and artists, including Kacy Hill and her song "Arm's Length", which I am now obsessed with. So, kudos to that guy!
And that's it, folks! Hope you enjoyed this stroll through Comic-Con Lane. Stay tuned to more of our SDCC coverage with recaps from roundtables and red carpets with some of your favorite TV stars and shows!
- Katie Marzullo, YH Staff Editor