Comic-Con 2015 Wrap-Up: 4 Days of Geektastic Adventures!
Written by Sarah Osman. Published: July 13 2015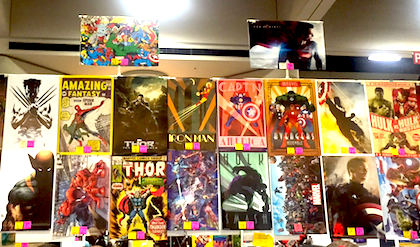 It was that special time of year again when the Young Hollywood crew strapped on their capes and trekked to San Diego for the annual geekfest known as Comic-Con, the largest pop culture convention in the country!
This year, our own editor extraordinaire Katie Marzullo and I joined in on the fun and insanity and got our fill of celebrities, superheroes, Jedi, Disney princesses, obstacle courses, and even parades, as well as the latest info on all our favorite shows and movies. So without further ado, here are some of the highlights of our epic quest!
Thursday, July 9:
- The stars of The Hunger Games made their way to the Bay for what would be their final SDCC as they promoted the last installment of their smash-hit film franchise, Mockingjay -- Part 2. Katie attended a press conference immediately following their panel -- for read all about that, click here!
- Everyone's favorite talk show host, Conan O'Brien, moved his show to San Diego for the week, and we were able to score tickets for his Thursday taping at the historic Spreckels Theatre!
Never one to disappoint, Conan kept the crowd going by doing his signature String Dance, revealing his own superhero-esque "original story", airing the first-ever episode of"The Flaming C", and having fun with his guests, which on this particular day was the stars of The Hunger Games (oh, them again?). We learned thatJennifer Lawrence can do a meanCher impression (with Liam Hemsworth and Josh Hutcherson as back-up singers):
BTW, if you're wondering what Conan does during commercials breaks, mostly he just takes off his jacket and keeps dancing.
Check outmy spectacular Pikachu cosplay on the Team Coco fan page!
After the show, we all received the second of 4 limited edition Conan dolls from Funko, and no sooner was it in our hands that shifty collectors/dealers were asking us if we wanted to sell it. No dice, bro!!
- A Sharknado hit Comic-Con (in the form of Sharknado 3), and a Sharknado parade became a fixture on the streets of downtown San Diego.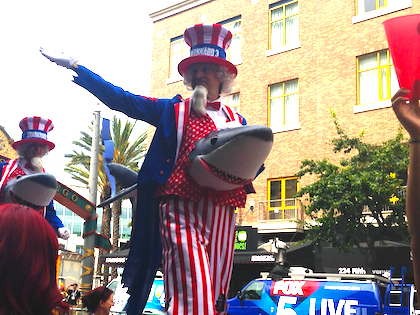 - A few (hot) Scottish lads and lasses led a bagpipe processional through the streets in support of Starz's hit drama, "Outlander", where they serenaded us with bagpipe renditions of the Star Warstheme. And lots of sexy boys in kilts. Thank you, don't mind if we do!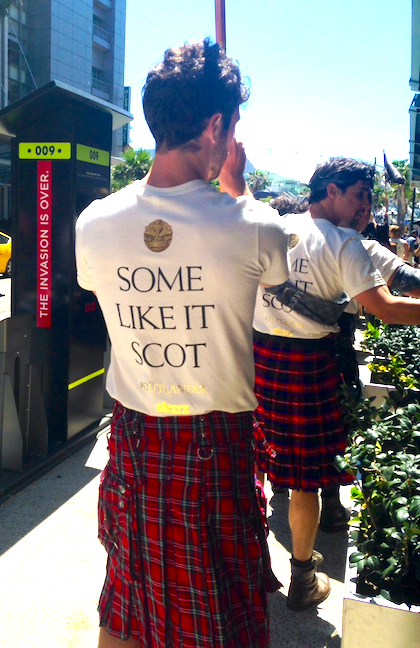 - We saw some fierce cosplay, including nearly all of the Disney baddies, dozens of couples dressed as Joker and Harley Quinn, some truly fierceMad Max: Fury Road-inspired costumes, and one amazing looking Groot.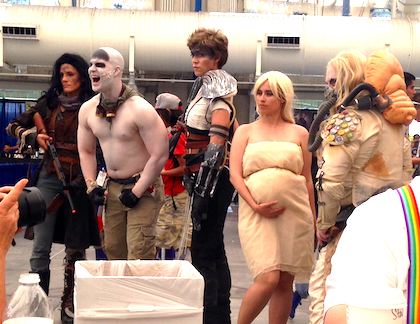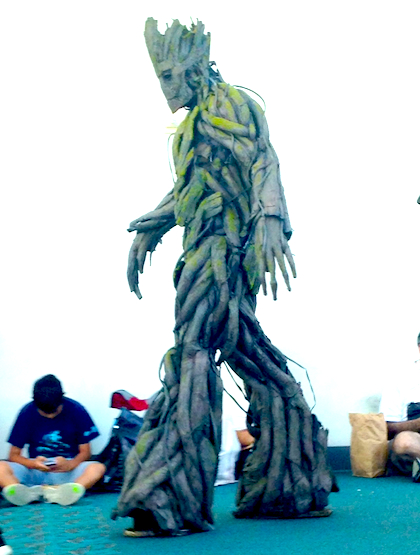 Friday, July 10:
- The cast of "Archer" filled me in on what we can expect for Season 7 and who they believe their respective "Archer" characters would cosplay as.Check out their responses here!
- The line for the Game of Thrones: Experience the Realm attraction across the street from the Convention Center circled the block, but Katie braved it anyway for a chance to claim the Iron Throne for herself!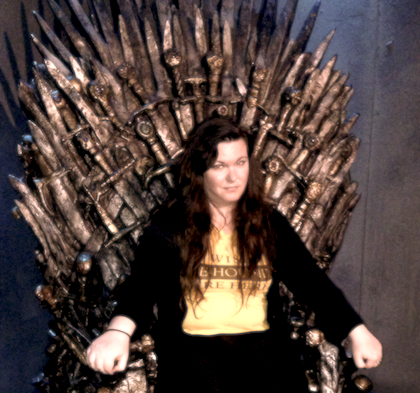 - Meanwhile, I hit up Nerdist's Conival at Petco Park, full of fun for families of all ages. This free event included laser tag, interactive games, and panels (I happened to stumble upon one featuring Nathan Fillion and Alan Tudyk, who discussed their new show, "Con Man"). Watch out for those sneaky velocipators!
- All aboard CraveOnline's annual party, Crave Escape, which was held aboard the imposing USS Midway and hosted by "Orange is the New Black" starTaryn Manning!
The actress/musician confirmed that she will be releasing a new album soon, and when asked whom she thinks Pennsatuckey would cosplay as, she considered something "really girly".
On the flight deck, a fabulous fashion show by Best of Gaming Cosplay took place, where my personal favorite had to be the Asgard Trailer Park Boys. Meanwhile, Bad Suns, Cathedrals, and Cold War Kids kept the crowd rocking!
- Nerd Nite, hosted by the National Geographic Channel, was and held at a nifty outdoor venue known as Makers Quarter. While there, we were treated to presentations including "The Science of Jurassic World"by paleontologist Trevor Valle and "Dead Life: Making a Living in Taxidermy," by award-winning taxidermistAllis Markham. The tacos were pretty darn good too!
Saturday, July 11:
- The cast ofPride, Prejudice, and Zombies, based on the book byJane Austen and Seth Grahame-Smith, sat down with me to chat about this upcoming zombie romance. The exclusive interviews will be posted later this week!
- The brilliant men behind the voices of Spongebob SquarePants and Patrick Star, Tom Kenny and Bill Faggerbakke, filled me in on the challenges of being a voice actor, as well as the latest mayhaps that Spongebob and Patrick get into. Our fun-filled chat will be posted soon!
- And if that wasn't enough interviews, I also spoke with puppeteering legendMarty Kroft and dog expert Cesar Millan about their adorable new show on Nick Jr, "Mutt and Stuff". Starring Cesar's son, Calvin, "Mutt and Stuff" follows Calvin as he helps run a cool school for dogs (Stuff is his cuddly helper). An exclusive interview will be posted this week!
- I became a superhero at the NBC "Heroes Reborn" Experience, produced by V Squared Labs. This one-of-a-kind experience let me see what it would be like if I could shoot fire out of my hands, and ended up producing many rogue superheroes, including Zachary Levi! I personally thought that I made a pretty fierce superhero.
- Meanwhile, Katie chatted with the stars of Guillermo Del Toro's upcoming gothic horror film Crimson Peak, where Tom Hiddleston told her a ghost story andJessica Chastain commented on a certain little parody video featuring Bryce Dallas Howard... Stay tuned for more on that later this week!
- I also faced one of my worst fears and tried ziplining for the first time at the Square Enix Experience. I climbed to the top of a 40-foot tower before descending across 150 feet with a faux rifle in hand as I attempted to take out some bad guys. The experience made me feel like Rico from the video game Just Cause 3 (although I think that I did better than Rico).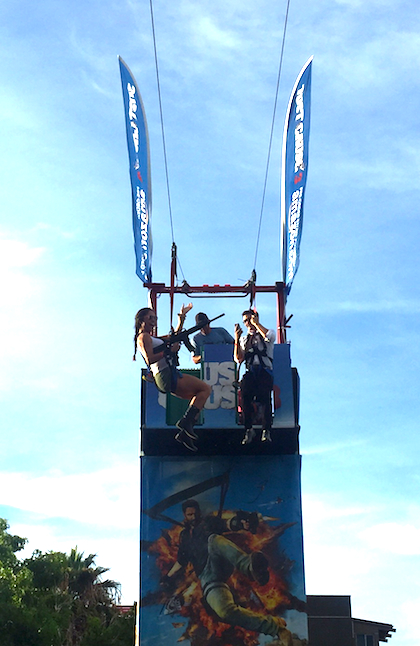 - Renowned cosplayer Meghan Camarena (aka Strawburry 17) boldly cosplayed as Rey from Star Wars: The Force Awakens, which hasn't even been released yet! She also rocked the look Spider Gwen from the alternate Spider-Man universe and Thorn fromBattleborn. Keep an eye out for our exclusive chat with her!
- The Reading Gaslamp 15 Theatre hosted a very special screening of X-Men: Days of Future Past with the long-lost Rogue scenes re-added into the cut! Director Bryan Singer himself came by to welcome us to this version of the film, which included 17 minutes of never-before-seen-footage, and explain why it got left on the cutting room floor in the first place. The Rogue Cut will be available on DVD and Blu-Ray on July 14.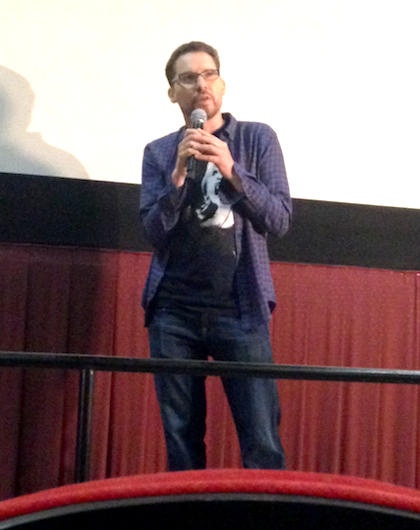 Sunday, July 12:
-Chris Sabbat, who is the voice of Piccolo and Vegeta in FUNimation versions of one of my favorite animes, "Dragon Ball Z", along with producer Justin Cook, filled me in on what to expect in the latest "Dragon Ball Z" film,DRAGON BALL Z: RESURRECTION F, which will have a limited U.S. release from August 4-12.
- I wrapped up the long week/weekend by relaxing at Adult Swim on the Green, a fun little fair hosted by Adult Swim. While there, I met an adorable meesek from "Rick and Morty" as well as experienced the Meat Wad Dome, a 3D film that was unlike anything I have ever seen.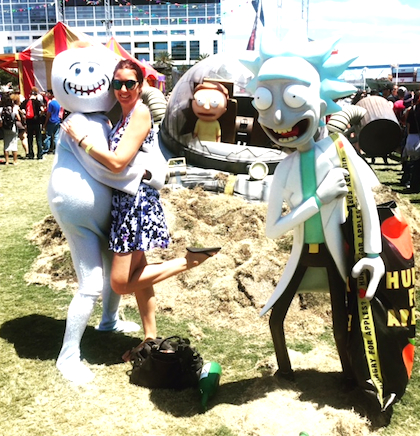 And that's a wrap! Keep an eye out for more exclusive Comic-Con coverage here on the Scene and also TONS of great video interviews shot by our amazing production crew all week long! Keep letting that geek flag fly!
- Sarah Osman, YH Staff; additional reporting by Katie Marzullo, YH Staff Editor