Coldplay Teases New Album at Intimate L.A. Concert
Written by Amanda Baltazar. Published: March 27 2014
Coldplay is undeniably one of the most popular bands to have come together and grace the Earth with their music. With over 60 million records sold and numerous music awards, including seven Grammys, Coldplay will be releasing another album this May!
After five great previous albums, the foursome have left it all on the line with their sixth album, Ghost Stories. The songs have been kept secret pretty well, without any big leaks so far, but they did release one of their songs, "Magic", earlier this month.
This is just a small taste of their highly-anticipated album. But just in case this wasn't enough, a few lucky fans were given a chance to hear their album in a very intimate concert in Los Angeles this past weekend. I was lucky enough to be one of the few to attend, and it was MAGIC-AL. They played nine of their new songs, as well as a few favorites like "Paradise" and "Viva la Vida", but my heart sank during "Fix You". The show was very low key and rules were strictly enforced. Everyone had to check in their phones in to make sure nothing was videotaped or leaked. The concert was, however, filmed for a future NBC special and a DVD. 
The ambiance was beautiful and truly magical for any Coldplay fan. In this album, Coldplay took hold of their unique sound and owned it. They included soothing ballads like "Fix You" to dance hits like "Viva la Vida" and everything in between. They pulled at my heart strings had me swaying to "O" and dancing (not well) to "A Sky Full of Stars".  Everyone was jumping out of their seats when they dropped the beat in that song. Although we didn't get the signature butterfly confetti, we did get some star confetti, of which I took a handful home. I'm not ashamed. I'm a fan.

At the end of the night, we also got a little souvenir letter with pins inside for going to the concert!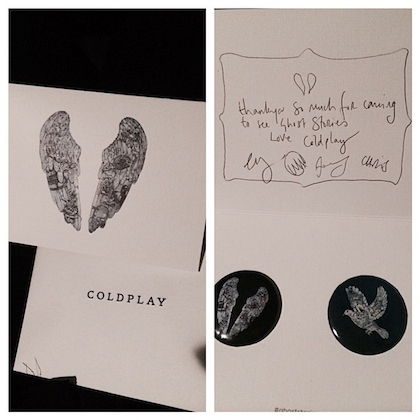 Courtesy Amanda Baltazar
Aside from their music and keepsakes, Chris Martin took the time to talk to the audience and express his love and gratitude. So refreshing to hear, especially from a very, very successful band. Sadly, nothing about a tour was mentioned, but I'm keeping my fingers crossed for a Ghost Stories Tour in the near future. Oh, what I would give to see Chris Martin, live, in-person, again.
To pre-order their new album and other Coldplay information, check out theirwebsite.
(Photo via WENN)
- Amanda Baltazar, YH Staff