Chris Martin Pulls Double Duty in Coldplay's "Magic" Video
Written by Amanda Baltazar. Published: April 11 2014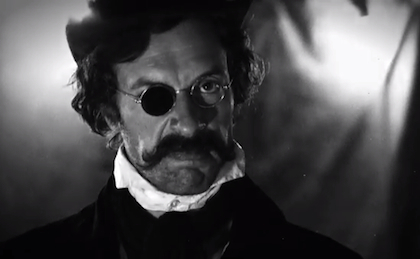 It's always a pleasure to hear from the band Coldplay.Chris Martin never holds his creativity back, and you can definitely see this in their new music video for their latest single "Magic".
"Magic" is the first single from their newest album, Ghost Stories, set to release in May. And "Magic" is definitely the key word for this clip, directed by Jonas Akerlund. The whole video is shot in old-fashioned black and white silent film-style.
The beautifulZiyi Zhang from Crouching Tiger, Hidden Dragon appears as a skilled magician who is in a very toxic and complicated relationship with a mustachioed man, played by Chris Martin. But don't worry, because her assistant, played by Chris Martin… wait. What? Yes, that's right. Chris Martin, man of many skills, takes on a few roles here. Anyway, her assistant takes matters into his own hands!
It's super awesome. If you don't believe me check it out for yourself.
I love the silent film-style approach for this video, and I'm a sucker for that whimsical swing music intro!
Coldplay is going all out for this new album. They even held an intimate concert in Los Angeles to preview their new album to some lucky fans. Get the low down on that concert here.
"Magic" has only been out for a short while, but it's already getting a lot of buzz. Even the sensational Aloe Blacc took some time out to cover the new single.
Remember to pick up a copy of Coldplay's new album, Ghost Stories, on May 19!
(Screenshot via YouTube)
- Amanda Baltazar, YH Staff