Chatting With Standup's Star-of-The-Moment, Atsuko Okatsuka!
Written by Joshua Dittrich. Published: July 03 2023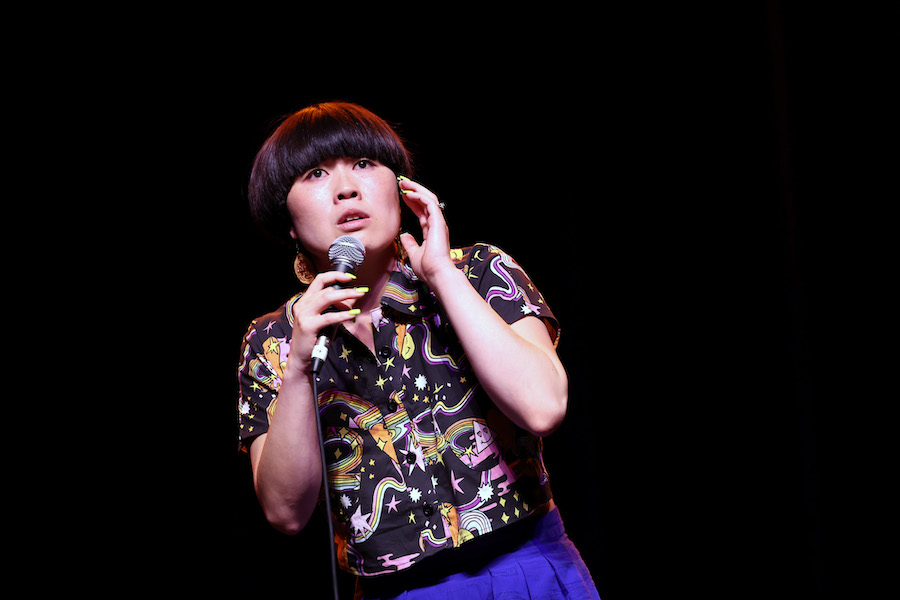 (Photo © Amy Sussman/Getty Images)
Whether it is breaking the Internet with her viral #Dropchallenge on TikTok, making the Top Ten list for best standup specials of 2022, or just strutting around in one of her trademark brightly-colored pantsuits and signature bowl cut, Atsuko Okatsuka is truly living her best life. We sat down with Atsuko to discuss life as a professional comedian, feeling comfortable in your own skin, and of course, Spider-Man.
For Atsuko, the journey into the world of stand-up comedy was not an easy one. "Standup comedy took years for me to even convince myself that I could really do it, and [even more] that I deserved to do it. I was first exposed to it when I was 15. Before that, I was in Japan and stand-up comedy isn't really a big thing. Never did I think, 'Oh, that could be me.' I didn't have that kind of confidence." Even after taking classes and beginning to perform, she still possessed doubts. Despite learning more and practicing, she would still think "nevermind, I'll go back to school, cuz me? A stand-up? They really want that?" Looking back on that, the answer is a resounding YES. Since then, Atsuko has fully leaned into her voice, and it has worked out splendidly. Her special "The Intruder" on HBO is being praised as one of the best specials out right now, and she has appeared on numerous late night shows including "The Late Show with Stephen Colbert", "The Late Late Show with James Corden", and "Jimmy Kimmel Live!".
Along with nerves, Atsuko had another completely different challenge to overcome when starting stand-up comedy in America. "English is not my first language… I learned English watching 'Scooby-Doo', so I sounded wild. Even just trying to be a human person at school, I sounded like a cartoon dog.
"You have to love yourself enough to go, 'No! This is the way that I talk.' Sometimes I make weird noises with my mouth. Sometimes that's how I say a sentence… because my vocab is not great. And that's okay, that's how I talk and express myself." This mindset is incredibly important for any aspiring performer and is what eventually let Atsuko drop the other personas and become her true, comedic self. Whether it's performing or interacting with classmates, people just want to be accepted. To do this, Atsuko described how "you try and sound like [other successful people] that already works…then [you realize], 'Oh, that's someone else's personality.'" Atsuko described how, when she started comedy, she performed in a very deadpan manner, attempting to replicate the likes of legendary comedian Tig Notaro. But then she realized that that style of comedy wasn't her, it wasn't her voice. "The worst thing you want to do is wake up ten years later and realize, 'I haven't been me for ten years.' That's the worst thing you ever want to feel."
Whether it's the personal stories or bright, powerful clothing, Atsuko is unapologetically herself. When discussing how she made the change from beginner to professional, she describes how "you need to have enough confidence and really have grown up seeing enough people that even look like you doing it, [because without seeing that] you go, 'Ah there's not a slot for me.'" Breaking into the world of entertainment is already scary enough, and with no role models or familiar representation, it can be all the more terrifying. Representation of all people is so important in the world of entertainment, and by watching other Asian, female comedians, such as Margaret Cho, she realized there was a place for her in stand-up comedy. 
Also, if you happened to watch the recent Marvel film Spider-Man: Across The Spider-Verse, you've seen Atsuko… or, should I say, heard Atsuko. She voices Yuriko Watanabe, one of the people attempting to track down Spider-Woman and destroying the Guggenheim Museum in the process. Atsuko described how she loved voice-acting because "you can be a little cartoony and bigger-than-life than live-action acting." As mentioned above, Atsuko had been unintentionally training for the role since she learned English. "I learned English from 'Scooby-Doo', so cartoon voice? Are you kidding me? Girl! Full circle. Look at me now. I AM a cartoon character."
While being authentic is important, Atsuko says that there still remains some sort of performative element to stand-up comedy. "My authentic self is always trying to be laying down horizontally, trying to use as little energy and words as possible. If I can just talk in grunts, that's how I would do it." As relatable as this is, that may not play too well in an hour of stand-up comedy. "When you're on stage, it's always a little bit of an exaggerated version of yourself… it's always a little bit of a performance when you're performing, I think that's why it's called that." Comedic process aside, Atsuko has done a masterful job of keeping it real on stage. She discusses her family, her relationship, as well as her efforts to destigmatize physical and mental health issues. She wants to be able to discuss these issues in an unapologetic and open dialogue. This is also one of the reasons why she partnered with Secret Clinical Deodorant. While the pairing of a comedian and an antiperspirant may seem a little random, Atsuko explains it perfectly. Because stand-up is intimate and private, it is the perfect platform to talk about private and uncomfortable things, such as body odor and sweat issues. By making jokes about it, she not only brings it into the light, but she also talks about how it helps "people feel not alone, they have a tool that can help them out." Secret Clinical is perfect for that, and by pairing its 3-day sweat locking technology with Atsuko's hilarious performance, it allows people to know that there are options out there and that they can find help. "That's what I want to do with my comedy, is have people feel seen and [know] that they're not alone." 
( © Secret)
Atsuko Okatsuka is a gem. She is hilarious, caring, and she even complimented my nails at the end of the interview (I had just gotten them done as a camp counselor; the kiddos decided I needed pink and yellow with blue, purple, and orange polka dots). Receiving  a fashion compliment from the queen of color herself is a pretty nice touch to an already amazing interview. Her style of performance is encapsulating, her jokes are incredibly well-written, and you really don't want to miss her, so make sure you watch her new HBO special "The Intruder" on MAX and check hertour and show dates. And if you're bored, why not go out and hit a #dropchallenge?!