Chatting with Pop Singer Dyllan Murray
Written by Sarah Osman. Published: February 13 2015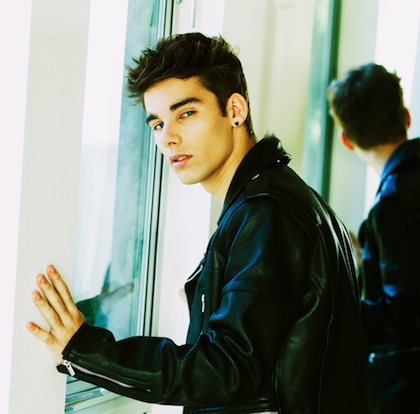 Dyllan Murray is an up-and-coming artist on the pop music front and is certainly one to watch out for! He recently collaborated with Sean Kingston on his delightfully bouncy song, "Boom Boom", and has since worked with other artists including Tyga,B.o.B, and and Lil' Twist. He was the opening act for Aaron Carter's world tour, and he is set to embark on his own radio tour later this year. In addition to all of that, Dyllan has been hard at work on new singles, and his latest music video, "Trophy Girl", drops today! Check out out below:
During our chat, Dyllan filled me on how his new music differs from his old music, his favorite food to eat while on tour, and what happened when Aaron Carter first met him!
YH: Tell us how you and Sean Kingston came up with the idea for "Boom Boom".
DM: Originally, Sean Kingston wasn't even on the song. My manager introduced me to Sean, and he really loved it, and that's how that came together. It turned out to be the first single of my new project that I've been working on. We had a great time working together; he's a super nice guy. 
YH: Your video for "Trophy Girl" just premiered. Can you tell us a bit about it?
DM: It was a really fun video to shoot. There's a lot of different themes in it. It has a little clubby vibe, and then there's some out on these railroad tracks downtown, and there's a very beautiful girl in it. [chuckles]
YH: You recently went on tour with Aaron Carter. What was the most unusual thing that happened to you while on tour?
DM: That's a tough question, because that tour was pretty crazy. I think when I first met Aaron Carter was pretty unusual and funny. He saw me from a distance and he thought that I was Justin Bieber. So that was pretty funny.
YH: Tell us a bit about your new singles. How are they different from your earlier songs?
DM: They're so much different from my old music. They are way more up-tempo, and they appeal to a larger and broader audience. They're a lot more fun. They have more of a dance-y vibe. That's what I love about it, and it's been easier for me to record this music more than my last stuff. Not saying that I hate my last stuff, I loved it, this music just appeals to a lot more people.
YH: You are about to embark on a radio tour. Are there any foods/drinks that you have to have with you while on tour?
DM: I love sugar cookies, like soft-baked sugar cookies, and pizza. I like to have the pizza first and then finish with the sugar cookies. I've never tried having the sugar cookies on the pizza though.
YH: You are quite active on social media. Are there any Twitter/Instagram accounts you particularly like?
DM: I follow all my favorite artists, like Austin Mahone, Justin Bieber, and Justin Timberlake. A lot of their tweets are pretty funny. I also like following Jaden Smith, he has some pretty unusual tweets that are fun to look at.
YH: Who are some of your favorite musicians that we should check out?
DM: Shawn Mendes. He's been out for a little bit now, but he's getting bigger and bigger every day. Justin Timberlake has always been a huge inspiration to me, through his acting and music and everything he has been doing. Those are the two I'm into right now. 
You can keep up with Dyllan on Twitter at @TheDyllanMurray.
(Photo via Marcel Indik Photography)
- Sarah Osman, YH Staff