Chatting with Jeff Timmons About the 98 Degrees Reunion & More!
Written by . Published: August 16 2012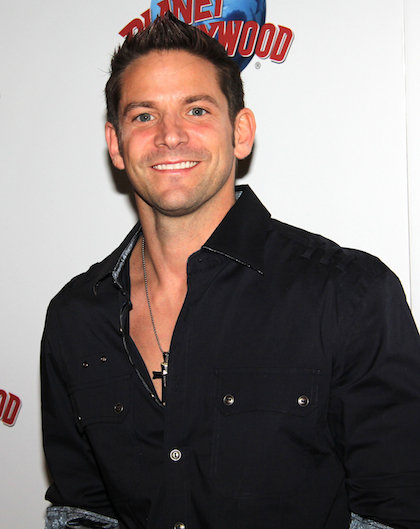 Back in June,Nick Lachey and Drew Lacheyannounced that 98 Degrees was in fact reuniting for a performance at the Mixtape Festival in Hershey, PA. Tomorrow (August 17), the foursome from Ohio -- Nick and Drew, Jeff Timmons, and Justin Jeffre -- who have sold over 10 million albums, will reunite on stage for the first time on the "Today" show's Summer Series. We caught up with band's founder, Jeff Timmons, on where they've been and what fans can expect!
Everyone is so excited for your "Today" show Summer Series performance on Friday and the Mixtape Festival in PA this week. It's been ten years since you, the Lachey brothers, and Justin Jeffre performed together. How much have you changed since you are clearly more boys to men now than ever?
We are super-excited. I think, if anything, we have grown individually as vocalists and performers, so instead of being a bit rusty, I think we have a bit more flavor.
Everyone has sort of done their own things, some in front of the camera and some behind the scenes... What have you been up to since 98 Degrees split a decade ago?
I'm a big family man, so I've been hanging with my kids. But I've never gotten away from music. I've done some small stuff, under the radar on the solo tip, but mainly been writing and producing records for other artists.
Have you all managed to stay in touch? Obviously you now have families, etc... Has that changed your dynamic as friends and bandmates?
We are all way more mature. I think, in the past, we were so busy that we didn't stop to enjoy the ride. Now that we are older and wiser, we will all savor every moment.
We've seen Nick MC some reality style-talent shows and his brother on "Dancing with the Stars"; Any chance you might take a swing at any reality competition shows in the near future? 
I've been asked to do some of them but was usually occupied with other stuff and family but definitely feel I'd be up for it now.
What made you guys decide to ultimately do a reunion? Was it the fans, or did you all find that maybe you guys had time to actually all get together under one roof and do this?
It all worked out timing-wise for everybody. Plus, I think that our fans are really ready for it. Everything is about the right timing and feel.
So, the fans have asked for you to all give them just one more night, and it looks like their wish may be granted. Are the rumors true that you may be making some new music as well? Will it be different from what 98 Degrees fans are use to?
We are going to test the waters with Mixtape and the "Today" show. We're definitely up to do new music. We'll have the harmony-based stuff of course, but we want to do some contemporary, uptempo stuff as well.
People have amazing memories of '90s music, and it looks like a lot of groups are getting back together, like No Doubt and the Backstreet Boys. What do you think makes this era so special?
It was just a great era in pop music. You always have your grunge, rock, and hip-hop cycles, but pop is for everybody. We're just happy to have contributed to such a great time in music history.
(Image via JGB/GSC/ZOJ/WENN)
Laura Carlson is an entertainment reporter who has covered red carpets in Los Angeles and Washington, DC. She is a slave to celebrity news and has a passion for pop culture. You can follow her on twitter @lauraleecarlson.