Character Details Released for "The Walking Dead" Spin-Off!
Written by Kevin Donaldson. Published: October 01 2014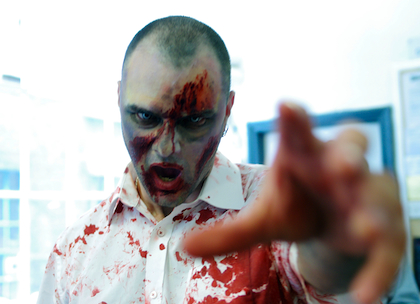 That's right, zombie lovers, AMC's "The Walking Dead" is getting a spin-off! And while we may not know exactly when the new series is supposed to premiere, or what it is even about for that matter (other than, presumably, ZOMBIES), we do have some new details.
According to a cast list published on MovieFone (by way of TVLine), we can get an idea of the main characters that the series will focus on. Take look below:
SEAN CABRERA -- A Latino male in his early 40s, Sean is a good man trying to do right by everyone in his life.
CODY CABRERA -- Sean's whip-smart and rebellious teenage son. Known as the angriest kid in town.
NANCY TOMPKINS -- A thirtysomething single mom to two kids, Nancy looks like the girl next door, but there's an edge to her.
NICK TOMPKINS -- Nancy's screwed up teenage son. He's too old to stay home, too scared to flee.
ASHLEY TOMPKINS -- Nancy's mostly level-headed teenage daughter. Her ambition is in direct proportion to her older brother's failures. She loves her mom but it's time to get out of Dodge.
ANDREA CHAPMAN -- A somewhat wilted flower child, fortysomething Andrea — yep, another Andrea! — has retreated to the outskirts of the city to recover after a horrible marriage.
As you can see, the show's victims will be two families and one stray woman, who shares a first name with a now-deceased "The Walking Dead" character. But unlike her spin-off counterpart, Andrea from "The Walking Dead" didn't have a last name, so could this mean that this spin-off is a prequel? Nobody is really sure, but stay tuned and we here at YH will keep you in the loop before the zombie hoard crashes through your TV!
The original "The Walking Dead" series premieres on Sunday, October 12, on AMC!
(Photo via WENN)
- Kevin Donaldson, YH Staff