Celebrity Philanthropists We Love!
Written by Brooklynn Taylor. Published: November 09 2023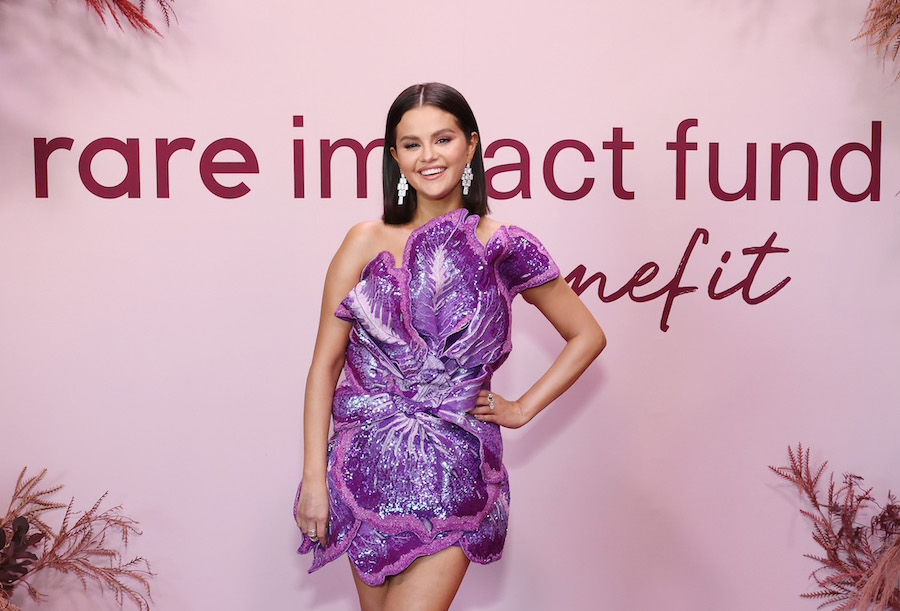 (Photo © Monica Schipper/Getty Images for Rare Impact Fund)
Some of the world's most adored celebrities use their impact in the limelight to uplift the lives of others worldwide. Check out this list of celebs who go the extra mile to give back to communities and causes around the world and the causes they founded!
1. Selena Gomez – Rare Impact Fund
After her own diagnosis of bipolar disorder in 2020, Selena Gomez began using her platform to create a safe space, share personal stories, spark action, and remind everyone that they're not alone in their battles. Shortly before launchingRare Beauty back in 2020, Selena started the Rare Impact Fund, which raises awareness to destigmatize conversations around mental health!
"I went a long time without the mental health support I needed because I didn't understand what I was feeling," said Selena on the Rare Impact Fund's website. "Not every day is perfect – it's not for me, and it's not for everyone. And too many people don't have access to the resources and education they need to support their mental health. That's why I started the Rare Impact Fund. Because no one – regardless of race, gender, sexual orientation or background – should struggle alone."
1% of all Rare Beauty sales are donated to the Rare Impact Fund, which supports organizations that expand access to mental health services and education for young people. In honor of World Mental Health Day on October 10, Sephora donated 100% of all Rare Beauty sales to the Rare Impact Fund! Since its launch 3 years ago, the Rare Impact Fund has reached 2 million young people annually!
2. Steph & Ayesha Curry – Eat. Learn. Play. Foundation 
Eat. Learn. Play. was founded by 4-time NBA champ and 2-time MVP Steph Curry and his wife, 2-time New York TimesBest-Selling author Ayesha Curry, back in 2019. The foundation focuses on transforming Oakland, California's public schools to ensure kids have happy, healthy, and successful childhoods.
"When we launched Eat. Learn. Play. in 2019, we saw the tremendous need that existed in our adopted hometown of Oakland and set out to use our platform and resources to work to unlock the full potential of the kids in our community," said Stephen and Ayesha Curry on the foundation's website. "Over the years, we've been inspired by the impact that happens when a community comes together to make a change, and we are now further invested to meet Oakland kids where they are each and every day, to transform their school experience and create lasting change for generations to come."
Eat. Learn. Play. focuses on three important pillars vital to a healthy childhood: nutrition, literacy, and physical activity. As of its 4-year anniversary in September, the foundation has raised more than $47 million serving Oakland children and families, delivered more than 25 million meals, invested $6 million in literacy resources, and revitalized 12 school communities! Just this year alone, Eat. Learn. Play. has remodeled 6 schoolyards for the Oakland Unified School District, designed by the kids who will put them to use!
3. Lil Baby – ATL Back to School Fest
Lil Baby's love for his hometown of Atlanta, Georgia, runs deep! Since 2019, the rapper has put together annual Back to School drives at the West End Mall in Atlanta. He provides goods to local kids in the area to ensure they have supplies to succeed in the upcoming school year. For this year's annual drive, he gave more than $300,000 worth of sneakers and other supplies to thousands of kids in partnership with Footlocker! Food provided by Goodr, a non-profit working to combat food waste, and free haircuts from local barbers were also a part of the annual event!
This is just one of Lil Baby's many initiatives he's involved in, in support of the Atlanta community. The rapper's dedication to philanthropy is further exemplified by his decision to donate all royalties from his 2023 single "Merch Madness" to charity. As a part of Fanatics' Global Volunteer Day with CEO Michael Rubin, more than 300,000 pieces of licensed apparel were donated to underserved youth and their families in nearly 100 locations in the U.S.! 
Last year, the 28-year-old was honored with his own day in the city of Atlanta in celebration of his generous philanthropy in 2022. November 13 is recognized as "Dominique 'Lil Baby' Jones Day" in Atlanta! In 2020, he created the My Turn Scholarship worth $150,000 for students at his alma mater, Booker T. Washington High School. He also donated $1.5 million of the proceeds from his 2020 hit, "The Bigger Picture", to support underserved communities!
4. Jack Harlow – The Jack Harlow Foundation 
Fans ofJack Harlow know the immense level of love he has for his hometown of Louisville, Kentucky! Earlier this year, he launched the Jack Harlow Foundation, which serves to support organizations aiming at making Louisville a better place!
"With all I have done and will do in my career, my home is where my heart is, my refuge, and the place that shaped me," Jack toldBillboard. "Giving back to Louisville represents the dream I have of making a difference. My vision is to make Louisville a better place. Know that this is just the start of my philanthropic legacy and I look forward to transforming our community and, as a result, the success and happiness of its citizens."
The Jack Harlow Foundation supports several organizations that he believes are doing the work to make Louisville a better place. These includeNeighborhood House, Louisville Ballet, Sowing Seeds with Faith, Queer Kentucky, Adelante Hispanic Achievers, Centro Latino, Russell: A Place of Promise, and Sponsor4Success.
The rapper's philanthropic spirit has lived within him as he has been no stranger to supporting organizations on his home turf! In the past, Jack has supported the Grace James Academy, Louisville Urban League, and the Center for Women and Families to name a few. He partnered up with KFC back in 2021 to donate $250,000 to the American Red Cross in support of relief efforts following a tornado that hit Western Kentucky and impacted thousands of lives. In a 2021 interview with People, Jack credited his mother's "giving heart" to his passion for giving back to the community.
In May, Jack was awarded the Hometown Heroes banner in Louisville, honoring stars who have used their platforms to give back to their communities!
Jack Harlow's Louisville ?

Jack Harlow is being honored by the Greater Louisville Pride Foundation as a "Hometown Hero" with a massive banner at the intersection of Broadway and Barrett. pic.twitter.com/Gbd5mfxyN8

— Israel McCullough ?️‍? (he/they) (@IsraelMC01) April 29, 2023
5. Miley Cyrus – Happy Hippie Foundation
In 2014,Miley Cyrus launched the Happy Hippie Foundation, which aims to fight injustice, focusing on homelessness and LGBTQ+ rights. Miley's statement on the Happy Hippie's website says, "John Lennon said it best: 'A dream you dream alone is only a dream. A dream you dream together is a reality.' It is essential to our lives to do good for others! The only way we can truly be happy is if we are making others happy."
Happy Hippie has partnered with many organizations, including: Gender Spectrum, which creates support groups for gender-expansive youth; The Trevor Project, which provides crisis intervention for LGBTQ youth; and the Zebra Youth, which offered immediate counseling and support in the aftermath of the 2016 Orlando Pulse nightclub mass shooting.
In May, Miley and the Happy Hippie Foundation partnered with fashion designerBetsey Johnson for Mental Health Awareness Month in support of LGBTQ youth. The Happy Hippie Foundation received $1 from each purchase made from Betsey Johnson's flower-print rhinestone collection. Fun fact: Miley actually wore Betsey's designs during Season 3 of "Hannah Montana" and even attended Prom in one of her dresses! This is just the beginning of this partnership, as more fruits are said to be announced in the near future!