Celebrating the Achievements of Richard Attenborough
Written by Kevin Donaldson. Published: August 25 2014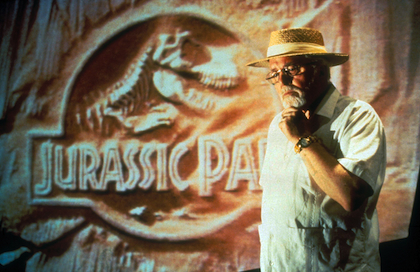 On Sunday August 24, 2014, we lost another Hollywood great. The Right Honourable TheLord Richard Attenboroughpassed away at the age of 90, a few days before what would have been his 91st birthday. Let's not be sad about this, though -- 90 is a very long time to live, and this guy lived one of the richest and most fulfilling lives around. I mean, his name has the title of "The Lord" in it… How cool is that?!
For those of you who don't know who Richard Attenborough was, he was an actor and director known for many different Hollywood hits throughout a career spanning from 1942, where his first role was "A young stoker" in the film In Which We Serve, to 2007, where his final film was Closing the Ring, which he directed and produced. It's hard to say exactly what roles he is best known for playing because there are just so many different ones, but they'd probably be as Pinkie Brown in the 1947 noir film Brighton Rock, as Squadron Leader Roger Bartlett in the 1963 WWII escape film The Great Escape, as John Reginald Christie in the 1971 crime drama film 10 Rillington Place, as Kris Kringle in the 1994 remake of the Christmas classic Miracle on 34th Street, and finally, the role I personally remember him the best from, as John Hammond in the 1993 dinosaur thriller filmJurassic Park. I remember being three seeing Jurassic Park and being blown away by the dinosaurs, but on top of that, I thought Attenborough was my grandpa, so I kept bugging my actual grandpa about where the dinosaurs were and why he was holding out on me. Looking at the two today, I realize the only thing they had in common are really white hair…
Attenborough isn't only known as a film actor; he's actually directed a few himself. His most praised directorial effort is without a doubt the 1982 biopic of Mohandas Karamchand Gandhi's life, which was simply entitled Gandhi and starred fellow British actor Ben Kingsley in the title role. The film was a massive success and took home eight of the eleven Academy Awards it was nominated for, granting Attenborough the coveted Best Director award as well as Best Picture. His acting has also helped him win four BAFTA Awards and four Golden Globe Awards. He was that good at what he did.
On top of his many accomplishments on the silver screen, Attenborough also served in World War II in the Royal Air Force, where he sustained permanent ear damage and reached the rank of sergeant. He volunteered to fly with the Film Unit and record some of the action going on across Europe. Later, his film ventures would give him such honours, like in 1967 when Attenborough was made a Commander of the Order of the British Empire, or CBE. Less than ten years later, in 1976, he was made a Knight Bachelor. Honours didn't stop there, obviously, because in 1993, he was made The Lord Attenborough by way of life peer, basically meaning that he didn't inherit the title from his family but instead got it because he is just that awesome at life!
Incidentally, Richard isn't the only Attenborough to be a success in the film industry; his younger brother SirDavid Attenborough (that's right, he's a Knight!) is a successful British broadcaster known for his many naturalist documentaries, and a voice that sounds like what God wishes His voice sounded like. My favorite of his productions is "Planet Earth", a BBC documentary mini-series covering different parts of our planet and the creatures inhabiting said areas. If you ever have trouble sleeping, get the DVD for "Planet Earth", lay back, and David Attenborough's voice will whisk you peacefully away to sleep.
Richard Attenborough certainly has left behind a lot of productions for everyone to enjoy. On top of that, the man has accomplished more than three of his peers put together. Probably even more than three when I think about it... It's sad to see people from Hollywood that we have invited into our homes over the years pass away in bursts like this, but the recent death of Richard Attenborough should be celebrated for the long, happy, glorious and incredible life that it was.
(Photo via WENN)
- Kevin Donaldson, YH Staff