Celebrate 'Descendants 2' With Our Favorite DCOM Songs!
Written by Amanda Baltazar. Published: May 27 2017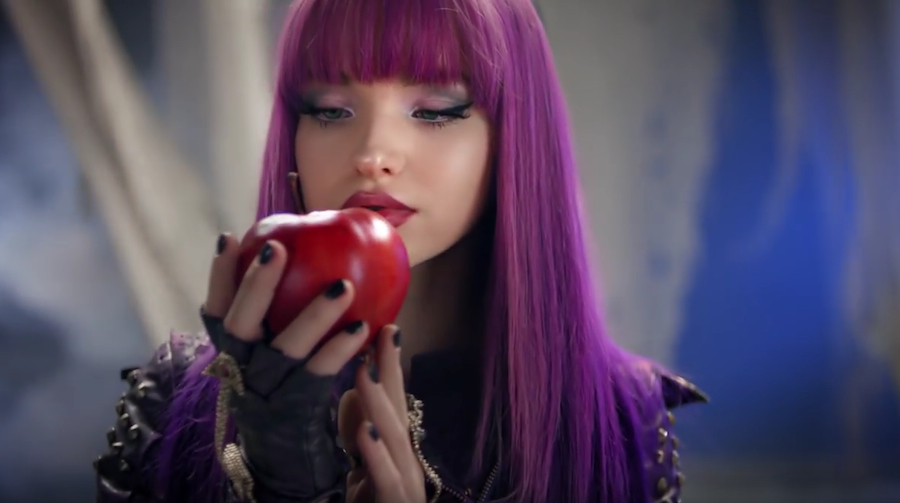 This summer is filled with some highly-anticipated summer blockbusters, but the one movie that the little girl deep down in my heart is looking forward to? The Disney Channel Original Movie sequel,Descendants 2! 
Yes, Mal, Evie, Carlos, and Jay are all back and we get to see how they are coping with their life off of the isle.
WE ARE GOING BACK TO THE ISLE OF THE LOST!
I am so excited to get to spend more time in the darker scenery and see some of the roots of our favorite villains' kids.
As you can see in trailer, Mal will not be welcomed back with open arms, as her nemesis, Uma (Ursula's daughter), will be waiting for her return with a few tricks up her sleeve. 
But more than that, I'm looking forward to the soundtrack! We've got one song as a sneak peek, and you can decide if it's just as good as "Rotten To The Core".
Here's "Rotten To The Core" just for a throwback!
My fave!! The nostalgia! Whenever I get the urge to listen to an old DCOM song, I fall into a hole and no one sees or hears from me for a few hours. So why not drag you all into the DCOM song abyss with me? I'm doing it because I love you!
Here are some of the catchiest and most nostalgic DCOM songs!
"Crusin' For A Brusin'" - Teen Beach Movie
One of the best DCOMs from the early-2010s, Teen Beach Movie brings back those Grease vibes and my favorite song was the fun, upbeat "Crusin' For A Brusin'"... whatever that means!
"Push It To The Limit" - Jump In!
Disney released this song to promote Corbin Bleu's movieJump In! And is it embarrassing to say that this is my life mantra? Well, it is. No shame. 
"Status Quo" - High School Musical
Of course, we have to grab some from Disney's most iconic movies! Is it weird that I still know every word to this song? "I love to pop and lock and jam and break!" "Creme Brule!" Alright, I'll leave it to the video...
"Determinate" - Lemonade Mouth
Probably watched this movie at least 20 times when it came out. And so what if I was 19 years old? I'm not ashamed. This song was my favorite from the movie because of Wen's sick rap!
"Cheetah Sisters" - The Cheetah Girls
We're bringing it way back with this one. This movie came out in 2003, and you can bet I tried to form my own version of the Cheetah Girls.
"Bet On It" - High School Musical 2
You didn't think I'd only put in ONE song from the High School Musical trilogy, did you? Purely from Zac Efron's emotional performance in the movie while singing this song, we need to put "Bet On It" on our list!
"Supernova Girl" - Zenon: Girl From The 21st Century
"ZOOM ZOOM ZOOM" This is honestly my jam. '90s kids unite! I'll just get on to the video because no words will do this song justice.
"This Is Me" - Camp Rock
Another iconic DCOM and it would be terrible if I didn't put a song from this movie on our list. Demi Lovato's breakout performance that spoke to every girl who's heard this song. 
"What Dreams Are Made Of" - The Lizzie McGuire Movie
I know this movie came out in the theaters, but I still count it as a DCOM since Lizzie was such a iconic figure at the Disney Channel. 
(Yeah, I still hate you, Paolo. You're beautiful, but I hate you and what you did to Lizzie...)
"We're All In This Together" - High School Musical 
Tell me I'm not the only one who sings this whenever their boss says "we're all in this together" at your weekly team meeting. Just me? No way, you know you can't hear that line without doing the dance and singing this song.
Let's close it out with this insane medley from "Dancing With The Stars" from the cast of Descendants 2!
Descendants 2 comes out July 21! And be sure to let us know of your favorite DCOM song that isn't on our list!
(Image via DisneyMusicVEVO)
- Amanda Baltazar, YH Contributing Writer