Catching Up With: Kingsfoil
Written by Kate Ferguson. Published: January 04 2014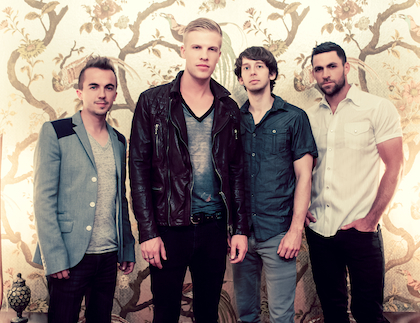 Old and new fans of Kingsfoil, rejoice! The Pennsylvania-based band is getting ready to release an EP between albums that is entirely acoustic. Brave Love is partly old favorites rearranged into new versions of themselves, but it also features a new song, which, of course, we wouldn't mention unless it was spectacularly awesome and we were going to give you a teaser. (It is the holiday season, after all.)
Since Kingsfoil has been around (2002), there are a lot of older fan favorite songs, and when Frankie Muniz joinedo the band a couple years ago, he was already well versed. He said: "I was a huge fan of the band before I joined, so I love the songs as a fan; like nevermind being the drummer, I really enjoy them. I really enjoy playing them."
If you are anything like us, you like to listen to your favorite songs repeatedly over and over, day in and day out, until you go crazy, so getting rearranged versions of songs you're already into is a surprise we wish more artists could get behind.
The EP nails it. It offers a really cool way to have a more personal moment with the band and get a different feel for their sound. The new song is borderline haunting without being unapproachable, it's incredibly catchy with perfectly-placed full pauses and new instrumental and vocal elements blended in the whole way through. The cohesion of the band members is notable; it feels like the song would keep going with or without the consent of the guys. Or maybe it's that they're just so fully consenting... It moves.
We caught up with lead singer Jordan Davis and actor-turned-drummer Muniz for a little Q&A session (other members include Tristan Martin and Tim Warren).
------------------------------
On getting along:
FM: We work really well together in that sense [making music]. There are never arguments; it's suggestions. We're always on the same page. Either we all don't like it or… oh my god, we love that. We are creepily… we work really well together.
On their distance (Frankie lives in Arizona, the rest of the group lives in PA):
FM: …there's good and bad. The good being that it really forces us to focus when we are together, you know what I mean? And work really hard. We're very efficient in that sense. But what it also allows us, when we do end a tour and we fly home, is everyone gets to go back to normal life for a few minutes. To where you get excited to come back together again. The bad is, you know, obviously right now we're in the process of writing new songs, and it would be great if I was there. It is tough in that sense.
Favorite show on tour last year:
FM: We opened for Ed Sheeran at the University of Delaware, and it was an arena show. It was just awesome, being in front of that many people."
JD: "That was one of my favorite shows, but there's been a couple. That show had like 4,000 people at it, and then there's been some where there's been like 50 people there, but everybody knows the words, and we're in some random town and everyone is singing along. Some of those shows have been my favorites as well.
On their new song:
JD: It actually kind of happened right at the end. I was excited to have a new song on the record because I started writing it during out summer tour… and then kind of like forgot about some of the stuff I came up with, and then as we were recording this acoustic EP, just kind of like, out of nowhere, the song kind of finished really, really quick. We're all kind of excited because it's rare to be able to finish a song and release it so quick… while we're still pumped about the song, our fans are gonna be able to hear it, and that's kind of something that doesn't happen a lot anymore.
FM: We didn't go into a studio, we didn't have any producers, you know, it was done by Jordan. Written by Jordan, done by the band. Jordan's house. It's kind of like a more intimate feel, and knowing that it's more raw and real. It has a more personal feel, which is really why we wanted to an acoustic EP.
------------------------------
If the music alone wasn't exciting enough for you, the boys have been creating one-of-a-kind Kingsfoil Christmas sweaters from vintage finds, which they donned at their Hometown Holiday Show in Lancaster last month.
Preorders forBrave Love are going down now at their online store and will hit iTunes January 7. Head to their Facebook page for orders, Christmas sweaters, tour details, and for info on their next full-length electric album, which is in the works already.
(Photo via Roneil Chavez)
Kate Ferguson is a Los Angeles local and freelance writer for a variety of blog genres. Look for article links (and the occasional joke) on her Twitter @KateFerg or check out her personal blog ThatsRandomKate.blogspot.com