Cardi x Penn: Quick Guide To Our Favorite Twitter Friendship!
11-21-2021 by Melissa Morales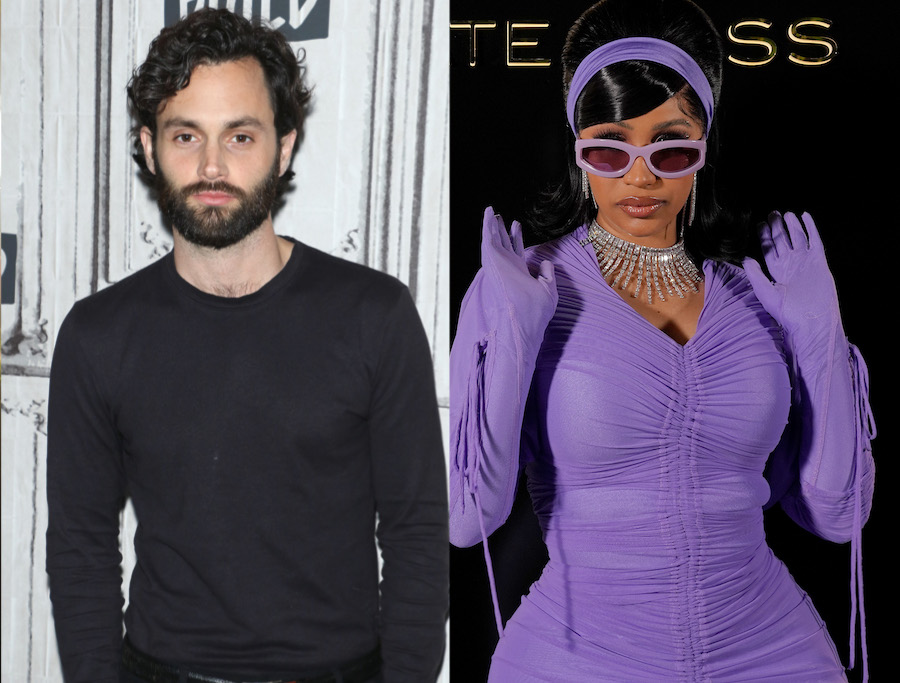 ( © Jim Spellman/Francois Durand/Getty Images For Messika)  
Hello, you. Or, should I say, hello, okurrrrrrrrr! Cardi B and Penn Badgley have now officially become that friendship we never knew we needed!
It all began when an old video of Penn resurfaced on the internet, which shows him praising Cardi in an interview while promoting the first season of "You" in 2018. He talked about her second-nature relationship with social media and having an authentic relationship with it.
Social media and rap queen Cardi B came across that resurfaced video, which led to their first Twitter exchange. Cardi responded to the video in a fangirl-enthused tweet, "OOOOMMFFFGGGGGG HE KNOWS ME!! OMMMGGGG!!!!!! Yoooo like I'm famous famous".
Penn tweeted back to Cardi, replying simply "I—" and since then, the two swapped their profile pictures to one another. Penn switched to a picture of Cardi with blue hair, and Cardi switched to a picture of Penn as Joe Goldberg. As of this writing, these are still their pfps. Now that's what I call #FriendshipGoals!
It did not take long for Netflix to get involved as well, who temporarily changed their bio on their official Twitter account platform to: "Petition to get Cardi B to guest star in Season 4 of You!"
Cardi B responded to this possibility, and we gotta admit, it fits pretty well for the show! In a tweet, Cardi wrote, "So it's episode 1 and I'm at Paris Fashion week shutting it down! I turn around and there stands YOU Ok finish it off @netflix". What a twist that would be!
Recently, Cardi B received her own "You" merchandise at her home, including a personalized letter from Joe Goldberg himself. It featured Joe's iconic cap with "Hello, you…" imprinted on it, and the letter which made some references to her song, "WAP". "HELLO, YOU... My stalking and killing may make me a certified freak, seven days a week, but it also brought me to... you…" The letter continues on into Joe's thoughts on Cardi B, and it's definitely interesting!
Penn Badgley even talked about his Twitter interactions with Cardi B in an interview on "Jimmy Kimmel Live", saying that he still does not yet know if she will appear on the show, but he brought up a Change.org petition for the possibility to secure her a guest star spot on "You".
We would definitely be excited for Cardi B to be a character or even guest star on "You". I mean, considering the personalized merch she got, it just has to happen! Just be warned, Joe, we think if you begin to stalk Miss Cardi, you'll definitely get caught this time! With her star fandom and social media presence, we don't think it'll end well for you!