Can the 'Point Break' Remake Stand Up on Its Own?
Written by Amanda Baltazar. Published: June 01 2015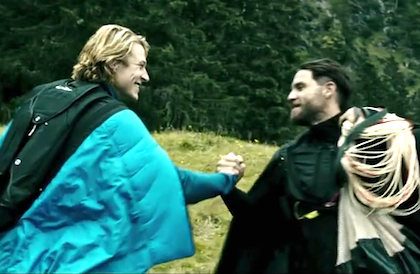 "Whoa," saidKeanu Reeves, in every movie he's been in.
Last week, Warner Bros. released the long-awaited trailer for their long-rumored remake of Point Break, about an undercover FBI agent who must befriend a group of extreme sports enthusiasts whom he believes to be behind a series of large-scale robberies. The film stars Luke Bracey and Edgar Ramirez.
The trailer gave us just a little tease of what the movie has in store -- crazy stunts, fight scenes, and extreme sports. But how many of you remember the original film?
Point Break was first released in 1991 and starred the late, greatPatrick Swayze and, you guessed it, Keanu Reeves.
If you've seen the original, you may or may not be happy with this remake and there are a few reasons why.
- Many of the original film's biggest fans (AKA my dad) cannot even picture aPoint Break project without Patrick Swayze, and they have a valid point. Swayze's performance in the film is one to be revered, bringing an aura of free-spiritedness mixed with an intense passion of an adrenaline junkie. He almost made his character's way of life admirable.
- The original film focused mainly on the surfing and a bit of skydiving, while the remake broadens the circle to all extreme sports. Good or bad? Not sure, but it does mean more stunts and more of that "WOW" factor.
- The movie could be exactly the same as the original. Although fans will appreciate staying true to the brand and integrity of the film, those who have already seen the film will know exactly how everything will happen, which, again, depending on the execution, could be a good or bad thing.
-Gary Busey as comic relief was probably one of my favorite things about the original.
- If there isn't at least one mention of a meatball sandwich in the remake, I won't be a happy camper.
The 2015 remake has quite a name to live up to. From the trailer alone, it looks like it will be a great movie with awesome and gnarly stunts. But because of its ties to the 1991 original, the critiques will come and fans won't be holding back.
The Point Break remake has a lot of potential to make an already great, classic movie into a fantastic film that stands on its own. As long as it can focus on the character's development throughout the film, as well as mold a storyline that the audience can get lost in, the film will be a success. Creating a character-driven story without relying too heavily on the stunt work will elevate the film to its potential. Although crazy stunts are cool, it won't set the film apart from any other stunt-heavy films without compelling characters. One thing is for sure, though -- I'll definitely be on the lookout for those "whoa" moments.
Point Break dives into theaters on Christmas Day!
In the meantime, check out our YH Studio chats with both leading men, Bracey and Ramirez!
(Screenshot via YouTube)
- Amanda Baltazar, YH Staff