BTW, Gotye Has Other Music Too…
Written by Katie Marzullo. Published: January 26 2013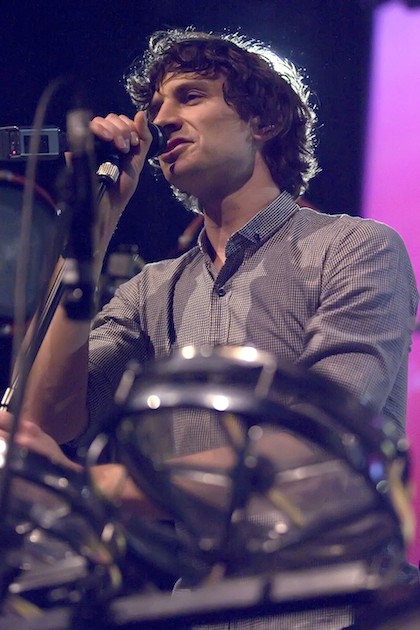 Perhaps this is a bit belated, but I feel it's my duty as an entertainment reporter to impart the facts to you good people. So, for those of you that may be a little behind the times or otherwise unaware, I have some important news for you: Gotye is an amazing musician.
Turns out, this is no one-trick pony. "Somebody That I Used to Know", the collabo with Kimbra that went viral with a vengeance (and is still a regular radio earworm), is no fluke, people. The Belgian-born Australian has three whole albums under his belt, but for now, I am focusing on his most recent, Making Mirrors, on which "STIUTK" is included. Now, I just have to preface this whole discussion with the fact that I am VERY picky when it comes to albums as a whole. iTunes was the greatest thing to come along for me, because I have a CD shelf full of albums that I bought because I only liked two or three songs on the entire finished product. I can count on one hand all of the albums I would gladly sit down and listen to from beginning to end. I have A.D.D., so an artist has to really come out swinging and hold that momentum the whole way through to keep my attention. The best way to do this is to be varied. Nothing is more boring than an album whose every song sounds the same as the last. It's good to have a signature "sound", but that doesn't mean every track needs to be the inbred cousin of one another.
And then in walks Gotye, in all his wonderful, experimental glory, cracking his knuckles and getting down to the business of not just creating music, but ART. Every song on Making Mirrors sounds like a painting (which is appropriate considering the visual content of his "Somebody That I Used to Know" video). You can just hear the delicate paintstrokes… And if that doesn't make sense, then just go and listen to the album, because you will get it in no time! Each track is it's own little self-contained ecosystem of awesome. You can certainly hear the influences of other artists and genres, but Gotye makes it his own. First you'll get a mysterious, slightly bluesy tune like "Smoke and Mirrors", and then immediately after you're hit with "I Feel Better" and its peppy ode to classic Stevie Wonder/Motown jams. Other delightful offerings include: "In Your Light", with an almost gospel feel to it… the kind of song you could picture in an '80s rom-com; "Eyes Wide Open", an introspective piece which puts one in mind of Don Henley; and the sexy "Giving Me a Chance", which is perfect for those cool, late afternoons driving along the PCH with the top down. The album as a whole in bookended by the upbeatBeatles-meets-Peter Gabriel song "Easy Way Out", and "Bronte", possibly the saddest tune ever written, in memory of a deceased pet, which eases you out of the album with a good, hearty cry (like every album should... I suppose).
Making Mirrors is making music at its finest… dare I say, a masterpiece? Go pick up a copy today, you won't regret it.
Oh, and just fyi, those handful of albums that I can listen to from start to finish are:
Supposed Former InfatuationJunkie by Alanis Morissette
A Thousand Suns by Linkin Park
Ray of Light by Madonna
Missundaztood by P!nk
Jesus Wept by P.M. Dawn
Whaler by Sophie B. Hawkins
Crash! Boom! Bang! by Roxette
Fumbling Toward Ecstasy by Sarah McLachlan
Happy listening!
(Image via Peter Kaminski/WENN)
- Katie Marzullo, YH Staff Editor