Bruce Springsteen Trying Out His Acting Chops on Netflix Series "Lilyhammer"
Written by Kevin Donaldson. Published: September 11 2014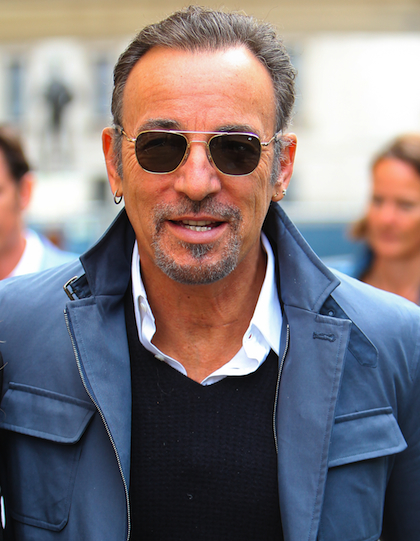 Great news for people from New Jersey! Bruce Springsteen, or the natives call him… That most New Jersians have an undying love and devotion for the man they call "The Boss" is as true as our love to constantly gorge on diner food. News just recently surfaced that Springsteen will be making his acting debut in the upcoming third season of his friend and E Street Bandguitarist Steven Van Zandt's Norwegian-based Netflix original Series, "Lilyhammer".
Claiming to having been an active performing musician since 1965, Springsteen has had a musical career spanning over six decades and is only now deciding in his mid-60s to take the leap into acting. A fun fact about "The Boss" is that, like most Jersey women, my mother has been in love with him long before I was born, and she was twenty when I came screaming into this world. Geez, this guy didn't mess around making a name for himself early on...
For those of you unfamiliar with "Lilyhammer", you may remember lead actor Steven Van Zandt from his most famous role as Silvio Dante in another Jersey favorite, HBO's "The Sopranos". Silvio was Tony Soprano's right-hand-man as well as his consigliere, which, if you're not from New Jersey (or an Italian family) a consigliere is a counselor. "Lilyhammer" sees Van Zandt return to a Mafioso-type role as Frank Tagliano, a former underboss for the American Mafia who snitches on the new Mafia boss who ordered a hit on him. After testifying in court against said Mafia boss, Tagliano enters witness protection and is sent to Lilihammer, Norway, to live out the rest of his life. The different spelling in the title from Lilihammer to "Lilyhammer" is a reference to Tagliano's dog, who only appears in the first episode. Want to know what happens to that dog? Well, check out "Lilyhammer" on Netflix!
But the question at hand right now is, what type of role will Springsteen play? He's a rock star not known for acting. One could argue that when we see rock stars perform on stage, we're really seeing regular people doing their best at pretending to be rock stars, which is pretty much how acting works. But he's never acted before in plays or on film… Oh wait! That's a lie! He totally has acted before. Anybody remember a little John Cusackcomedy film co-starring Jack Black from 2000 called High Fidelity? The film basically centers around Cusack as a geek with a fixation on music who has little to no understanding of women. Being that Cusack's character is obsessed with music, you can probably assume what Springsteen's role inHigh Fidelity is, but maybe you can't, so check out the clip:
So you probably guessed it before watching the clip (or maybe you didn't) that Springsteen's only acting credit so far is him playing himself 14 years ago. So what type of character will The Boss play in "Lilyhammer"? The only information known right now is that Springsteen's scenes were shot in America, so it most likely means he won't be Norwegian. Will he play a mob boss? Will he play just a regular run-of-the-mill gangster? Will he play himself? Will the show cater to New Jersian's view of the world and make Bruce Springsteen the physical appearance of God when Frank Tagliano is having a crisis of faith? I honestly don't know, but that makes it all the more exciting!
(Photo via WENN)
- Kevin Donaldson, YH Staff