Breaking Down The 2023 Oscar Nominations!
Written by Katie Marzullo. Published: January 24 2023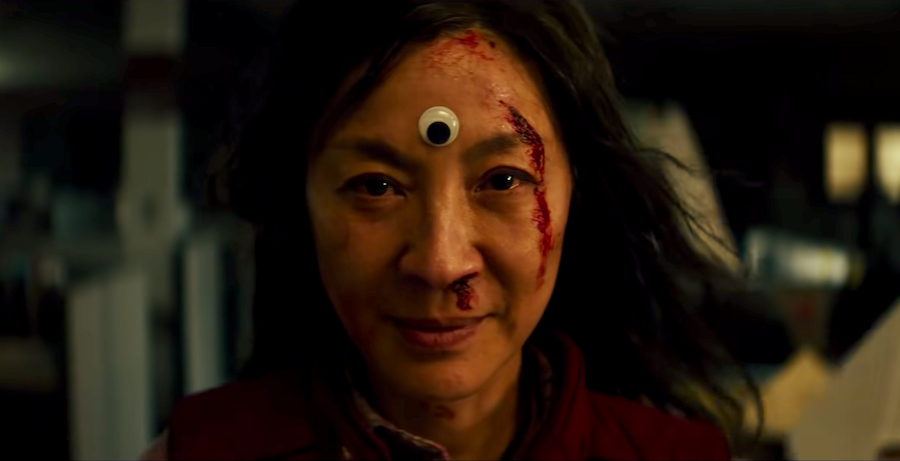 (A24)
The time has come, that day that all those other award shows these last few months have been leading up to, when dozens of filmmakers, actors, and creative types are woken up by that one phone call every artist dreams of receiving – it's Oscar Nominations Day!!!
Bright and early this morning, Riz Ahmed and Allison Williams announced the nominees from the Samuel Golden Theater in Beverly Hills, and there were plenty of surprises to be had – for better or for worse, depending on your POV. Just a reminder, though, that every nominee is voted on by their peers – actors vote for actors, directors vote for directors, producers vote on Best Picture, etc. We'd like to give them the benefit of the doubt in that they know what they're doing, but still Oscar nominations always leave us with a few headscratchers.
With that said, let's get into it!
- As increasingly expected over the course of Awards Season, A24's hitEverything Everywhere All At Once lead the pack with 11 nominations this morning, including 3 for its starsMichelle Yeoh, Ke Huy Quan, andStephanie Hsu. Incredibly, Michelle Yeoh becomes the first Asian woman nominated for Lead Actress since... 1935!!! And with the inclusion of The Whale breakout starHong Chau in the Best Supporting Actress category, that bumps the total Asian actors nominated to 4 -- the most ever in a single year! Also, this movie gained Jamie Lee Curtis her first -- yes, I said FIRST -- nomination ever!
- Another big winner this year was the entire counry of Ireland. The country saw 14 nominations this morning across various categories, most of them thanks to The Banshees of Inisherin, which has 9 total -- the most for an individual movie from that country. Ireland also sees its first-ever entry into the Best International Feature category with The Quiet Girl, plus Irish actorPaul Mescal squeaking into the Best Actor category alongside his countryman Colin Farrell.
- Speaking of Best Actor, as expected, Brendan Fraser receives his first ever Oscar nod for The Whale, while the Golden Globe winner in this category, Austin Butler, is up for Elvis. With all due respect to the other nominees, this category is no doubt going to be a race between these two. As much as we love Brendan, Hollywood loves cosplay even more, so it will be interesting to see how this turns out!
- One fella who won't be competing against Brendan and Austin, though, isTom Cruise. Many expected his work in Top Gun: Maverick to earn him his 4th Oscar nomination, but no dice. In fact, even though the film did receive 6 nominations total, including Best Picture and Adapted Screenplay, it was surprisingly left out of the Best Director and Best Cinematography categories.
- The Best Director category often ends up being the biggest connundrum every year, due to the fact that there are always 10 Best Picture nominees but only 5 Best Director nominees. Snubs and disappointments are bound to happen, and perhaps the biggest surprise is seeing James Cameron left off the list for Avatar 2. It's also kind of a bummer to not seeSarah Polley (or any woman, for that matter) in the category, even though her movie, Women Talking, is up for Best Picture; this breaks a 2-year winning streak for female directors (Chloé Zhao in 2021 and Jane Campion in 2022). With Cameron out of the way,Steven Spielberg (this year's Golden Globe winner) seems a shoo-in for the Oscar, but we can't count outBanshees director Martin McDonagh nor, of course, EEAAO co-directors Dan Kwan andDaniel Scheinart. 
- Curiously,Avatar 2 only ended up with 4 nominations total -- a far cry from its predecessor's 9. While it very expectedly received a nod for Best Visual Effects, it did not earn a Best Cinematography nomination.
- Likewise,Wakanda Forever did not make it into the Best Picture category, unlike Black Panther. However, starAngela Bassett did get her second Oscar nomination, this time as Best Supporting Actress, making her the first-ever Marvel actor to receive a major nomintion at the Oscars.
- History is certainly repeating itself for Rian Johnson, who receives his second Oscar nomination for his second Knives Out movie, Glass Onion. This time, however, he is nominated in the Best Adapted Screenplay category, since Glass Onion is technically a sequel. Will he be able to take it home this year? Or will the Academy make up for its error in not nominating Sarah Polley for Best Director and giving her this one instead? 
- ComposerJohn Williams continues to reign supreme at the Oscars, remaining the single most-nominated person alive with his 53rd nod thanks to his score for long-time collaborator Steven Spielberg's The Fabelmans. He is, of course, also the most-nominated composer ever.
- And speaking of music, what was expected to be a three-way tie betweenLady Gaga, Rihanna, andTaylor Swift has been pared down to two, as Swifty's "Carolina" from Where The Crawdads Sing got left behind in the Best Original Song category. Gaga and RiRi will have to battle it out against each other and against legendary 14-time nominee Diane Warren, as well as Golden Globe winners M. M. Keeravani &Chandrabose for their song "Naatu Naatu" fromRRR.
-Andrea Riseborough makes a surprise appearance in the Best Actress category for her role in To Leslie, a slot which many feel should have been reserved for Viola Davis in The Woman King. She'll have her work cut out for her, though, going up against Michelle Yeoh,Michelle Williams (The Fabelmans), Golden Globes winner Cate Blanchett (Tår), andAna de Armas (Blonde). Blanchett was a surprise pick for the Globes, as we all assumed Ana had this one in the bag. It will be interesting to see if the Academy feels the same.
- We were also surprised to see Judd Hirsch get a nomination for Best Supporting Actor over his The Fabelmans co-starPaul Dano, who received a lot of Oscar buzz for his role. It's Hirsch's second-ever nomnation, the first one going all the way back to 1981. Brian Tyree Henry was also a surprising entry into this category, but no less deserving, as he's received nothing but praise for his role inCauseway. However, this category will likely be a battle between Banshees castmates Brendan Gleeson and Barry Keoghan and the sentimental fave Ke Huy Quan.
Check out the full list of nominees here. The 95th Annual Academy Awards will take place on March 12 on ABC!