Breaking Down Taylor Swift's 'Eras Tour' Fits!
Written by Tashi Rios. Published: March 22 2023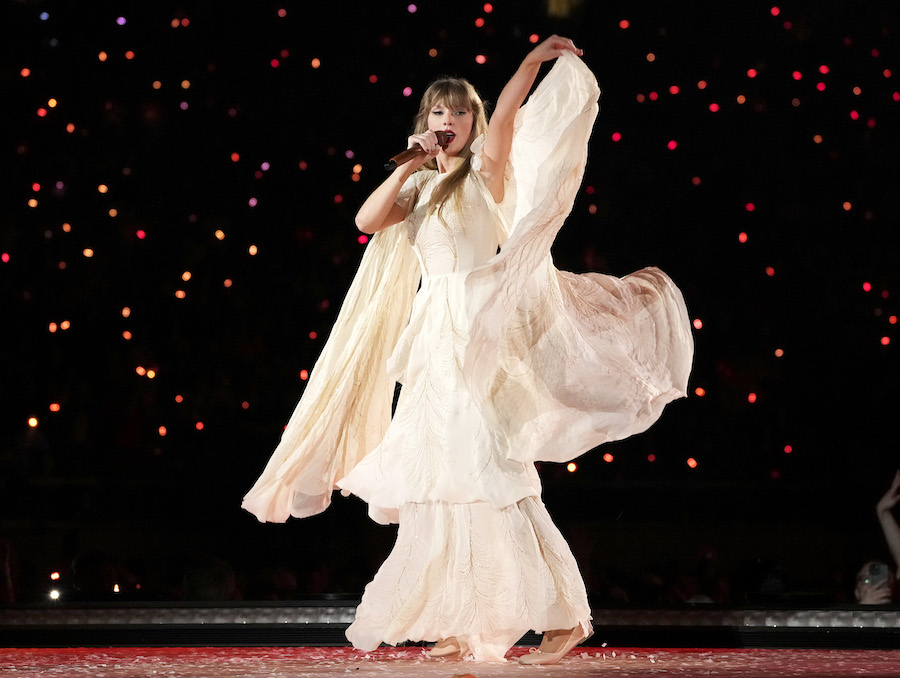 Calling all Swifties! Taylor Swift is back on tour and we couldn't be happier! The pop star opened her Eras Tour on March 17 in Glendale, Arizona, which was renamed to "Swift City' as she performed back-to-back shows there. She's already surprising her fans with a whopping 44-song setlist, but her outfits were even better. Let's take a look at how Swift is shining on her Eras Tour!
1. Lover
The first era Swift opens with is Lover. She sparkles in a purple, blue, and silver bodysuit covered in sequins with matching boots covered in silver glitter. From there, she puts on a silver glittery blazer to sing "The Man". However, on the second night, she wore a black glittery blazer instead. 
2. Fearless
Of course gold makes an appearance for her Fearless era! She wore a mini gold fringe dress that's totally giving 1920s! But once again a change for night two into a long gold fringe dress.
3. Evermore
Next, her cottagecore Evermore era. Swift put on a simple long yellow-orange dress with embroidery as she played the piano.
4. Reputation
TheReputation era is fierce on its own, but this black and red asymmetrical bodysuit made it even better. You can feel the intense and strong energy just from looking at this outfit!
5. Speak Now
Bring out the ballgown! Speak Now brings Swift in a huge gold sequined dress that covers the floor. Night two she kept to the ballgown theme but changed to a pink and sprinkle sparkle dress. Absolutely gorgeous!
6. Red
The iconicRed era had Taylor recreating her outfit from "22". The first night, the T-shirt read "A Lot Going on at the Moment'' and night two said "Who's Taylor Swift Anyway? Ew." Red brings not one, not two, but three outfit changes! After her T-shirt, Swift changes into a sparkly red and black bodysuit and then adds a sparkly red long blazer to perform "All Too Well (10-minute version)". 
7. Folklore
Slowing it down for folklore, she dons a soft long purple dress then changes into another soft white dress.
8. 1989
Back to the sparkles! Swift wears a sparkly pink fringe set, but night two bears the same bright green one.
9. Taylor Swift
Her self-titled album made an appearance the first night but not the second. However, there was still an outfit change from a flowy magenta dress to a green one.
10. Midnights
Her latest album Midnights brought lots of changes. She began with a silver and purple sequined dress with a large fluffy purple coat. She takes the coat off for the next song to reveal the dress as short-sleeve, but of course night two was different and was bright blue. Her final look was a black fringe (and sparkly) bodysuit and ended with a dark rainbow fringe coat.