Breaking Down All The Glorious '90s References in Charli XCX & Troye Sivan's "1999" Video!
Written by Brooke Sharland. Published: October 15 2018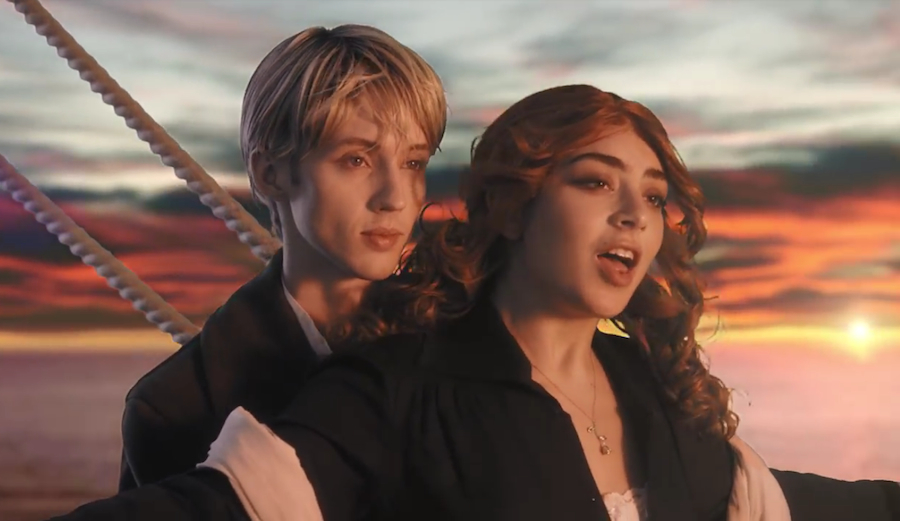 CALLING ALL '90S KIDS. Get ready. Charli XCX and Troye Sivan just dropped their music video for their new hit "1999" and IT. IS. GLORIOUS. The song itself has a ton of callbacks to the '90s (such as Britney Spears's '98 bop "Baby One More Time"), but the video knocks it out of the park and brings you back to all the best moments and trends of the late '90s. Check out the video below and let's break it down all the references we caught!
- First, Charli's iMessage goes BACK in time and we end up seeing her texts shown on Instant Messenger on an iMac. Charli is dressed asSteve Jobs, recreating the iconic image of the Apple co-founder sitting on the floor criss-crossed holding the new iMac when it was first unveiled.
-TLC "Waterfalls" Music video -- Charli embodies ALL THREE members of TLC and recreates their iconic music video.
- Troye and Charli channel their best Leo andKate as they stand at the tip of theTitanic and recreate Jack & Rose's "I'm flying" scene at the front of the ship.
- Charli then plays all 5 Spice Girls, recreating their famous "Say You'll Be There" music video from the year 1996.
- Charli then gives a shout-out to Skechers sneakers, the beloved shoes of the '90s, by creating her own mini-Skechers ad.
- Troye is suddenly all 5 Backstreet Boys in the "I Want It That Way" video and it's… amazing.
- THEN he becomes the Real Slim Shady, imitating Eminem all the way down to the tattoos from the "Slim Shady" music video.
- We then get a nod to the days before iPhones as Troye shows us his pixelated Nokia phone background of Charli.
- Then, a recreation of the falling roses scene from the 1999 filmAmerican Beauty with Charli becoming Mena Suvari's Angela Hayes as she lays in a bed of roses like the iconic image from the Oscar-winning film.
- Troye and Charli then turn themselves into Marilyn Mansonand Rose McGowan from their infamous appearance on the red carpet at the 1998 MTV Video Music Awards(NSFW).
- We then get to see Charli and Troye as Sims, AKA everyone's favorite video game from the '90s (and still one of the best games to play today, tbh).
- Charli XCX also pays her respects to Baby G by giving us a little ad for the stylish water resistant '90s watches.
- I never thought I'd have to see the "Dancing Baby" video again, but here we are. The baby that once famously danced to "Hooked on a Feeling" in "Ally McBeal" is now dancing to "1999".
- Charli and Troye then take on The Matrix, and honestly this is one of my favorite shots from the music video because it looks SO COOL.
- Troye Sivan suddenly becomes everyone's favorite Justin Timberlake meme: JT with his '90s ramen noodle hair. This shot is a recreation of NSYNC's "I Drive Myself Crazy" video. Troye. Wow. He really did that. I laughed so hard I had to pause the video!!
- Charli recreates one of the most well-known scenes from The Blair Witch Project.
- Finally, at the end of the video, we see Charli in a '90s Hanes commercial for their underwear, and the video ends with the last words of the song written out as the logos of some of your favorite '90s things: eBay, Nickelodeon, Bubble Tape, Beanie Babies, and old school web browser Netscape.
What does everyone think? Was there anything from the late '90s that they missed? Can you catch any other '90s references? This video was BOMB. So well done, hysterical, and perfectly accompanies my new favorite song. Makes me wanna go back… back to 1999. Catch me blasting this the rest of the weekend. If you need to reach me, hit me up on AIM! Peace!
(Image via Charli XCX/YouTube)

- Brooke Sharland, YH Contributing Writer