Breakdown & Predictions for the 2016 Academy Award Nominations!
Written by Katie Marzullo. Published: January 14 2016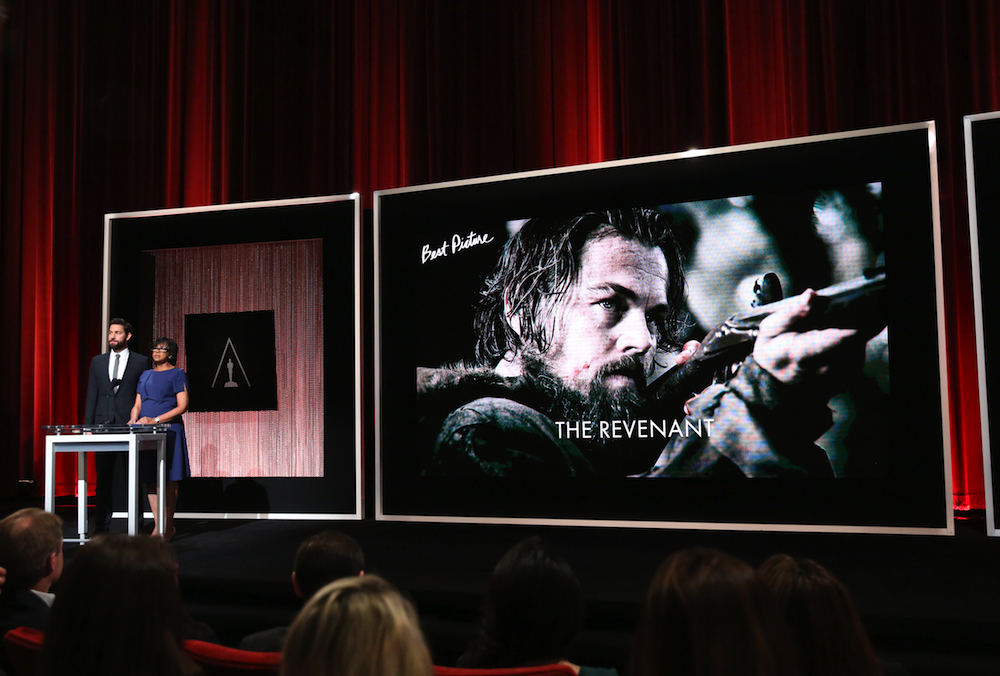 Well, guys, it's official – The Revenant is The Film To Beat at this year's Oscars. Raking in a whopping 12 nominations this morning, it looks to be another victorious year for director Alejandro González Iñárritu (after last year's Birdmansweep), and very possibly Leo DiCaprio will break his decades-long Oscar losing streak. It's also great to seeMad Max: Fury Road making a strong showing with 10 nominations.
Let's take a closer look at the main categories, shall we?
BEST PICTURE
The first thing to note here is that this category can have up to 10 nominees, and yet, this year, there are only 8. It seems to me (and others) that slots 9 and 10 could have easily been filled by, say,Straight Outta Compton or Trumbo orCarol or The Hateful Eight or even Star Wars: The Force Awakens (shut up, there's a reason it's the highest grossing movie of all time). What we do have, however, is a list that surprises practically no one: Spotlight, The Revenant, Room, Brooklyn, Bridge of Spies, The Martian, Mad Max: Fury Road, andThe Big Short, all of which have been cleaning up this awards season so far.
Prediction: The Revenant seems to be a lock at this point, but if there are any upsets to be had, it'll probably come from The Martian or Spotlight.
BEST ACTOR
Again, no surprises – there's Leo, there's Bryan Cranston, and there's Michael Fassbender, Eddie Redmayne, and Matt Damon. What I don't see is Will Smith for Concussion, orIdris Elba for Netflix's Beasts of No Nation, which would have given this category some much-needed depth. Perhaps the Academy is still wary of web-only content?
Prediction: Leo's Redemption™.
BEST ACTRESS
Four out of five of these nominees are no surprise and perfectly echo the Golden Globes – Cate Blanchett, Brie Larson, Saoirse Ronan, Jennifer Lawrence – but the 5th, Charlotte Rampling for a movie I have never heard of45 Years, sort of came out of nowhere. At any rate, I have to say that this is a tough one to call. Literally any of these names can be read out come February 28, but being a fan of diversity, I'd love to see Brie or Saoirse take this one home. (Sorry, Cate and J.Law, you've got your trophies already.)
Prediction: I wouldn't go placing any bets on Rampling, but based on the Globes alone, I'd say Brie is the frontrunner here, but like I said, it's a toss-up, as the Academy seems to love all these ladies.
BEST SUPPORTING ACTOR
Everyone seems surprised by Sylvester Stallone's appearance in this category, but I am not sure why since critics have been loving his performance in Creed from the start, not to mention his big Golden Globes victory. It's the second time that Stallone has been nominated for this role, having won it (in the Best Actor category) 39 years ago. Meanwhile, folks also seem surprised by Tom Hardy's nomination for The Revenant – not so much because of his performance but because he never lobbied for it. I suspect, though, that this is one of those "compilation" nominations; he's nominated here for Mad Max as much as he is for The Revenant.
Prediction: Mark Rylance is the most deserving party here, for his understated but riveting performance in Bridge of Spies, but we all love a comeback story, and nobody embodies that like Rocky Balboa, so Stallone could be walking away with his second Oscar this year.
BEST SUPPORTING ACTRESS
Rachel McAdams enjoys her first appearance at the Oscars here, for her role in Spotlight, as doesJennifer Jason Leigh as pretty much the only major player from The Hateful Eight (in front of or behind the camera) to get any recognition. They join Globes nominees (and winner) Kate Winslet, Rooney Mara, and Alicia Vikander for what could be, as with the Best Actress category, a tight race.
Prediction: Kate's Globes win notwithstanding, I think we could see some surprises here… Well, any of them other than Kate would be a surprise, but let's say for argument's sake that Kate does not win – in that case, I could see Rooney Mara representing Carol at this year's Oscars.
BEST DIRECTOR
Here's where things get weird. Absent are directors Ridley Scott and Quentin Tarantino (the latter not as surprising since his movie was not nominated) and in are newbies Adam McKay (for The Big Short but known mostly for goofy Will Ferrell fare),Spotlight's Tom McCarthy, andRoom's Lenny Abrahamson. Also excited to see George Miller in there too for Mad Max. But unfortunately for them…
Prediction: It's Alejandro Iñárritu's year. Again.
ODD 'N' ENDS
Despite his Globes win, Aaron Sorkin's screenplay forSteve Jobs was shut out, and even Tarantino wasn't thrown a bone for his Hateful Eight script. However, Straight Outta Compton's coterie of writers managed to squeak in.
One of the biggest hits of the year, Wiz Khalifa's "See You Again" (ft. Charlie Puth) from Furious 7didn't make the cut either, but both Lady Gaga andThe Weeknd earned nominations for their contributions to the soundtracks for The Hunting Ground("Til It Happens to You") and Fifty Shades of Grey("Earned It"), respectively. Wait, does Fifty Shades of Grey have the same number of Oscar nominations thanStraight Outta Compton??
Star Wars: TFA did manage to walk away with 5 nominations, mostly in technical fields (Best Special Effects or gtfo!), which is all well and good but I definitely think the creative aspects of the film should have been recognized as well. Like, where isAdam Driver's Best Supporting Actor nomination, people?? At any rate, it's interesting to note John Williams's name on the bill for his score, the majority of which has already been pop culture canon for 40 years – between him and Sly Stallone, this is a year for 1977 comebacks, no?
The 88th Annual Academy Awards will air on February 28 on ABC.
(Photo via Brian To/WENN)
- Katie Marzullo, YH Staff Editor