Break Out the Gilded Blue Cigars: It's a Boy!
Written by Katie Marzullo. Published: July 22 2013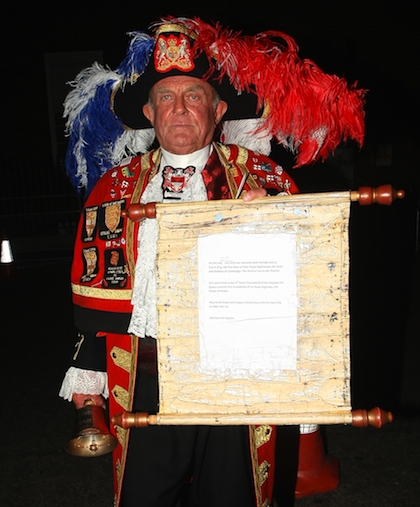 Hear ye, hear ye! Queen Elizabeth is one happy camper today – her throne is now secure for the next THREE generations!
Here at Young Hollywood, it's policy not to comment on people's personal lives. However, there is a huge exception when it comes to the Royal Family. Let's face it, their personal lives are part of public policy. Kate Middleton didn't just give birth to her first son – she fulfilled her #1 duty as the wife of a future King.
It probably seems quaint and archaic to us Americans, but that's also probably why there is such a fascination Stateside – whilst the United States has built an impressive empire of its own in the 200-plus years since sloughing off the U.K.'s rule over us, our English cousins across the Pond have held steadfast to the same traditions they've had for almost a THOUSAND years! What other First World country can claim that? And who doesn't love hype and spectacle more than Americans?
Thus the #RoyalBabyFever that has captured not only their nation but ours as well! In case you took a little vacation underneath a rock today, you probably already know that Kate Middleton, the Duchess of Cambridge, finally gave birth to her and Prince William's first child. Here's what we know so far:
- It's a boy. LONG LIVE THE KING!
- The little prince came in weighting 8 pounds, 6 ounces, begging the question: where did Kate keep it all?? I mean, come on, you all saw the baby bump pics – no way an 8-pound baby was in there!
- The baby was born a full 4 hours before the official announcement. Talk about a tease! According to reports, Kate plopped out the heir at about 4:24 London time, which would make it 8:24 L.A. time.
- The baby's star sign is Leo. For those of you astrologically-inclined, you will agree that this is pretty much the perfect sign for a future King.
- An old-timey town crier announced the birth outside the hospital, complete with scroll and bell. Marvelous.
- No name has been announced as of yet and probably won't be for a while. So, update your Twitter hashtags accordingly from #RoyalBabyWatch to #RoyalBabyNames.
Personally, I hope they keep it traditional, and by traditional, I mean pre-Norman Invasion. Fingers crossed for Prince Æthelred!
Congrats to the Royal Family, and a hearty thank you for keeping it old school so that we Americans can still enjoy your traditions from a safe distance!
What do YOU think they baby's name will be?
(Photo via WENN)
- Katie Marzullo, YH Staff Editor