'Batman: Arkham Knight' Trailers Hint at Epic Game Play & a Mysterious New Villain!
Written by Kevin Donaldson. Published: December 01 2014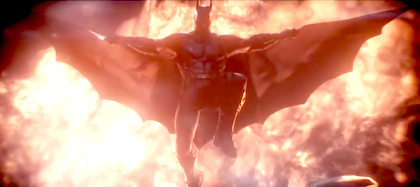 Batman Arkham Knight, a much-awaited video game installment in theBatman: Arkham series, has been surrounded by mystery or a while thanks to its numerous release delays and the creation of a new villain named The Arkham Knight. Fans have been speculating as to whom the Arkham Knight could be and what it could add to the world of Batman. Although we haven't seen any gameplay yet, we have only gotten one of the most awesome video game trailers of all time. Take a look if you haven't seen it already:
That was epic! If I watch that every morning for the rest of my life, then maybe I'll get the motivation to hit the gym. The trailer felt more like a movie trailer than one for a video game. The good folks at Rock Steady and Warner Bros. have added a series of trailers to show you exactly what the game play will look like, as Batman fights to infiltrate Gotham's Ace Chemicals. Check it out:
Part 3 of Batman's assault on Ace Chemicals to save Gotham will premiere at 10:00AM EST on December 6. How many parts will there be? I have no idea. There's only one way to find out… STAY TUNED!
(Screenshot via YouTube)
- Kevin Donaldson, YH Staff