"Back In The G-Game, Baby!" First Look At "Outer Banks" Season 3!
Written by Amelia Gorman. Published: September 27 2022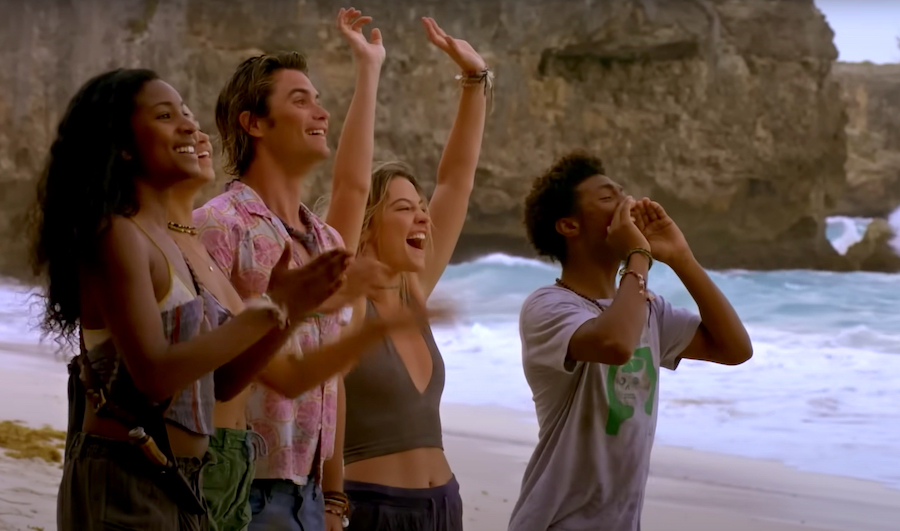 (Netflix)
Over the weekend, Netflix gave us a glimpse into what our favorite Pogues have been up to since they were left stranded on an island in the Bahamas at the end of "Outer Banks" Season 2! In the teaser trailer, viewers are welcomed to "Poguelandia", which, in all honesty, looks pretty relaxing aside from the fact our beloved group of teens are completely deserted. But, as always in this show, the relaxation doesn't last for long. As the teaser continues, we see many intense fight scenes and chase downs involving dogs running after the Pogues, and, of course, Rafe (Drew Starkey) and Ward Cameron (Charles Esten) on the hunt for the missing teens and treasure.
And while the teaser looks pretty intense, there's still some hinting at new romances within it, such as JJ (Rudy Pankow) and Kiara (Madison Bailey) sharing an intense embrace, and some longing looks between Sarah (Madelyn Cline) and her old flame Topper (Austin North)! Which leaves us with the question: what will go down on that island to disrupt the potential romance budding between Kiara and Pope (Jonathan Daviss) and the once-perfect romance between Sarah and John B (Chase Stokes)?!
Of course, the relationship statuses are not the only questions we want answered, though. Season 2 left off with the Pogues losing the Cross of Santa Domingo to Rafe and Ward, and the shocking reveal that John B's father, Big John Routledge (Charles Halford), is alive and in contact with Limbrey (Elizabeth Mitchell) — a rival of the Pogues. So, hopefully, Season 3 will shed some light on how Big John survived (and why on earth he's reaching out to Limbrey) and continue to follow the group's hunt for the gold!
Season 3 will also have a few new faces in the mix, with several new actors joining the cast, including Andy McQueen("Station Eleven"), Fiona Palomo ("Control Z"), and Lou Ferrigno Jr. ("S.W.A.T."). McQueen will portray Carlos Singh, "a Caribbean Don who is intelligent, refined, and ruthless, and is out on a treasure hunt of his own." Ferrigno Jr. will be Ryan, one of Singh's top security officers, and Palomo will play Sofia, a secret wannabe-Kook (who's actually a Pogue) and may even be a potential love interest for Rafe (run, girl, run!).
While there's no official release date yet, filming has wrapped and the show is expected to hit Netflix in 2023! And to quote John B, we hope you're as excited as us to get "back in the G-game, baby!"