ARTIST TO WATCH: The Ceremonies
Written by Raffy Ermac. Published: October 30 2013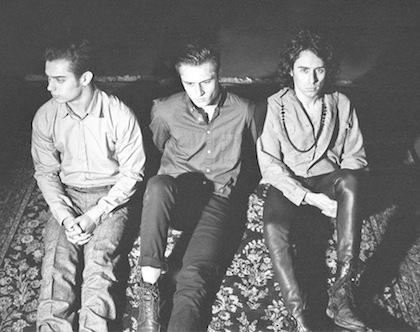 Probably the first thing you'll notice about The Ceremonieswhen you first look them up is, to put it frankly, how ridiculously good-looking/handsome they all are. Although it is indeed very nice to admit that, yes, a band of three men is very attractive, it would be extremely shallow to base liking musicians solely on looks alone. Luckily, the Cook brothers (lead singerMatthew and twins Michael andMark) are so much more than just pretty faces – they are one of the most talented (and cool) bands of young people to ever emerge from the Los Angeles area.
Having been around the scene since last year, The Ceremonies sound like a psychedelic mix of bands that heavily influenced lead singer Matthew, the likes of which include The Doors andThe Beatles. And if your tastes lean toward legendary bands such as those, that's definitely a good start!
Even if you think you haven't heard about The Ceremonies, you probably have. Their first song "Land of Gathering" has been featured on a pretty popular and well-played Fab.com clothing commercial, and people have been talking about them ever since.
Other songs of theirs, as they prepare to record and release their first studio album sometime in the near future, include "Ballroom Bones", "Wolfdance", and "Straw Hat".
Don't just take our words for it though. Check out The Ceremonies on Twitter and Tumblr, and see all their handsomely crafted rock music for yourself.
(Photo via Big Hassle PR)
- Raffy Ermac, YH Staff