ARTIST TO WATCH: Peach PRC
09-26-2022 by Heather Van Ness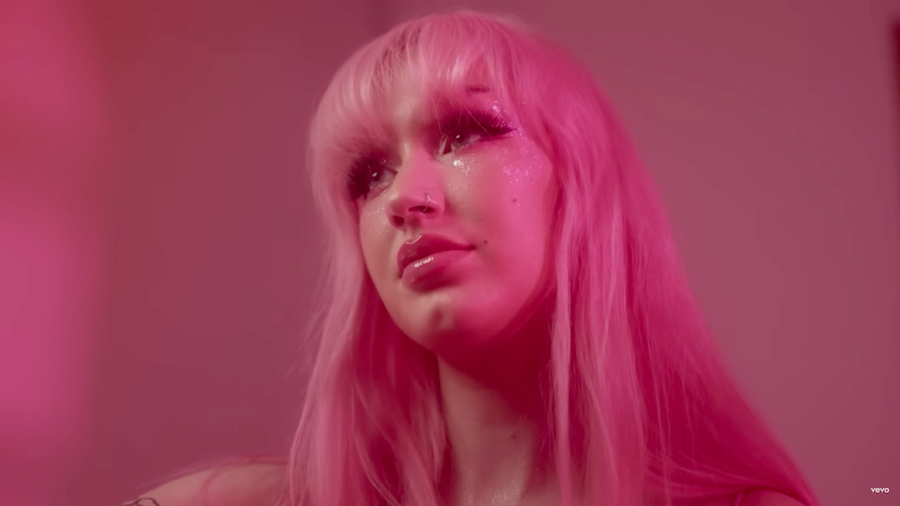 (Peach PRC/YouTube)
TikTok is the place to be if you're an aspiring artist; just take a look at Peach PRC (@Peachprc on TikTok). She's an Australian singer/songwriter that has had an inspiring last two years, amassing 2 million followers on the platform. Back in 2020, Peach was uploading original songs from her bedroom floor, with just a guitar and her phone. Her dog, Marbles, was usually snuggled somewhere in the frame. In one old track, she sings about being broke and considering selling a kidney, crooning: "I haven't paid my rent in two weeks / 'Cause I spent all my money on UberEats..." 
Peach is your average 25-year-old fighting to get it right like the rest of us. Viewers have followed along with Peach as her story has changed over the years. She quit stripping, is pursuing sobriety, and has experienced break-ups. Her username was actually inspired by Princess Peach from Super Mario Bros. and was her stripping stage name: Peach Porcelain. But "Porcelain" was too long for a TikTok username. Her real identity is Sharlee Curnow.
Now, instead of singing from her floor, her background has become a neon-lit studio. Viewers have watched her go from brunette to blonde to, finally, her signature pink, Peach is unafraid to be herself. In fact, she loves pink so much that everything, from her bedroom to her outfits, is saturated in the color. She's able to embrace her quirks and can laugh about how others might perceive her. 
at what point is the pink thing like a legitimate compulsive disorder??? lmao bc i will only drink liquid if it's pink and i refuse to make a purchase unless it comes in pink and im talkin like bank cards, bandaids, dog toys etc and i feel genuinely stressed if i'm not pink

— Peach PRC (@peachprc) June 12, 2022
It's that same type of honesty that eventually led Peach to write "Josh", a roast of her deadbeat ex-boyfriend. In it, she says "And I don't wanna talk / When you're knocking off drunk at 4 o'clock / I thought you were blocked / Stop f–ing calling me, Josh..." Within 6 months, she was signed to two major record labels – Island Records in Australia and Republic Records in the U.S. The music video currently sits at over 1.7 millions views on YouTube.
In an interview with Billboard, Peach remarked, "It's still very crazy to me." She had recorded the song with a producer friend who was also her ex. "I kind of started releasing everything on TikTok, and then s–t just went up from there." 
Despite being signed, Peach continues to post original songs just like she did in 2020. She might be wearing more pink, but she's still spilling her diary through her guitar. This past January, unbeknownst to her label, Peach recorded "God is a Freak" and shared a snippet of the rebellious chorus to TikTok: "God is a bit of a freak / Like what's the fixation / On hating the way he creates?" 
It didn't take long for the pop song to garner attention. It resonated especially hard with LGBTQ individuals, who created TikToks with the song and detailed their experiences with religion. It has become a sort of anthem for many queer people. This support encouraged Peach herself to come out as a lesbian in an Instagram post captioned: "to be fair the closet was made of glass lol." 
"Take what you can from the song, take what you can from me sharing my truth. I hope other people do the same if that's something that they find healing and liberating." Peach continues to be a voice for women, sex workers, and queer people on TikTok – and she makes amazing bubblegum-pop music! "Forever Drunk" is her latest release, an ode to Tove Lo's "Stay High". 
We can't wait to see where Peach's career takes her next!