ARTIST TO WATCH: London Grammar
Written by Raffy Ermac. Published: January 30 2014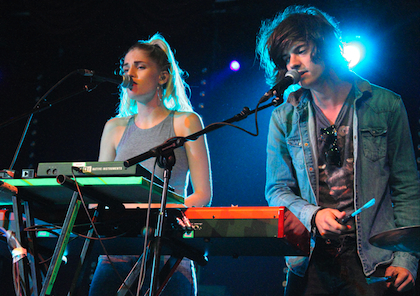 If their band name wasn't indication enough, London Grammar are indeed an English, Nottingham-based band, and although there are already many artists before them from the big U.K. who are now making names for themselves not only stateside, but around the world as well, that doesn't mean we don't enjoy indulging in another act that originates from across the Pond. Heck, we would even go so far as to say we ADORE British music!
The trio, consisting of University of Nottingham dorm mates Hannah Reid, Dan Rothman, and their friendDot Major, was formed in 2009, and like countless others before them, began performing at local bars and small venues to gain some attention and set themselves out onto the world of indie-rock-pop-alternative.
Their debut single, 2012's "Hey Now", is a lingering powerhouse of vocals and instrumentals, and in a hauntingly similar way, sounds like something that could have been sung and performed byFlorence + the Machine, another indie British act they are often compared to.
A few performances and singles later, including the other popular hit "Wasting My Young Years", London Grammar was able to sign a record contract, release an EP, garner even more name recognition, and complete and release a full-length studio album, last September'sIf You Wait. Not bad for a group that hasn't even been around for that long at all, and especially for an act that met and was formed in college.  
Currently on tour in the U.S., London Grammar has a lot to teach this generation of melancholy, hipster indie fans about how real music of said genre is done from Nottingham, and with current like singles like "Nightcall" and "Strong" already making moves on the charts and on the radars of their fans, we'd be more than happy to be musically schooled by them.
(Photo via WENN)
- Raffy Ermac, YH Staff