ARTIST TO WATCH: LÉON
01-07-2020 by Nicole Koch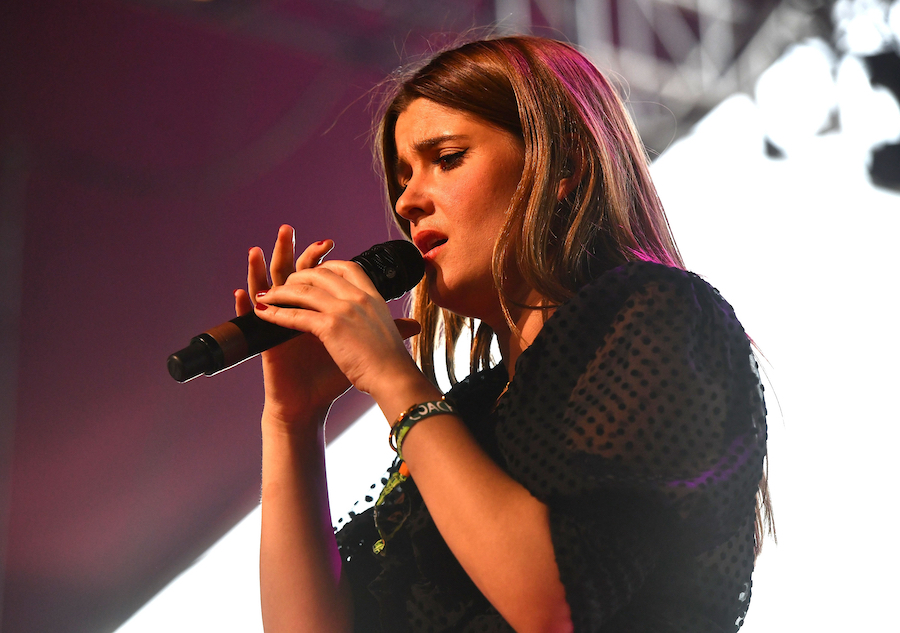 ( © Scott Dudelson/Getty Images for Coachella)  
I'm calling ALL fans of Lana Del Rey, Maggie Rogers, King Princess, Billie Eilish, and Troye Sivan!

If you don't know who the human in the picture is, I've got a surprise for you.
Say hi toLÉON, a Swedish singer and songwriter with a sultry and raspy voice that pulls you in so hard that you never want to let her go (dramatic, but for real), and lyrics that make you feel SO. SEEN. She also has some of the sickest fashion style I've ever come across – fellow people who believe they're supposed to live in the '70s, you'll probably dig it too. And most importantly, she's a Pisces, so you knowww she comes through with the emotion-filled bangers.
LÉON is a Columbia Records artist, and according to the interwebs, her first single "Tired of Talking" from her debut EP release, Treasure, (2005), got the attention ofKaty Perry (so cool!). She also has her own record label, LÉON Recordings Imprint, with BMG! She's played Coachella and people just love her. Her first album,LÉON (2019), is iconic, and I've listed out my top 5 favorite songs (in no particular order!) from it with accompanying lyrics so you can get a feel for why I listen to each song and why I'm so damn smitten with her. I know I'm not the only one who likes to ocassionally torture myself and listen to sad songs…
"Better In The Dark"
Listen to this when you realize you want to be emotionally and mentally intimate with the person you're sharing a casual physical relationship with. It's a BOP, so get in your car, roll the windows down, and let LÉON serenade you:
We're happy hiding in the shadows
Doing what lovers do
We never talk about tomorrow
No, that ain't what we do

I wanna see you in the dark
It's the only time you ever show me who you are
The only place you open up your heart
So why don't we cut to my favorite part?
And in the morning, you're a stranger
And I'm a stranger too
Don't need to make it complicated
Well, let's keep this feeling new
"Hope Is A Heartache"
The song you play when you want a good, deep cry because your emotions are so overwhelming you don't know what you're feeling! Also, if you've ever had a long distance love, you may relate.
Stuck in emotions and I don't know what they mean
Keep thinking about us and how things get in between
But if it is love, it doesn't matter, you don't belong to me
But I think you know

I'm lost in your city, I was hoping we could meet
But you keep your distance, maybe I should let it be
And if it is love, it doesn't matter, but still it gets to me
And I think you know

When I talk about you, I'm afraid to say too much
Somebody asked about you, if there's something more to us
But if it is love, doesn't matter, there's nothing to discuss
And I think you know

All the moments that I ran from
Always thought you'd wait for me
Now this hope is but a heartache that lives inside of me
And if it is love, then what's the point now?
You got someone to hold
Pink
A song if you want to revisit the ghosts of your past with LÉON's hauntingly beautiful voice. The way she sings "I'm a fool for you"… [*cries*]
Smoking blues, sipping red
And I picture us inside my head
I dream onto a place
Where I'm having you all to myself
Maybe you'll see that Stephanie
She's not for you, she's just someone
Taking you home, giving you some
Maybe someday you'll see
If you knew how many times I turned into a fool over you
If you knew how many hours my mind spent on you
Yeah, I know it's crazy
I know it's crazy, I'm a fool for you
I'm a fool for you

What You Said
A good one to play when you're feeling misunderstood by your boo. Don't worry, LÉON's got your back.
We're standing still in silence
Hearing the water drip
Can't keep the tears from falling
If only you'd look at me
And all the things I shouldn't say
Were said anyways


You got me feeling reckless
Oh, you say I've changed
You say that you meant forever
And that you still feel the same


Give me something, something that's real
To make me feel loved again
Show me something, something that's real
To make me feel loved again
Darling, that is what you said
Baby, that is what you said
You and I
Listen to this one when you know the person you're with isn't necessarily the best match for you but there's an undeniable connection between you! Another BOP.
Seeing the sun go down again
Staying in my bed for too long now
Heard you were out last night
My friends say you're looking well, you seem happy
But you're a liar if you say that you're fine
Bet you wonder if I think of you now
Done my best to stay away, but I think I'm going crazy
You and I
You don't wanna talk about it
You don't wanna talk about
You and I
We don't ever talk about it
But in my head
Oh, you say, say you still want it
That you're done with being lonely now
It's you and I
Standing beneath the flickered lights
When I shut my eyes you seem closer
Dancing to keep the tears away
Get this heavy weight off my shoulder
And every stranger, I pretend they are you
They'll never hold me, never touch me like you do
Done my best to stay away
But I think I'm going crazy
I'm going crazy
As you can see, she deserves all the love and recognition we're giving her today! LÉON is truly one of my favorite artists thanks to some Young Hollywood interns (shout out Camryn Sidley, Kassidy Desnoyer, and Hannah Taylor). Don't sleep on LÉON, you won't want to miss her!
Follow LÉON:
Follow me: