ARTIST TO WATCH: Alex Israel
Written by . Published: October 02 2017
If you don't know who Alex Israel is yet, we're about to change all that.
From being a multimedia artist, to owning and designing his eyewear company, Israel pretty much does it all (and sees it all.. ha!). His work explores the many facets of popular media within Hollywood and the layers of understanding American culture and the American dream. He's proven to go above and beyond with his work because of his bright, colorful paintings, self-portraits, multimedia installations (which are made on the backlot of Warner Bros. Studios!), and, most recently, his movie SPF-18, a feature-length teen surf film and multi-platform project. Check out the trailer below!
"Never having worked on a movie, I really had no idea what to expect," Alex tells us. "I've been working on SPF-18 for a little over 3 years, and I was involved in every single step of the process. From writing, to making sunscreen, to designing wetsuits, to yelling 'action' and 'cut' on set, to licensing songs for the soundtrack, to making the trailer, to hosting the premiere. I can tell you one thing — working with amazing collaborators all along the way made the project not only possible, but incredible. I learned so much throughout this process and have so many brilliant people to thank for that."
The film will initially be screened at high schools around the country, and we were curious as to why he decided to take that route.
"I wanted to make a work that might inspire some teens to embrace their inner artist, across the spectrum of creativity, in whatever field they connect to, and to put that work in the world for them to access. Teens watch movies in school, on iTunes, and on Netflix, so that's the form I chose and the channels I've accessed forSPF-18's distribution. My going to schools is just a chance for me to hopefully give some teens a little bit of extra encouragement, and to remind them that they're important to art. Art is constantly being redefined, and they're going to be responsible for what art becomes in the future."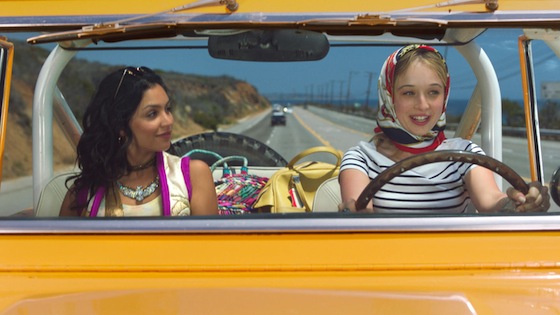 But what makes it different from other things we've seen at the big screen? We wanted to know what sets SPF-18 apart from previous works he had done and how is it unique amongst other movies currently in the market.
"It's an artwork. It's something that I made independently of a studio or distributor, so it's never been forcefully tied to market trends in teen entertainment. Without a market-driven entity overseeing its production, every decision was made for artistic reasons. When I decided to make it, I looked out across the field of current teen-driven entertainment and I found so much of it to be kind of dark, cynical, and ironic. I wanted to make something that was sweet, earnest, and positive, in reference to the kind of things I watched back in the eighties and 90s."
Look forward to seeing some teenage heartthrobs, romantic scenes, lots of sunscreen (natch), and performances from actors who know a thing or two about teen movies, including Molly Ringwald and Keanu Reeves, as well asRosanna Arquette, Pamela Anderson, Carson Meyer, Noah Centineo, Bianca Santos, Jackson White, Sean Russel Herman, and more.

We asked Alex what he hoped people would take away from his film. "I hope it makes you laugh, feel some feels, download some '80s music, and embrace your creative side. You never know what might happen if you do."
We're too excited for SPF-18!
(Image via Alex J. Berliner/ABImages)
- Ali Reid, YH Contributing Writer