ARTIST SPOTLIGHT: Haim
Written by Raffy Ermac. Published: February 08 2013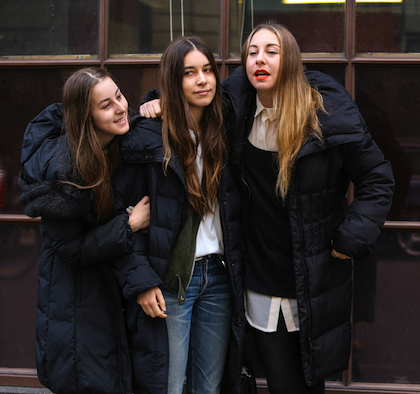 Los Angeles is an absolute breeding ground for talent. There seems to be something in the sunny air and the cool breezes that make some really amazing artists thrive, and such is the case with the L.A.-based trio Haim.
An all-girl group comprised of sisters Este,Danielle, and Alana Haim, the band was formed in 2006, and has just recently started making a name for themselves in the music industry.
There is no one word to really describe their musical stylings (besidesperfect), but critics have described them as a new-wave mix of funk, R&B, pop, and alternative, and although one does not usually mix those genres together, their sound, which has a lot of throwbacks to '90s- and '80s-era synth and hipness, makes for a killer combination. To put it simply, their music is fun. It's upbeat and really, really easy to get addicted to.
At first glance, they're also those really gorgeous hipster-esque ladies who look like they should be modeling for Topshop or Urban Outfitters, but with Este on bass, Alana on keyboards and percussion, and Danielle on guitar and lead vocals, these ladies are more than just pretty faces. They are sheer talent.
Already having played big festivals like SXSW and touring all over the U.S. and the U.K., some of Haim's best songs include "Forever", "Better Off", "Go Slow", and, a personal favorite, "Don't Save Me".
Their new song, "Fallen", is also soon to dominate the music scene, and with a debut album already in the works, the future is bright for such a talented trio of L.A. sisters!
(Image via JEAA/ZDS/WENN)
- Raffy Ermac, YH Staff