Art & Artists Make Their Voices Heard at the Golden Globes!
Written by Katie Marzullo. Published: January 09 2017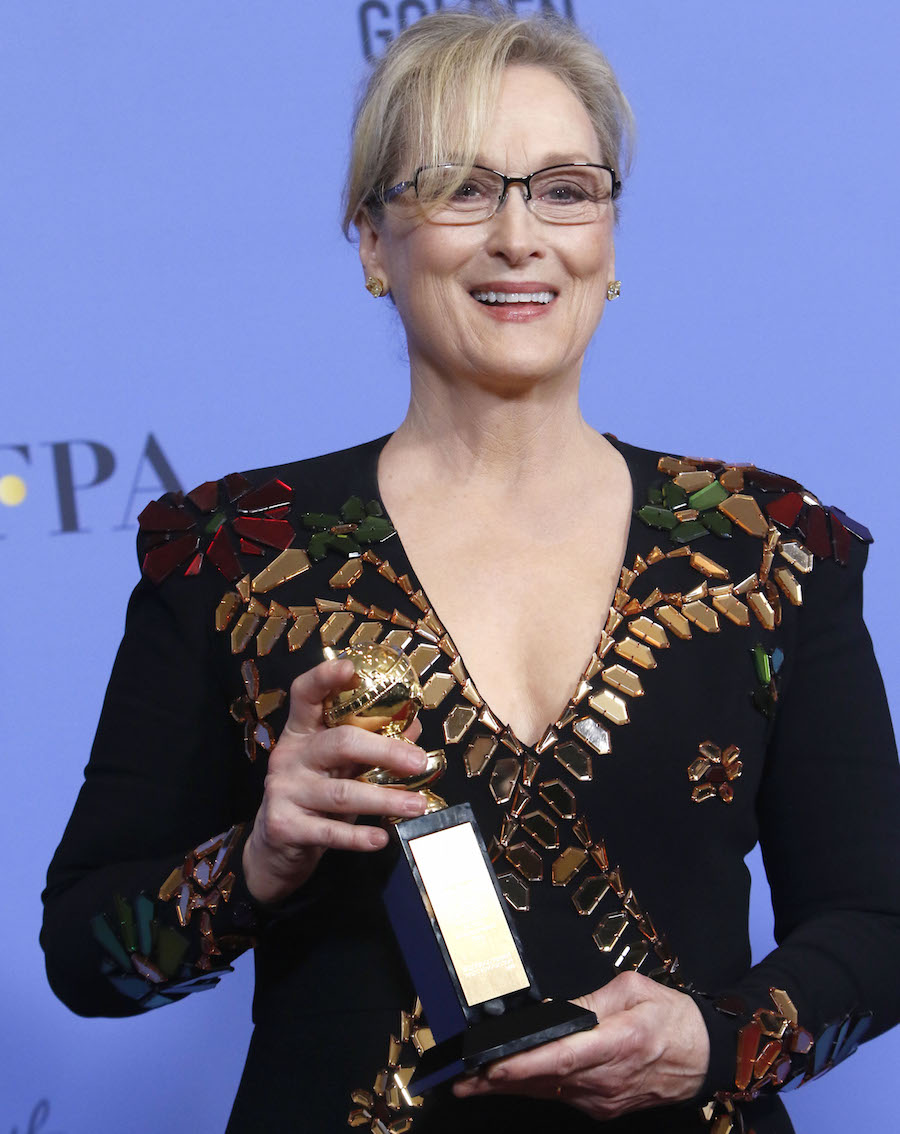 I guess it's sort of fitting that the biggest red carpet trend at last night's Golden Globe awards was a black & white palette -- the idea of balance and diversity was very much the flavor of the evening.
In a year which saw Hollywood demonstrate its most versatility in both film and television, the Hollywood Foreign Press Association followed suit in the handing out of its coveted awards.
The big story of the night was La La Land, the upstart musical starringRyan Gosling and Emma Stone, which went 7 for 7, winning every award it was up for, including Score, Original Song, Screenplay, Director (Damien Chazelle), Lead Actor & Actress, and Best Picture - Musical or Comedy. Looks like we have a bona fide Oscars frontrunner, folks.
On the drama side of things, Moonlight, which is as opposite a movie from La La Land as it gets, walked away with Best Picture - Drama, while Casey Affleckpicked up Best Actor for Manchester By The Sea, and Best Actress went to Isabelle Huppert forElle, which also one Best Foreign Language Film.
Viola Davis proved she can dominiate in either medium by nabbing Best Supporting Actress for Fences, and Aaron Taylor-Johnson was the sleeper winner for Best Supporting Actor for the thriller Nocturnal Animals.
Over in TVland, rookie comedy "Atlanta" (FX) came out swinging, picking up Best Comedy Series and Best Lead Actor for creator & starDonald Glover. "The People v. O.J. Simpson: American Crime Story" picked up where the Emmys left off, winning Best Limited Series or TV Movie and Best Actress for Sarah Paulson, but it was upset in both Actor categories by "The Night Manager" co-stars Hugh Laurie andTom Hiddleston; Olivia Colemanfrom that same show took it home in the Best Supporting Actress category.
Meanwhile, "Black-ish" star Tracee Ellis Ross earned herself for Best Actress in a Comedy Series, and Claire Foy reigned supreme for Best Actress in a Drama Series for her role as Queen Elizabeth II in Netflix's "The Crown", which also won for Best Drama Series, beating out the likes of NBC's "This Is Us", Netflix's super popular "Stranger Things", and HBO's two powerhouse series "Game of Thrones" and "Westworld". Having seen 4 out of the 5 nominees in this category, I can tell you with some confidence that "The Crown" was certainly the most solid show and definitely the most deserving. So, that was refreshing!
But the thing that's on everyone's lips this morning is not a TV show or a movie or a dress or even a "winner" per se -- it's the speech given by lifetime achievement award recipient (and actual queen) Meryl Streep, who used her platform not to talk about herself or her career but to express her thoughts about the state of our country.
While many applauded her call for kindness, compassion, and freedom of art & press, there are those who derided her for "bringing politics" into Hollywood and for having "no right" to say such things at an awards show, but here's the thing -- art and politics have been intricately intertwined since art was invented in a cave thousands of years ago, and movies in particular have both reflected and influenced the state of the world for their entire existence. And if it weren't for influential people like Meryl Streep and hundreds of other celebrities speaking up for those without voices and podiums, how much change would really happen? The Average Joe can only do so much; it's the artists who have the power to actually affect change, and give the rest of us the support we need to fight back against injustice. And supposing celebrities really did just "shut up and make your millions" and ignored the "real world"... well, they would get dragged for that too, wouldn't they? So, suffice it to say, in a time when artists, journalists, and content creators are actively being targeted, the Golden Globes stage was absolutely an appropriate place for Meryl Streep to say what she said. I, for one, applaud her. Just this journalist's two cents...
(Image via WENN)
- Katie Marzullo, YH Staff Editor