Ariana Grande: The Next Mariah Carey?
Written by Raffy Ermac. Published: August 26 2013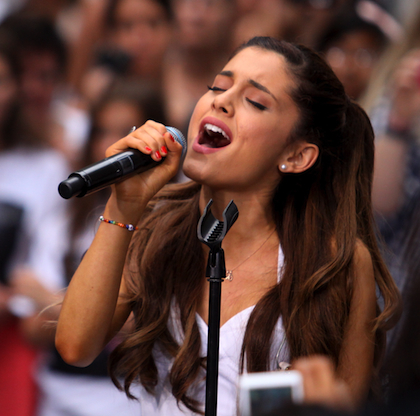 It feels as though this summer belonged to the pop star, what with younger music sensations like Demi Lovato, Miley Cyrus, and Selena Gomez making waves unlike any others this season.
But although it feels like the market has been ruled by these three pop princesses for quite a while, there is a new songstress, who, in her own way, is starting to dominate and usher in her own era of talented, fresh-faced sirens, and she goes by the name ofAriana Grande.
Since we at YH first introduced Ariana onto the pop music scene late last year, her star has taken off by leaps and bounds, with both her acting and music career elevating her to that of a near household name. She is now the new star (alongside Jennette McCurdy) of Nickelodeon's hit TV show "Sam & Cat", and (in only 10 short days) will release her highly-anticipated debut album, Yours Truly.
Ariana Grande was born and raised in Boca Raton, Florida, and, along with her older brother Frankie, has always had a passion for entertaining.
In 2008, she took that passion with her to Broadway where she had a small role in the play 13. Eventually, one thing lead to another, and Grande was offered the role in "Cat" in another Nick TV hit, "Victorious".
With her petite frame, you wouldn't assume that such a huge voice could come out her. But you'd be wrong. The girl can sing. What the show did for Grande -- besides put her on a national pedestal -- was showcase her extremely talented vocal gift, one that people often compare to that of a young Mariah Carey.
Presently, with the "Victorious" show behind her, it seems as though most of Grande's attentions are focused on her music career. Rightfully so, especially considering her extreme talent and aptitude for that of catchy pop music. Who hasn't heard of her hit summer single "The Way" (featuring another YH fave Mac Miller)?
One of the best things about Ariana, besides her amazing voice, is that her music is different from most other artists her age. With features from high profile rappers and samples from some classic '90s hip-hop and R&B, Ariana is definitely not only a pop star but a genre crossover powerhouse! And her five-octave range always gives us good chills…
After opening up for Justin Bieber's final leg of hisBelieve Tour, and starting her own solo headlining one, Grande is ready to further take over the pop game with two new singles ("Baby I" and "Right There" ft. Big Sean), her own studio album, and (this blogger's personal fave) the lead track of the Mortal Instruments: City of Bones soundtrack, "Almost Is Never Enough" with The Wanted hunkNathan Sykes.
At a mere 20 years old, Ariana still has a full lifetime of success ahead of her, and we absolutely can't wait to see how far she goes. Everyone's fave new superstar? We think YES!
(Image via Joel Ginsburg/WENN)
- Raffy Ermac, YH Staff