Anna Kendrick's Career Soaring Beyond 'Up In The Air'
Written by Danielle Koch. Published: June 27 2013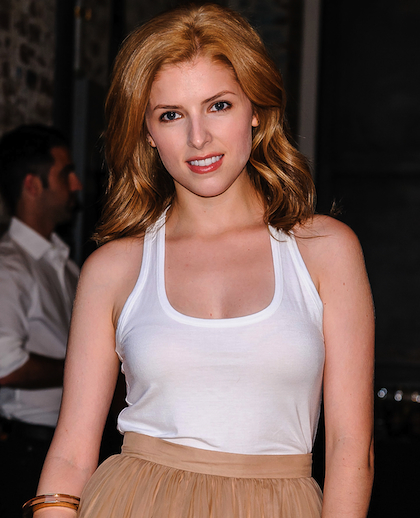 Long ago are her days playing Bella Swan's (Kristen Stewart) friend Jessica in the Twilight series. Anna Kendrick is moving up and out, and in big ways.
Most recently, she has starred in movies such as What to Expect When You're Expecting opposite names like Jennifer Lopez, Cameron Diaz, Elizabeth Banks, Rebel Wilson, and Chace Crawford, and nabbed herself an Oscar nomination in 2010 for her rold in Up In The Air co-starring none other thanGeorge Clooney. She also won the lead role in another movie with Rebel as well as Brittany Snowcalled Pitch Perfect. Ever heard of it? I'm sure you are all nodding your heads.
The list of movie creds and star-studded casts do not stop there.
Anna stars in the new comedy Drinking Buddies with Olivia Wilde, Ron Livingston, and Jake Johnson (check out our interview with the cast here). She is also featured in the upcoming movies The Last 5 Years, Get a Job, andThe Voices. This girl has been keeping herself busy these past couple years!
Now, there is talk that Anna will be playing Cinderella in the upcoming movieInto the Woods. As if that role isn't awesome enough, stars already slated into the film include Emily Blunt, James Corden, Johnny Depp, Jake Gyllenhaal, and the iconicMeryl Streep. Who hasn't Anna worked with in Hollywood? I mean, seriously!
If Anna does in fact get cast into the role of Cinderella, her Prince Charming will be Chris Pine. Even though this version of the Prince isn't all that charming, that tidbit of information would be convincing enough for me, just saying.
The movie will not come out until Christmas 2014, but I am already excited to see it. Everything about it sounds like a success to me. Anna's stardom is rising, and I think she would make a great addition to this already loaded cast!
I can't wait to see what else is in store for this starlet. Keep her on your radar, everyone!
(Image via C.Smith/ WENN)
- Danielle Koch, YH Staff