Anchormania! Ron Burgundy Takes Over All Media
Written by Amanda Baltazar. Published: December 06 2013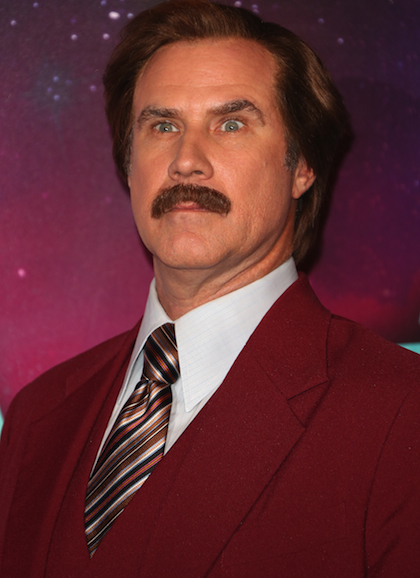 Good afternoon, Young Hollywood!
As many of you all know, after nearly ten years since Anchorman came out in 2004, its sequel is finally premiering on December 18!
Our favorite legendary anchor, Ron Burgundy, comes back to the big screen with his Channel 4 news crew to take on New York's 24-hour news network!Will Ferrell, Steve Carell,David Koechner, Paul Rudd,Christina Applegate, and many others will all be coming back for Anchorman 2: The Legend Continues. They will also be joined by new and hilarious talents like Amy Poehler, Kristen Wiig, James Marsden, and Tina Fey, not to mention several big name cameos!
In honor of the premiere of the highly-anticipated sequel, Ron Burgundy has been making the rounds in an unparalled publicity blitz! These include a co-anchoring gig on KX News in North Dakota...
Shilling the new Dodge Durango...
Interviewing Peyton Manning for ESPN...
Covering the curling Olympic trials in Canada...
Not to mention the scores of trailers, ads, and bumpers... It's Anchormania!!!
Additionally, Paramount Pictures has released a mobile app game called "Scotchy Scotch Toss". Created by Funny or Die the game is bit like like Paper Toss, having the player trying to toss ice cubes into Ron Burgundy's scotch glass. You can challenge your friends or even Ron Burgundy for the top score! There are many different venues and locations where you will be able to toss ice cubes into our favorite anchorman's glass. I may play this game just to hear all of Ron's new one-liners!
 The game is available on iTunes for $0.99. And if playing it gets you a little thirsty -- and you're over 21 -- then you can purchase a bottle of Ron Burgundy's own scotch, Odin's Raven. Yes, it's real. Pour yourself a glass while reading Ron's memoirs. Yes, that's real too.
Check out the (official) trailer to get you pumped up for the premiere!
You can also check out the Official Website for the movie for a countdown! They also have a ton of games online that will get you in the mood for the premiere.
Don't forget to watch Anchorman 2: The Legend Continues on December 18 and remember, you stay classy, YH readers!
(Photo via Lia Toby/WENN)
- Amanda Baltazar, YH Staff; additional reporting by Katie Marzullo, YH Staff Editor