An Ode to Austin Powers's Closet
11-28-2020 by Paige Pfeifer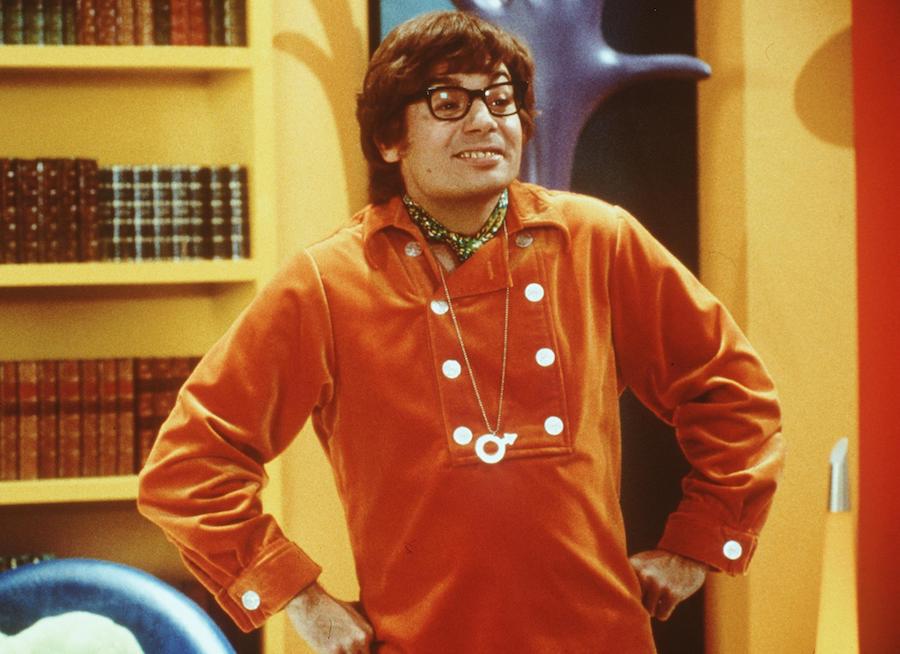 ( © New Line Cinema/Getty Images)  
It was just beginning to get dark and I was leaving Goodwill empty-handed. I had put up a good fight, going through the store row by painstaking row, sifting through old homecoming T-shirts and craft-aunt skirts. As I rounded the corner to the automatic doors, shoulders hunched in ungainly defeat, I spotted it in my peripheral: a red and yellow striped suit, complete with shorts and a deep V. It was like a psychedelic coronation: instead of kneeling for a crown, I was reaching for this suit, silently thanking Austin Powers over and over in my head.

Because who else would have been responsible for such an iconic getup? Love him or hate him, the International Man of Mystery has sway. After checking out, my posture upright once again, I felt it was my duty to revisit the satirical spy trilogy. So that's exactly what I did ─ and made notes on Austin's best outfits along the way. 
The All-Orange Ensemble
This tangerine dream is one-part comfort, one-part style, and all parts electrifying. While the soft striped pants suggest an afternoon of lounging on the couch and obsessing over Miss Shagwell, Austin's scarf-necklace combo keeps him looking fresh. "Slobby chic", if you will.
The Cherry-Bomb Trappings
This little red number screams pure class. The lace cuffs bring an Edwardian flair and charm that is impossible to deny. The bright red fabric declares "my middle name is Danger!" because, well, his middle name is Danger. Yeah, baby. 
The Quintessential Man of Mystery Uniform
This get-up is pure Powers: suave, ridiculous, and utterly unforgettable. Pinstripes and polka dots, coexisting in chaotic harmony, brilliantly illustrate our hero as a risk-taker both in his style and his work. Not only does this outfit represent Austin Powers as the public knows and loves (to hate) him, but it timelessly fits with our concept of fashion in the 2010s/early-2020s, where maximalism rules and anything goes. 
So here's to Austin Powers's closet. A collection of clothing so ahead of its time, so shagadelic, that we're recklessly trying to emulate it decades after its debut.