AMC's "Better Call Saul" Inches Closer to Reality
Written by Sarah Osman. Published: July 15 2014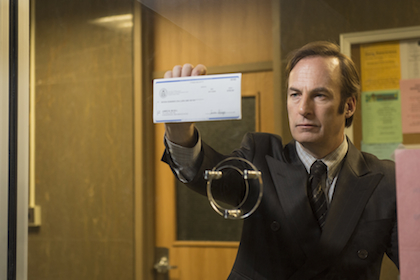 Attention all "Breaking Bad" fans! The prequel chronicling the rise of Albuquerque's sleaziest lawyer, Saul Goodman, was recently shown to critics at the Television Critics Association. Prior to the screening, AMC released a slew of information about "Better Call Saul", including how the show takes place six years before Saul Goodman (Bob Odenkirk) meets Walter White, back when he was just a small-time hustler with fierce hair named Jimmy McGill. Over the course of the six years, Jimmy transforms into the weasley Saul. Along the way, he is joined by Mike Ehrmantraut (Jonathan Banks) as well as possibly the most ruthless chicken restaurateur ever, Gus Fring (Giancarlo Esposito).
Throughout "Better Call Saul", we will get to meet Goodman's brother, Chuck (played by Michael McKean), as well as a number of new characters, played by Patrick Fabian,Michael Mando, and Rhea Seehorn. A few of these new folks are on the right side of the law, whereas quite a few are not (that spells trouble)... There is no word yet on whether or not Walter White or Jesse Pinkman will drop by, but as the show jumps around in time, there is a possibility that they might. Similar to "Breaking Bad", "Better Call Saul" will feature a non-linear timeline.
CreatorVince Gilligan has stated that the show's 2015 premiere date is his fault, as he writes "slow as mud". That's okay, Mr. Gilligan. It's better to write slowly and craft an impressive script rather than to rush and write a subpar one!
Are you excited to see "Better Call Saul"?
(Photo via Ursula Coyote/AMC)
- Sarah Osman, YH Staff