Amazon's "Homecoming" Will Hook You From The Beginning To Its Final Moments!
Written by Michael Gonzalez. Published: November 13 2018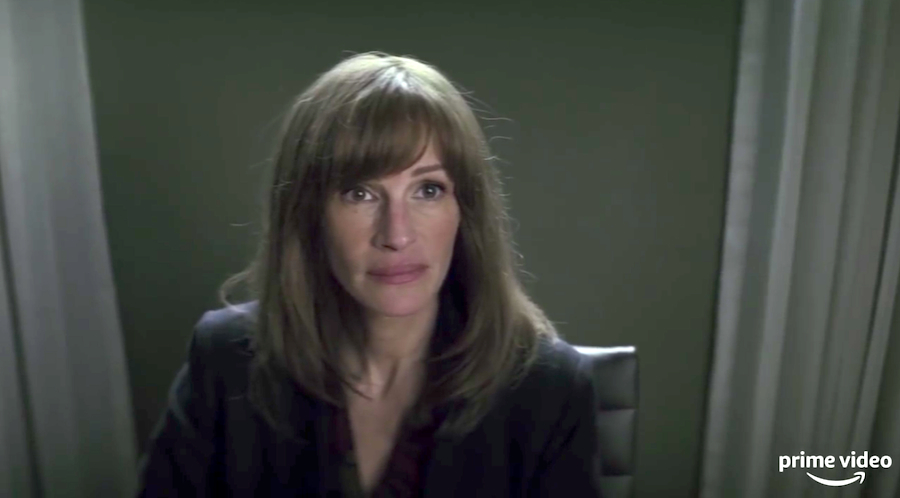 If you're looking for an addictive mystery to binge-watch, "Homecoming" is definitely your show. Based on a story originally told through a podcast produced by Gimlet Media, the show follows the central character, Heidi (Julia Roberts), who used to work at the Homecoming facility, a place which focused on helping treat returning soldiers so that they are prepared to leave the horrors of war behind them as they assimilate back into society. However, there are dark secrets lurking at Homecoming, and these secrets linger even 4 years after Heidi quits her job there.
The show splits its focus on Heidi's time treating a new patient, Walter (Stephan James), and her life 4 years after working at Homecoming, where she lives with her mother and works as a waitress. A persistent claims investigator from the Department of Defense, played by a wonderfully awkward Shea Wingham, begins to look into the shady operations of the facility, and he soon begins to uncover the dark secrets that Heidi seems to have inexplicably forgotten.
Julia Roberts, who also served as an executive producer on the show, delivers an emotional performance and practically crafts two different characters: Homecoming Heidi, and post-Homecoming Heidi. It's a demanding role in which Roberts is tasked with relaying a spectrum of guilt, frustration, insecurity, and compassion, and some of her best work is done opposite of Stephan James. The two share tremendous chemistry, and their relationship ultimately serves as the emotional anchor of the entire show.
James, who will star later this year in the leading role of Barry Jenkins's If Beale Street Could Talk, is the true standout of the show. He has charm to spare and a dangerously disarming smile, and he can turn a simple dialogue scene into a source of emotional investment for the viewer with a simple look of his eyes or pause in his sentence. He's a star in the making and his performance alone makes the show worth checking out.
As mentioned before, Shea Whigham does a tremendous job playing a boy scout-like character searching for the truth. It's an entertaining performance and a role that probably many viewers wouldn't think would be a good fit for Whigham, but the actor definitely owns the role.Bobby Cannavale, on the other hand, plays a character we're used to seeing him play -- a terrific antagonistic figure who challenges Whigham and Roberts's characters. He also proves that he can pull off phone-acting better than any other actor in Hollywood.
Sam Esmail, best known for his work on "Bad Robot", created the show and directed all 10 episodes and spectacularly visualizes its themes of captivity, paranoia, manipulating reality, and confined perspective. The majority of the post-Homecoming storyline is shot in a restricted aspect ratio, limiting what the camera can see, mirroring Heidi's inability to remember the past and see the truth. Overhead shots display the Homecoming facility as some sort of rat maze. There's a recurring fish tank that serves as a metaphor for the soldiers' apparent entrapment, and this sentiment is also utilized in Heidi's post-Homecoming life as she works at a seafood restaurant, and her name tag is in the shape of a fish, hinting that Heidi is still feeling the imprisonment even after leaving Homecoming.
There are also fun callbacks to classic film scores that enhance the film's familiar sense of mystery and suspense. Episode 7 containsEnnio Morricone's score for "The Thing", a film about scientists trapped in a confined space together, all of them not knowing who to trust -- something the people at Homecoming can certainly relate to.
The series is filled with tremendous performances, provoking plot lines, a great soundtrack, and consistently artistic writing and directing. If you have Amazon Prime, check it out as soon as you can, and check out the original podcast here. Be prepared for an emotional, suspenseful roller coaster – one with an incredible ending!
(Image via Amazon Prime Video)
- Michael Gonzalez, YH Contributing Writer