All the Surprises & Highlights From the 2022 Oscar Nominations!
02-08-2022 by Katie Marzullo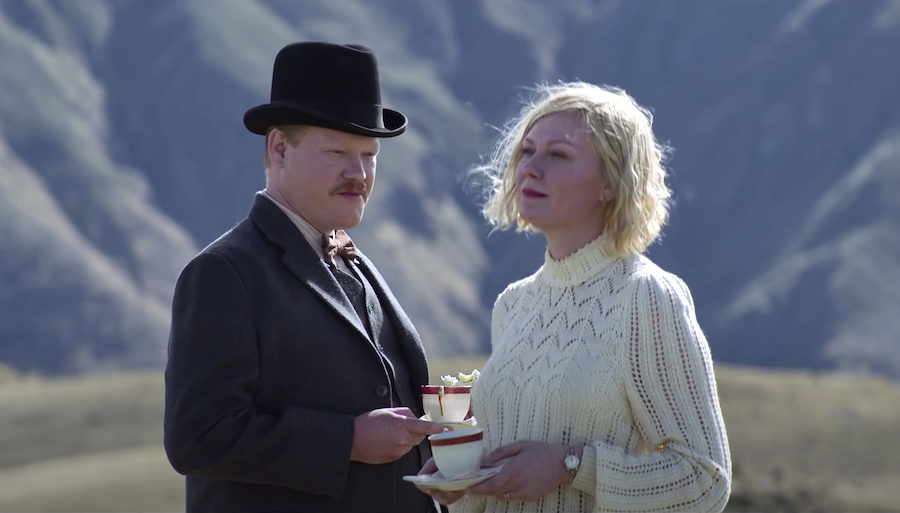 (Netflix)
The Oscars are coming! The Oscars are coming! It's finally that time of year around which the entire movie industry revolves, and this morning, like Christmas for actors, a slew of artists are waking up to fresh new Academy Award nominations!
There were way more surprises than I expected, and with the pool being so stacked this year, perhaps the bigger news this morning isn't who was nominated but who was not.
Let's just dive into all of it, shall we?!
- Jane Campion makes her triumphant return to the Oscars stage after 28 years, with her film The Power of the Dog leading the entire pack with 12 total nominations, including 3 just for her (Best Director, Best Adapted Screenplay, and Best Picture). Jane was only the second woman EVER to be nominated for Best Director (and now the first ever to be nominated more than once), which she achieved back in 1994 for her film The Piano. Considering the huge buzz around this movie this year, could this finally be her long overdue moment of glory? She did win the Golden Globe, so her chances are as good as, if not better than, anyone else's…
(Literally every person you see in that trailer above is an Oscar nominee this morning)
- Speaking of TPotD, Ari Wegner becomes only the second woman EVER to be nominated for Best Cinematography (the first was Rachel Morrison all the way back in... 2018). She's got more than a fair shot too, but her sweeping Montana vistas might not be enough to hold up to the stylized black-and-white of The Tragedy of MacBeth, the jaw-dropping sci-fi/fantasy visuals of Dune, or the magical realism of Nightmare Alley...
- When it comes to Oscar newbies versus Oscar vets, the Leading and Supporting categories couldn't be more opposite. In both the Leading Actor & Actress categories, just one of the 5 nominees is a first-timer (Javier Bardem and Kristen Stewart), but over in both the Supporting Actor & Actress categories – which are sort of like the Oscar training wheels for actors – all of the nominees except one have actually not only been nominated before but have won (JK Simmons and Judi Dench). Meanwhile, only one Best Director nominee is a newcomer (Ryûsuke Hamaguchi).
- Sci-Fi gets some major love this year thanks to Dune, which has the second-most nominations with 10 – though almost all of them are in technical categories. No actors were recognized, not even director Denis Villeneuve got any love for Best Director! He did get a nom for Best Adapted Screenplay, but everything else falls into tech categories, which seems to be a long-standing pattern with big budget sci-fi/fantasy films. I long for the day when a compelling performance in a sff film like Timothée Chalamet's in Dune gets as much respect/recognition as, say, Benedict Cumberbatch in The Power of the Dog.
- With the (disappointing) exception of Rachel Zegler, all of the Golden Globes winners found themselves a slot in the Oscar nominations today.
- Considered shoe-ins for a slew of nominations this morning, neither of Ridley Scott's movies, The Last Duel or House of Gucci, received any nominations of note. Only HoG got a nom for Hair & Makeup. Yep, not even Lady Gaga got her expected nomination, which she and the studio campaigned heavily for. TLD was shut out completely, which is tragic as Jodie Comer turned in one of the best performances of the year, imhbco (in my humble but correct opinion).
- And speaking of HoG & TLD, after putting in 3 completely different yet universally acclaimed performances in 3 completely different movies last year, Adam Driver was once again robbed on this day. Guess he'll have to do FOUR movies this year…
- Which many expected tick, tick…BOOM! And The Tragedy of MacBeth to appear in the Best Picture category this morning, neither made the cut. Most of the nominees weren't surprises – a diverse mix of Drama and Comedy/Musical Globes nominees – expect for Drive My Car, a Japanese-language film that has gotten a TON of international recognition this year (and won the Globe for International Picture), which was enough for the Academy to recognize it as one of the best movies of the year. The aforementioned director Ryûsuke Hamaguchi even earned a coveted spot in both the Best Director and Best Adapted categories. The film is also nominated for Best International Picture, and is obviously a shoe-in… once again bringing up the debate of whether or not a Best Picture nomination for an international film should disqualify it from the International category (I mean, look, if you're gonna allow both, then I think animated films should also be allowed back into the Best Picture category, ya know?).
- Another glaring snub (or two, actually) is the absence of either lead actress from Passing, Ruth Negga and Tessa Thompson. The film as a whole was extraordinary, from the writing to the directing and cinematography, but both Ruth and Tessa gave career-defining performances which were sadly slept on this year.
- On a happier note, glad to see JK Simmons making his return to the Oscars this year after winning Best Supporting Actor 7 years ago. Perhaps the most successful car insurance salesman of all time??
- As mentioned before, a whole slew of actors received their first-ever Oscar nominations today, including Javier Bardem, Kristen Stewart, Ciarán Hinds, Jesse Plemmons, his wife Kirsten Dunst (a happy home this morning!), Troy Kotsur, Kodi Smit-McPhee, Ariana DeBose, Jessie Buckley, and Aunjanue Ellis. Billie Eilish is also sitting pretty with a nomination for her James Bond theme "No Time To Die". Congrats, guys!
Check out the full list of nominees here. As far as we know, the ceremony is still scheduled to take place on March 27 back in its usual home at the Dolby Theatre in Hollywood; we'll let you know if anything changes on that front!