Action On Film Fest Gives Filmmakers a Chance
Written by Sarah Osman. Published: August 22 2013
The Action On Film International Film Festival is held every year in lovely Monrovia, CA. For one week, filmmakers gather at the Krikorian Theater to celebrate the wide variety of films that are shown. Founded nine years ago by Del Weston, Alan Bailey, Scott Buchan, and Theresa Weston, the festival continues to show unique shorts, feature length films, documentaries, and animated films. The festival is a bit different from other festivals for a few different reasons, but primarily for one: they accept all films that are submitted.
"We accept all films for a couple of reasons. It increases the filmmaker's confidence in knowing that their film will have somewhere to play, and they will get to watch their film in a theater, with an audience, good sound, and good projection," Theresa explained in regards to why all films are accepted into the festival. She further noted that the films that are entered into the festival continue to get better every year. The festival is independently run and owned, giving filmmakers the chance to screen more unorthodox films.
I spoke with a few of the filmmakers at the festival, as well as had the chance to view two projects. Ryan Burke told me a bit about his webseries that had been condensed into a film format,Noirmare, a spoof on 1940s film noir. Noirmare is a satire that Burke described as being "high-brow and low-brow" at the same time. If you're interested in watching Noirmare, check it out here!
The two films I watched were "Phoenix Song", a short written and directed by our very our YH Staff Editor Katie Marzullo, and a feature length film entitled The Insomniac. "Phoenix Song" is a beautifully directed 13-minute music video that was composed by Joanne Higginbottom and tells the story of a girl who is not just plagued by her past -- but by her pastlives. It's a fascinating idea to explore that plays out well on the screen.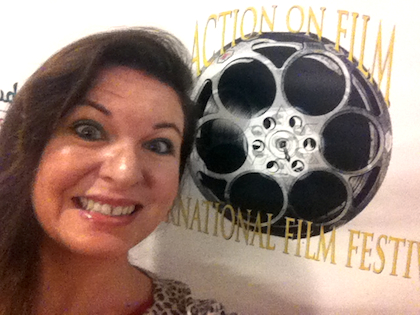 Katie on the AOF red carpet
The Insomniac, written by and starring Eddy Salazar, follows a young man named John who develops a severe case of insomnia after his home is broken into and his car is stolen. As the film goes on, he begins to unravel and becomes more and more desperate to find the culprit. The film reminded me a bit of Black Swan in terms of the plot and the way that it's shot. The further into madness John descends, the more the camera begins to spin, the briefer the shots become, and the more frantic each scene is.
The Action on Film Festival runs through Saturday, August 24, and is definitely a unique opportunity for all of you up-and-coming filmmakers to get your work out there! For more information, visit their Official Website!
- Sarah Osman, YH Staff