9 New Comedy Animation Shows To Watch On Streaming!
Written by Anya Bergstrom. Published: November 10 2023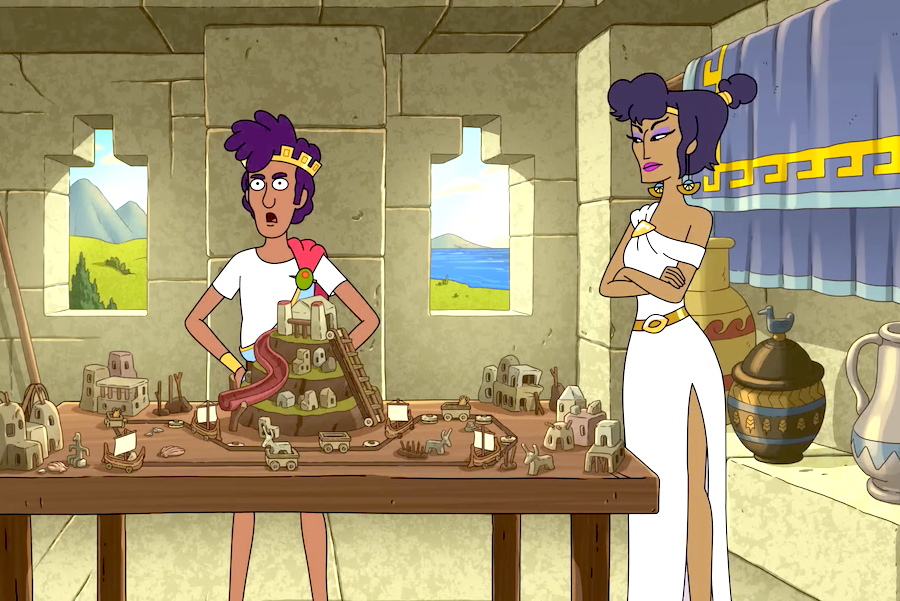 (Photo: Hulu)
Animated shows hold a certain type of charm that live-action series just can't capture. They're bold, outlandish, and a wonderful playground of creativity. Some of the most remembered shows in the annals of comedy history are animated shows, including "The Simpsons", "Family Guy", and "South Park". Look no further to learn about the newest animation shows to watch if you're into this particularly wacky and subversive genre of TV. 
1. "Krapopolis" (Hulu)
For those of you that are fans of the shows "Community" and "Rick and Morty", you'll be excited to know that the same creator, Dan Harmon, is the mastermind behind this new animated series. The show is set in Ancient Greece and revolves around a family of humans, gods, and monsters. In an attempt to run one of the world's first-ever cities, they have to first figure out how to live harmoniously with each other. The series features the vocal talents of Hannah Waddingham ("Ted Lasso"), Matt Berry ("What We Do In The Shadows"), and more.
2. "Strange Planet" (Apple TV+)
Based on the book by New York Times best-selling author Nathan W. Pyle, this webcomic-to-TV series adaptation has a serene quality that is balanced with absurd humor. It centers around the lives of a group of blue "beings'' that live on a planet distant from Earth. However, the mishaps that the "beings" get up to lead to some very poignant observations on human life. Another co-creation from director Dan Harmon, "Strange Planet" will have you pondering about the human condition while laughing on the ground. 
3. "Grimsburg" (FOX)
"Grimsburg" is a yet-to-be released animated series featuring notable funny people such as Jon Hamm and ​​Alan Tudyk. The series centers around Marvin Flute, who claims to be the best detective ever. Yet there is one mystery that stumps him – his family. Detective Flute now has to be on the case to solve the mystery around his ex-wife while learning how to spend time with the son he neglected. You can catch this riveting mystery starting January 7, 2024, on FOX (and, presumably, available to stream on Hulu as well). 
4. "Human Resources" (Netflix)
From the brilliant minds behind the creators of "Big Mouth" comes the equally absurd and fantastical comedy "Human Resources". This show is, in fact, a spin-off from "Big Mouth" and the characters are borrowed from the Hormone Monsters that accompany the pubescent teenagers in the original show. In this workplace comedy, the Hormone Monsters are now assigned to look after adults instead of teenagers. Expect to see the monsters deal with even more confusing emotions and life dilemmas!
5. "Solar Opposites" (Hulu)
"Solar Opposites" is a science-fiction animation from the minds of "Rick and Morty" co-creator Justin Roiland and writerMike McMahan. The show centers around a family of four aliens from Planet Shlorp, who crash-land on Earth and are now forced to stay on Earth. They make curious and poignant observations about living in Middle America and are constantly torn between staying on Earth and going back home. Under the guise of extravagant sci-fi lingo and gadgets, the show is ultimately a commentary on America from an outsider's perspective.
6. "Adventure Time: Fionna & Cake" (Max)
Those of you who watched Cartoon Network as a child will definitely have fond memories of the crowd-favorite show "Adventure Time". This time around, the previous series' Finn the Human and Jake the Dog are now replaced by Fionna the Human and Cake the Cat, who are their gender-swapped counterparts. Fear not, this series still has the same amount of sci-fi fantasy and grand adventures that the previous animation has.
7. "The Great North" (Hulu)
"The Great North" is indeed set in the Great North state of Alaska. The series follows Beef Tobin, a single father living in the town of Lone Moose, and his four children. The show is primarily about a loving father raising his children and sometimes coming off as a little overbearing. It is wholesome and funny, which you can count on with a cast of hilarious voice actors including Nick Offerman, Jenny Slate, and Will Forte. 
8. "Koala Man" (Hulu)
Get ready to spot some of your favorite Australian actors, because "Koala Man" is an Australian-American superhero animation where Australia is one of the world's superpowers. The series follows a Koala Man, a father who is double-timing it as a low-budget superhero. Koala Man's struggle to establish himself as a real superhero is a hilarious journey full of flawed ideas and strange mishaps, such as a plan to murder Nicole Kidman, the Queen of Australia. You can watch the adventures of this incredibly average superhero (and clock the vocal talents of Australian actorsHugh Jackman, Sarah Snook, andHugo Weaving, among others) on Hulu. 
9. "Praise Petey" (Hulu)
From New York socialite to cult leader, "Praise Petey" follows Petra "Petey" St. Barts, who inherits her father's cultish town of New Utopia and now has to lead a town that mindlessly follows everything she says. As town/cult leader, she sets her mind to return the townees back to their original selves. The plot is reminiscent of "Schitt's Creek" and even stars "Schitt's Creek" alum Annie Murphy, who voices Petra. Overall, it's a creative premise chock full of girlboss moments!