7 Times Movie Stars Visited Hospital Patients In Full Costume!
Written by Kyla Killackey. Published: August 16 2018
( © Tufts Medical Center/Facebook)
We were recently blessed with pictures of real life superhero Gal Gadot visiting the Inova Children's Hospital in Falls Church, Virginia, dressed as Wonder Woman, and we loved it so much we though we'd spread a little more joy on this hot summer day. So we present you with a list that could warm even the coldest of hearts: The Ultimate List of Movie Stars Visiting Children's Hospitals in Full Costume.
Chris Evans
Chris Evans famously lost a Super Bowl bet to Chris Prattwhich resulted in him visiting young patients at Seattle's Children's Hospital in full Captain America attire. As an added bonus for all of our eyes, Pratt also joined him and the pictures are glorious!
Chris Pratt
Don't worry, our favorite pair of Chrises were back doing their best work again, this time with Pratt stepping into the spotlight and gearing up in his Star Lord costume from Guardians of the Galaxy to visit the Boston Children's Hospital. I could spend a frightening number of hours looking at these pics.
John Boyega
The Star Wars star hit the pavement to give out toys and talk to the kids at The Royal London Hospital. Boyega stayed in his SWcharacter, Finn, at the London hospital and the pictures are priceless.
Chris Hemsworth and Tom Hiddleston
Thor: Ragnarok stars Chris Hemsworth and Tom Hiddleston took a day off from demi-god duty to visit some real-life heroes at the Lady Cileno Children's Hospital in Brisbane, Australia, during the filming of their last flick. From the looks of it, the kids were a real help in teaching Loki a lesson.
Tom Holland
Tom truly was the most wonderful neighborhood superhero when he swung into the Children's Hospital Los Angeles in full Spider-Man costume. It wasn't the first time he's dropped in on some brave kids in need -- Spidey has previously stopped by the Eagleston Children's Hospital in Atlanta and the New York-Presbyterian Morgan Stanley Children's Hospital where there was a bit of a debate over whether Batman was better. You're #1 in our hearts, Tom!
Gal Gadot
And finally, our shining star, Gal Gadot. She visited the Children's Hospital in Falls Church, Virginia, where she is currently shooting the sequel to Wonder Woman decked out in full Wonder Woman battle armour and the pictures are just that – wonderful! What did we do to deserve these masterpieces?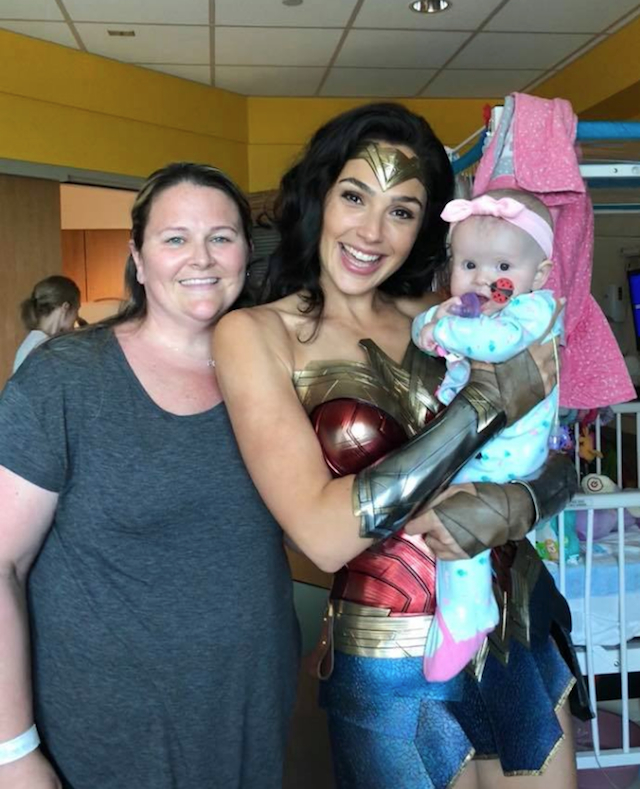 ( © Kelly Swink Sahady/Facebook)
So there you have it, we hope this helped fill your hearts. Go spread some kindness.
(Top image via Frederick M. Brown/Getty Images)
- Kyla Killackey, YH Contributing Writer