7 of the Most Successful Director-Actor Partnerships in Movie History!
Written by Kevin Donaldson. Published: October 27 2014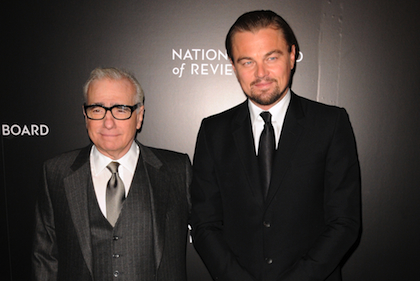 Ron Howard has gone on record to say that his 2013 racecar film Rush with Chris Hemsworth was his favorite film to shoot in a long time. He loved working with the cast and crew, specifically sighting Hemsworth as leading the charge on that. With the premiere of the trailer for In the Heart of the Sea, it seems as if Hemsworth is poised to become Howard's new go-to leading man.
It certainly wouldn't be the first time a director found a muse in a certain actor and went on to feature them in several of his projects. Let's explore some other monumentally successful director-actor working relationships over the years...
Martin Scorsese &Robert De Niro: Just a couple of boys from New York City who wanted to make films about the dirty, dingy parts of the Big Apple. They got started working on a film called Mean Streets in 1973, which Scorsese wrote and directed. De Niro may have been a supporting character to Harvey Keitel's Charlie, but he certainly steals some scenes as the arrogant, wisecracking kid brother-type-of-annoying Johnny Boy. From there, Scorsese and De Niro went on to collaborate on films over the next three decades.Taxi Driver (which Scorsese has a forced cameo),Raging Bull, and Goodfellas granted both Scorsese and De Niro Academy Award wins and nominations. Their work relationship was truly something special. Nowadays, Scorsese and De Niro don't make movies together but remain great friends. Instead, Scorsese has moved his lens's attention towards another prolific actor...
Martin Scorsese & Leonardo DiCaprio: It's been a long time since Leonardo DiCaprio was in Titanic and was seen by the world as a walking boy band on the edge of falling off in Hollywood. Some may not remember, but I can recall listening to the radio on the way to school in the '90s hearing DJs talk about how, in five years, we would forget about DiCaprio. Working with Scorsese can certainly help keep your career alive, especially if you have the true talent that DiCaprio does. Leo has garnered two Academy Award nominations out of his four projects with Scorsese -- one for The Aviator and one as a producer on Wolf of Wall Street. Since working with Scorsese and showing his acting in chops in movies like Gangs of New York, Shutter Island, and The Departed, DiCaprio has become an acting force to be reckoned with. As a result, he has caught the attention of other Hollywood elite directors, like that guy who directed Django Unchained...
Quentin Tarantino & Half of Hollywood: It's hard to pick out just one actor or actress that Tarantino has built a great working relationship with. Since his debut film Reservoir Dogs in 1992, Quentin Tarantino began striking long-standing relationships with plenty of high-profile actors, coming out of the gate by working with his favorite actor growing up, Harvey Keitel, who appeared in Reservoir Dogs, Pulp Fiction, and starred alongside Tarantino in From Dusk 'Till Dawn. Pulp Fiction also started Tarantino's working relationship withUma Thurman and Samuel L. Jackson.
So far, Jackson has appeared in Jackie Brown, Inglourious Basterds, and Django Unchained, and rumors have it that Jackson will appear in Tarantino's upcoming film The Hateful Eight. Uma Thurman made more of a name for herself in the world of action thanks to Tarantino. After Pulp Fiction, they made the blood-soaked revenge saga Kill Bill Vol. 1 & 2 together. Vol. 1 was so gory that they even had to switch a scene to black and white to appease the MPAA. Rumors of a third Kill Bill come up pretty frequently ever since the series ended. In the past, Tarantino had said he wanted to wait ten years to give the main character The Bride some rest. It's been past ten years, but still rumors come up. Only Tarantino will know if this will ever be made, but no matter what, it'd be fun to see him and Uma work together again.
Nowadays, Tarantino's muse seems to be German actor Christoph Waltz. Having only appeared in Inglourious Basterds and Django Unchained, Waltz has certainly gotten the sweeter end of the deal, winning two Academy Awards for his work in both films. No word on if Waltz will be The Hateful Eight or not but early rumors have indicated such.
Alfred Hitchcock &Cary Grant: A couple of Brits came over to Hollywood and completely changed the game in the 1940s. Although only making four movies together, their director-actor partnership is one of the most well-known in cinema history. They started working together in 1941 on the romantic psychological thriller film Suspicion. But perhaps their most successful effort was also their last film together, 1959'sNorth by Northwest. It's a classic tale of mistaken identity that made tales of mistaken identities into classics. The screenplay was written by Ernest Lehman, who wanted to write the Hitchcock film to end all Hitchcock films. Keep in mind, North by Northwest was made beforePsycho and The Birds. While Grant and Hitchcock didn't win any Academy Awards together, their films are considered legendary and continue to be discovered and enjoyed by fans for generations. If you've never seen North by Northwest, then you've probably at least seen this famous scene recreated a million times over:
David Fincher &Brad Pitt: It's been a little while since these two have worked together, but that doesn't mean they won't again. Fincher has been disorienting fans for years with his gritty yet darkly humorous films. Pitt has had some his best performances of his career in the Fincher films Seven, Fight Club, and The Curious Case of Benjamin Button. Each one has had offered something iconic from Pitt on-screen, but without Fincher directing it, who knows for sure how the films would've been received. Check out one of their best scenes:
Tim Burton & Johnny Depp: These two have collaborated on no less than EIGHT films together, and are currently in production on their 9th. These days, it's hard to even imagine one without the other. Burton has given Depp some of the most memorable roles in his career, and in return, Depp has made Burton's movies into classics. Just look at this list of credits: Edward Scissorhands, Ed Wood, Alice in Wonderland,Charlie and the Chocolate Factory, Sweeney Todd, etc... Each role completely different from the last but with that quirky Burton touch.
Ron Howard & Tom Hanks: We started with Ron Howard, so we might as well end with Ron Howard. When Tom Hanks first dove into features in 1984 with Splash, his first director to work with was Ron Howard. From there, they solidified a working relationship spanning over five films. After Splash came another comedy, The 'Burbs, but they soon moved on to more dramatic fare for Apollo 13, The Da Vinci Code, and Angels and Demons. Word has it that they will be reuniting to work on The Inferno together due out in 2016.
Who are some other director-actor teams that you love?
(Photo via Ivan Nikolov/WENN)
- Kevin Donaldson, YH Staff; additional reporting by Katie Marzullo, YH Staff Editor