6 Ways That "DWTS" Can Get Its Groove Back!
Written by Brooke Sharland. Published: November 27 2018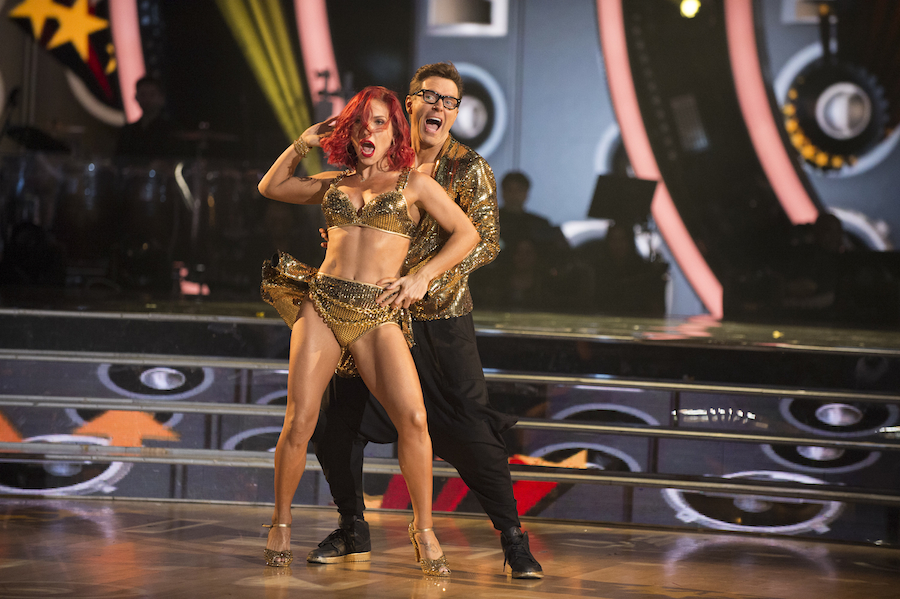 During last week's controversial Season 27 finale of "Dancing with the Stars", radio host Bobby Bones took home the Mirrorball Trophy with pro partner Sharna Burgess. It was a win nobody expected, with Bones having never been on top of the leaderboard throughout the competition. Though some fans were upset that one of the other finalist couples didn't win this season, Bones was the true underdog story, going from a man with no dance experience to a "DWTS" champion. With his popularity in country radio, his huge fan base no doubt had a hand in getting him to the top.
There have been plenty of things this season that have frustrated "DWTS" fans:Tinashe and partner Brandon Armstrong getting sent home early in the competition after some amazing dancing; Juan Pablo Di Pace being eliminated just ahead of making the finals; glitches in voting; and more. Amid all the frustration from Season 27, rumors are now swirling that "DWTS" might not be making it back to ABC in the Spring.
Fans of the show will know that each year brings 2 seasons of the show: one in the Fall and one in the Spring. And while we'll be SO upset if we don't get to see this show come back next Spring, we also realize that maybe it's time for a much-needed break to overhaul the show and make it even better. Here are some ways we think "Dancing With The Stars" could revamp in order to get its groove (and its sky-high ratings) back!
1. Change up the season schedule
"DWTS" is normally a 10-week commitment, this season being only 9. Perhaps if they changed up the schedule a bit, had a shorter season (similar to how "DWTS: Athletes" was 4 weeks), maybe there would be a chance at booking higher-profile celebs who can't normally take 10 weeks out of their busy schedules to compete on the show. If we have bigger stars, maybe the show will bring in better ratings!
2. OR… tape the show during the Summer
"DWTS: Juniors", the spin-off of the original featuring child stars, is pre-recorded over the Summer. Voting is done by the audience inside the ballroom for that taping. If regular "DWTS" was taped over the Summer and then aired in the Fall, it'd give the opportunity to book more A-list talent to compete, since many of them have more availability during that time of year, and the show could probably work with their schedules better than during a live season.
3. Change the voting
After a a technical glitch in the voting systems during Week 2 of this season, none of the phone-in votes were counted, so only only the judges' scores and online voting counted. Personally, I think if something like this happens, nobody should go home that week. It isn't fair! But, unfortunately, alpine skier Danelle Umstead was still sent home. But, perhaps there is a remedy for this...
Again, going back to "DWTS: Juniors", the show seems to be doing well with the audience in the ballroom each week voting live at the end of the show after seeing each couple perform. Because of it being pre-taped, there is no need for fans watching at home to vote online or call to vote for their favorite couple. Voting happens right then and there, is combined with judges' scores, and the couple with the lowest overall score is eliminated. So, maybe we should just have the audience in the ballroom vote each week? OR...
The show could potentially also do well with changing the way voting happens completely. Here's a BIG way I think the show would benefit: CHANGE HOW VOTES ARE WEIGHED! Right now, the fans' votes weigh more than judges' scores when it comes to which couples are put in jeopardy/eliminated this week. So, what's the point in even having judges score them after they dance? The show is starting to become more of a popularity contest rather than being a dancing competition show. While fan voting should still count, judges scores should DEFINITELY carry more weight.
4. Top of the leaderboard are safe
Too many times on this show, we've seen couples with PERFECT (or near-perfect) scores go home. It happened in Season 24 withHeather Morris, who went home Week 5 after a perfect 30, and this season to Juan Pablo Di Paceafter a perfect 60 between his two dances, and to a handful of other couples. The show could really benefit from protecting those with the highest scores. I personally think that the 3 couples at the top of the leaderboard each week should be SAFE from elimination, leaving the best dancers to be the ones to advance each week and ultimately end up in the finale.
5. OR... Judges can save
After Juan Pablo didn't advance into this season's finals, judges Len Goodman, Bruno Tonioli, andCarrie Ann Inaba were visibly upset, calling the elimination "wrong" and saying there was "no justice" in it. So, why not have the option for the judges to save one couple during the season (either each judge getting one save per season, or the decision having to be unanimous)? If there's really someone that they can all agree on saving from elimination or from jeopardy so they could dance another week, I think that could be really useful.
6. Should there be rules about who can compete?
Each season, there's always a mix of dance experience in the ballroom -- some contestants have never danced before, some grew up dancing, some dance in the various TV shows or movies they're a part of, some dance in the music groups they belong to, etc. So, should there be a rule on how much dance experience you're allowed to have to join the show? Would the show benefit from being filled with stars who truly don't have much dance experience at all before joining? Perhaps. While we LOVED all our couples from this season (and from seasons past), it just seemed like some had a bit of advantage over others. While most aren't trained in any style of ballroom dance, knowing the basics of dance coming into this competition still helps. Sometimes fans get VERY upset when they see someone join the show who has a decent dance background. So, to resolve this, maybe there should be a rule about who can join the show. OR do separate seasons for different kinds of celebrities! Similar to how there was an all-athlete season. Maybe one season filled with celebs with NO dance experience, another season with celebs that are musicians and may already have a small bit of dance background, etc. I'm not 100% sure what the right solution is for this, but I think any way to remedy it to make the competition a level playing field for all would be worthwhile to look into.
Alright, well that's it. I love "Dancing With the Stars", I have watched all 27 seasons, and I think it's an amazing show! But perhaps it's time for a SHORT break to rework it a bit so that it comes back better than ever. Hopefully we'll see this show back either this Spring of next Fall with some new twists to it that make it better than it already is. So, how would you change "DWTS" if you had the chance?
(Image via Eric McCandless/ABC/Getty Images)
- Brooke Sharland, YH Contributing Writer